8/14/2020
(Auburn, WA) Two more Stakes races in week 8 of the pandemic 2020 season and one of them a prep for the Longacres Mile. The Mount Rainier sent 7 to post including 2018 Mile winner and fan favorite Barkley. The Mount Rainier went off as the 9th of 11 races. Prior to that was the Boeing Stakes for fillies and mares with a tough field of 7.
The Mount Rainier Stakes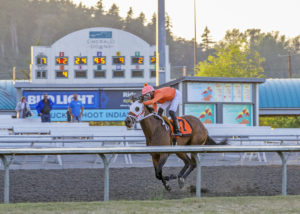 5 of this field of 7 just met on July 16 with 3 of them a head apart for the win. Alittlelesstalk ended up being the victor with Don'tkissandtell 2nd and Diamonds R another head back in 3rd. Killarney Lass was the early pace in that race and finished 4th, 2 lengths back and Paddy's Secret was further back.
Coming into the 6 and half furlong Mount Rainier, Alittlelesstalk went off as the 9-5 favorite with Juan Gutierrez aboard followed by Don'tkissandtell with Alex Cruz right behind at 2-1. Killarny Lass once again looked to be the sole speed checked in at 4-1. Diamonds R was 9-2 with Cerapio Figueroa and Paddy's Secret went off at 9-1 with Javier Matias. The two entries that were not in that race on July 16 were the outsiders, Fortune's Feude with Gary Wales at 21-1 and 24-1 shot Magical Spell with Jake Samuels.
Trainer Frank Lucarelli sent out both Killarney Lass and Paddy's Secret. Killarney came off that front running effort fading to 4th in her first start since February so no doubt she needed that race in her. Lucarelli once again told jockey Eddie Martinez to take her to the lead and unless one of the others in this changed their style should be able to set the fractions.
Martinez broke well with Lass and went right to the front. As the two settled in down the backstretch Martinez was easily able to cross over to the rail from the outside 7 post and quickly led by a length and a half. Gutierrez on Alittlelesstalk eventually saw he better not lose contact and asked 'Talk" to pick it up heading into the far turn.
But Killarney Lass, with that important 1st race in her, set her own fractions and hit 44.75 for the half and even though it appeared Alittlelesstalk along with Don'tkissandtell and Diamonds R, the 3 with their heads on the wire in the July 16th race, were ready for a repeat they ended up being no match as Lass re-broke about the 1/8th pole and blew the field away with a dazzling 5 length win stopping the clock in 1:14.74.
Killarney Lass collected $22,000 for her owners the Sargent Stables and pushed her career earnings to more than 127k. Killarney Lass is a Kentucy bred by Eskendereya and out of Rena and bred by the Zayat Stables.
Killarney Lass returned $10 on the $2 win, $15.20 for the exacta combined with Alittlelesstalk, the 50-cent Trifecta completed by 3rd place Don'tkissntell paid $22.80 and the 10-cent Superfecta was good for $8.80 with Diamonds R finishing 4th.
Trainer Frank Lucarelli on Killarney Lass's win in the Boeing
[embedyt] https://www.youtube.com/watch?v=pM2PU7W6mlc[/embedyt]
The Mount Rainier Stakes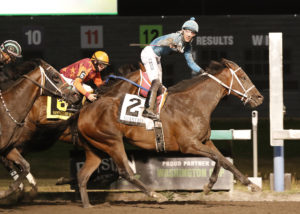 The Mount Rainier Stakes is the only Longacres Mile Prep Stakes race this year due to the current circumstances of Covid-19 which also means the biggest race in the Northwest was likely going to attract only a few out of State invaders, most will likely already be here making this race quite an important match-up. The Mile is set to be run Thursday, September 10 and the field of 7 in the Mount Rainier had a cast from a Mile Champion to basically a newcomer and everything in between.
Barkley from the Rising Star Stables and trainer Howard Belvoir caught all the headlines with hopes and expectations the fan favorite would once again find his way to the Winner's Circle. Barkely was bet down to as low as 3-5 at one point but ended up going off as the clear favorite at 3-2 favoritism. Makah Lane was the 2nd choice at 7-2, Elliott Bay 9-2, Papa's Golden Boy 5-1, Take Charge Deputy 7-1, Rally Cat 14-1 and Catfish Hunter 15-1.
The 9th race on the card of 11 with 1st post at 5pm had this one running under the lights and as they broke from the gate no surprises, Papa's Golden Boy, coming off an 8-length wire to wire win jetted to the front and quickly built a 4 and half length lead. Also to no surprise Barkley dropped to the back of the pack. There was a question of whether any of the others would try to go with Papa and even though Elliott Bay was coming off a front running win 5 weeks prior the front end is not Bay's game and he dropped back just in front of Barkley.
Makah Lane was another some thought may run early but did not as the trailing field all seemed to have the attitude if Papa was that good then he is going to win this but most felt he would get tired and stop. Makah Lane and Take Charge Deputy did run 2-3 down the backstretch with the longshots Rally Cat and Catfish Hunter sitting 4th and 5th. As they headed into the turn Papa extended his lead to 6 and half as jockey Gary Wales continued to set blazing fractions of :21.75 for the quarter and :43.14 for the half.
About midway on the turn things started to shift and both Barkley and Elliott Bay began to move from the back. Elliott Bay's rider Eddie Martinez followed by Barkley with Javier Matias, the only rider Barkley has ever known. Barkley has never feared the rail and most often would come up the inside and swing out although there were other times that Matias would keep him inside so this was not an unexpected move.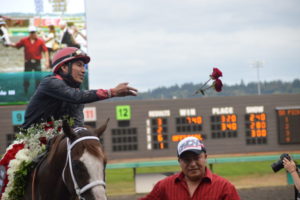 But at the quarter pole if you watch Javier closely just after he passes Rally Cat and it looks like Barkley is building momentum for his stretch run when Matias changes his hand position and by the 1/8th pole Matias is clearly slowing him down as he felt something not right. By the 16th pole Javier was nearly standing up easing him in. Barkley would finish but would be vanned off to the backstretch after the race.
Barkley ran only one time in 2019 and won the allowance race but Belvoir said he felt a bump on a tendon and was not about to take any chances and turned him out for the rest of the year. Barkley came back and seemingly was totally healthy and although didn't run his best, finished 2nd to Take Charge Deputy in an allowance race on July 15th. He'd worked out since and although kind of a dull effort many thought he needed that since he hadn't raced since May 12th of 2019.
Matias knows this horse and no doubt felt he wasn't right and took care of him last night as his magnificent career is now officially over. The Rising Star Stable posted a social media announcement that Barkley had again sustained a tendon injury and they immediately retired him. We'll have a feature story on the career of Barkley and what a star he was racing all 20 of his lifetime starts in Auburn at Emerald Downs in a few days.
Meantime, Elliott Bay remained on the rail and then about the 1/16th pole swung outside the tiring Papa's Golden Boy who had hit the wall and was floundering. Martinez got into Elliott Bay and got up in the final 25 yards for a half length victory. Take Charge Deputy with Cerapio Figueroa was also closing and finished well to be 3rd just a neck behind the front running Papa's Golden Boy.
Despite the disappointment of the Barkley story it was quite a night for jockey Eddie Martinez. Martinez rode here last year and finished 0-19 in Stakes races. He has now won 3 of 6 2020 Stakes after sweeping both Thursday. Martinez won the King County Express Stakes with Top Executive on July 30th. Trainer Frank Lucarelli also won his 3rd Stakes race of the year with both wins after winning the Angie C, the first Stakes of the year on July 30 with Time For Gold.
Martinez was especially emotional in the Winner's Circle after the race when he talked with Emerald Downs Television anchor Joe Withee. Martinez thanked his father who recently passed away and said he felt his presence with him. Withee then asked him was it hard to be so patient with Papa's Gold Boy out there setting these blazing fractions. Martinez says he wasn't worried about the speed but rather to keep Elliott Bay in a clean spot because he does not like getting dirt kicked in his face. He settled on the rail and Martinez says it just all opened up, let him do his thing and it was good enough for the win.
Elliott Bay will now be pointed to the Longacres Mile and there will be a lot more to talk about this guy as he was claimed by Chad and Josh out of the last race Barkley won on May 12, 2019. At the time the new owner was Chad Christensen who has now changed to Chad and Josh. Christensen claimed Elliott Bay from Rising Star Stables and trainer Howard Belvoir for $50,000. It is tied for the highest claim in track history, there were 3 other 50k claims going back to 2003, 2007 and 2014. The State record claim was $60,000 back in 1990. Snipeldo was the horse and would go on to win the 1990 Longacres Mile.
Elliott Bay is a Washington bred by Harbor the Gold and out of Melba Jewel and bred by Mr and Mrs Frederick Pabst. Bay returned $11.40 on the $2 win, the $1 exacta with Papa's Golden Boy returned $40.50. The 50-cent trifecta adding Take Charge Deputy was good for $78.35 and the 10-cent superfecta with Catfish Hunter taking 4th returned $117.22.
Elliott Bay collected $22,000 and pushes his lifetime earnings to more than $167,000. It was his 4th career win from 21 lifetime starts.
Trainer Frank Lucarelli on the run of Elliott Bay in the Mount Rainier Stakes
[embedyt] https://www.youtube.com/watch?v=u4ubu60E_rk[/embedyt]
Larry's Round-Up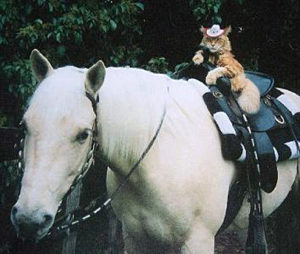 Jockey's
No one had a better 2 days than Eddie Martinez and after his win on Elliott Bay in his 2nd Stakes win of the night, finished the 2 days with 5 wins boosting his overall total to 16. Martinez won on Killarney Lass and Elliott Bay in the 2 Stakes races but also won on 16-1 Calese in the 3rd for a riding triple on Thursday. He won twice on Wednesday with 11-1 John's On Point in the 7th and the 3-1 favorite in the 10th with Golden Cowboy.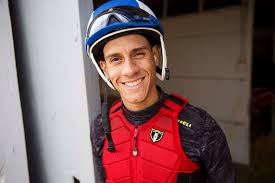 Leading rider going into week 8 was Alex Cruz and it looked like he was going to set the week on fire by winning the opening daily double on Wednesday with wins on Bearcreek Mountain and front runner Buckley Bay.  On Thursday Cruz won the 3rd on Spittin Image and on Eddie and the King by a nose over Pistol Power denying Jake Samuels his 4th win of the week. Samuels finished with 3 wins as did Cerapio Figuroa. Jennifer Whitaker and Alex Anaya each had 2 and Juan Gutierrez 1.
The standings after 16 days of the 44 day season Alex Cruz leads with 25, Juan Gutierrez and Gary Wales each have 22, Cerapio Figueroa is 4th with 21 then comes Eddie Martinez with 16, Javier Matias 14, Jake Samuels with 12, Alex Anaya has 11, Jose Zunino 8 and Jennifer Whitaker 6.
Whitaker won the feature race on Wednesday with old reliable The Press. The Press had finished 5th and then 3rd before winning by nearly 2 lengths and was let go as a 5-1 shot. It was the Press's 6th career win from 36 starts and now has a lifetime bankroll of more than $118,000. Whitaker then won the 4th race on Thursday with Don'tbeshywillie pulling out a neck win over Seattle Smoke as the 5-2 2nd choice. Both wins were for trainer Howard Belvoir.
Trainier's
This was setting up to be a Howard Belvoir week as he won 2 on Wednesday with Bearcreek Mountain in the 1st and The Press in the feature race. On Thursday he got Don'tbeshywillie in the 4th for his 3rd win of the week with Barkley to go. Then we know what happened and what could have been an unbelievable week quickly turned to sadness. However, Belvoir still had a great week with 3 wins to boost his overall total to 7 wins.
Leading trainer Frank Lucarelli was the clear winner in the end with 4 wins including both Stakes races. He also won with Linchpins Wake in the 1st race on Thursday and Golden Cowboy in Wednesday's 10th race.
Jorge Rosales and Joe Toye each had 2 wins while Chris Stenslie, Kay Cooper, Candice Cryderman and Rigoberto Velasquez all had 1. So the top 10 now looks like this, Frank Lucarelli with 21 wins, Jorge Rosales in 2nd place with 14, Blaine Wright has 10, Joe Toye 9, Chris Stenslie, Kay Cooper and Howard Belvoir each with 7, Candice Cryderman and Rigoberto Velasquez have 6 and Vince Gibson with 5.
One other trainer not in the top 10, Debbie Peery had 2 wins back to back on Wednesday in the 3rd and 4th races. The first win was Tiger Mom at 5-1 and then the rolling double to the 3-2 favorite Malibu Bay in the 4th. That $1 double was good for $37.60.
The Betting Parlor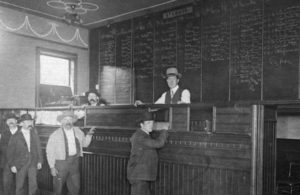 The handle was again very solid but slipped a little on Wednesday from last Wednesday that featured a big Pick 5 carryover from 2.15-million to 1.72-million which is about the 5th or 6th lowest handle of the year. Thursday bounced back nicely with 2.07-million. There were 171 horses that ran over the 2 days for an average of 7.8 per race. 
From a betting standpoint we have not tabulated all our numbers yet so this week is just a quick run over some of the larger pay-outs showing that Emerald Downs remains one of the best tracks to turn a sizable profit.
The top $2 straight bets came from 51-1 shot Hollywood Heat in the 10th race on Thursday paying $105.60 on the $2 win, $49.80 to place and $18.20 to show. Harbors Rule at 17-1 paid $12.60 to show and 7-1 shot Frolic and Detour was good for $10.60 to place and $7.60 to show. This race pretty much swept the high pays with the $1 exacta at $408, 50-cent trifecta $2,003, 10-cent super $2,037. This also boosted the rolling double to pay $184 from the 9th to the 10th race and $276 the 10th to the 11th. The 2 pick 3's involved were 7-2 to 9-2 to 51-1 returning $628 and 9-2 to 51-1 to 5-2 paid almost $750.
The final pick 4 paid $3,010, and the pick 5 $19, 270. The 20-cent Jackpot pick 7 $316 for 6 of 7 correct. Going into next Wednesday the Jackpot pick 7 carryover is up to $11,266. The 20-cent pick 7 returned a healthy $2,116 for 6 of 7 correct on Wednesday while the pick 5 returned $1,254. 
There were 8 pick 4's and paid an average of $605 but that was escalated by the one large pay-out in the final pick 4 on Thursday of more than $3,000. The average dropped to just $260 per 50-cent taking out the one big pay-off. Not exactly sure but this week feels like the one of the lower or even lowest pay-out weeks of the season. The bettors are getting good is the problem but still some fantastic chances at winning. 
On Wednesday in the 7th race the 50-cent trifecta paid $575 and the 10-cent superfecta $620 from an 11-1 to 18-1 to 11-1 top 3 finish and a 10-1 to finish off the super. This was in a race where a 4-5 shot overwhelmed the betting and failed to fire finishing 6th. In the 8th race on Wednesday the 6-5 favorite easily won and paid $.80 to win but a 16-1 shot ran 2nd followed by a 6-1 and 3-1. The 50-cent tri was good for $84 or 167-1 and the 10-cent super paid $74 or about 740-1, keying a big fav that is a great pay-out.
Do not overlook the Superfecta bets especially since Emerald lowered their take-out leaving even more money in the pot to be given back to those who can correctly pick 4 in a row.
All in all a great week of racing for the bettors from pays that sustain the game and keep you betting from one race to the next to some pay-offs that literally could change your life to some degree. Hit that $3,000 pick 4 and that pays your rent or mortgage up to 3 or 4 months or hit the $19,000 pick 5 and buy a new car. Keep an eye on that pick 7 bet it is only a 20-cent wager and the carryover is starting grow to make it interesting. 
Racing resumes next Wednesday at 2pm. Regular 5pm start on Thursday which is going to be a special day of quarter horse racing with 3 big Stakes races, the 40k Bank of America Challenge at 440 yards, the John Deere Juvenile for 30k at 350 yards and the 20k Emerald Downs Distance Challenge at 870 yards.
www.elisportsnetwork.com