8/16/2020
(Auburn, WA) Thursday night, August 13 was supposed to be the official race that we got to say "He's Back!" Instead we saw the final run of one of the greatest horses to run at Emerald Downs. Barkley was truly a fan favorite and was one of those horses who fans immediately noticed and then rooted for, something that is very difficult to achieve in horse racing.
It is easy to root for the New York Yankees, Dallas Cowboys and Boston Celtics and of course our own Seahawks, Mariners, Huskies and Cougars. But in that case you are rooting for an entity and not an individual. In the individual sports you certainly have stars that work their way to the top but once that person or in this case animal has their career come to an end there isn't an entity left to continue to cheer for or in the case of the New England Patriots, boo.
In golf you've got so many like Jack Nicklaus, Tiger Woods, Ben Hogan and the list goes on. Horse racing is the same with Secretariat, Sea Biscuit, Seattle Slew as familiar names to even non-horse racing fans. Like in all-sports you have the major leagues, the National spotlight so to speak but then there is another level of stardom where you have made your name locally or regionally. Who still doesn't know who Slick Watts is? Jay Buhner, other than Frank Costanza's reference in a Seinfeld episode Buhner is a local star.
This is what Barkley meant to Emerald Downs and to racing fans from serious to casual, when Barkley ran people wanted to watch. I worked at Emerald Downs during the first 5 years and one of the things we did was to run a 1 question survey and that question was, "why do you come to Emerald Downs?" Then Marketing V-P Ben Cambra at the time wanted to know the answer to that question and I remember telling him what a stupid question and waste of time. I said clearly people come to the track to bet on the horses. Ben replied, maybe, but let's find out. So the company he hired to ask that question went out and I don't remember how many responses they got but it was a healthy return and stunningly betting on the horses was the #2 reason with 47% answering that was the reason they came to the track. 49% said they came to "SEE" the horses. (I know this would bother me so let me tell you the other 4% said they came with a friend or a group or some other non-direct reason.)
I learned a valuable lesson right then and there and we would see larger crowds show up to see certain horses and early on there were several like Name for Norm, Kid Katabatic and Ropersandwranglers. Then there was Wasserman, Atta Boy Roy, Stopshoppingdebbie and Stryker Phd. These are a few of the ones that stood out that had followings. Then came Barkley.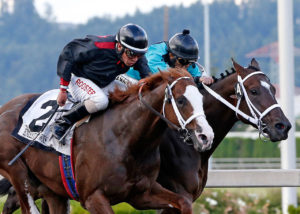 In fact in 2015 we got introduced to 2 horses. They would ultimately become our own Affirmed and Alydar. Barkley and Mach One Rules. That 3 race series in 2016 that began with the Auburn Handicap that saw Barkley get Mach One Rules on the wire by a head. Up next the Coca Cola Stakes and again in the final strides Barkley would get there this time by a neck. By the way, both times Mach One Rules was the favorite but the 3rd time the betting public gave in and bet Barkley down to favoritism and once again like Affirmed winning the Belmont, Barkley did not disappoint with a win by just a head at the last second in a thrilling finish.
Sidenote, Affirmed beat Alydar by nearly 2 lengths in the Kentucky Derby by a half length in the Preakness and a head in the Belmont. During the Barkley-Mach One Rules battle the total difference between the 2 was maybe a 1/4 length, that's how close it was.
Here are those 3 2016 races the Auburn Handicap, The Coca Cola Stakes and the Seattle Slew Handicap
[embedyt] https://www.youtube.com/embed?listType=playlist&list=PL3NkUpEjAV4q-kCP-qBz5i8hNqsXrzi74[/embedyt]
Then Track Announcer Matt Dinerman turned super fan as you could tell during these 3 races and as he mentioned in his last call in the Seattle Slew where it finally looked like Mach One Rules would get the win that you had to feel bad for Mach One who simply ran his heart out each time to come up just short. The other amazing thing about this run was how dominant the two were at distances of 6 and half furlongs, a mile and then a mile 1/16th. You got the feeling these two could go on a 2 mile marathon and they'd be whiskers apart at the wire.
Matt Dinerman sat down and did an in-depth interview with ESN on Barkley and his thoughts and memories of calling this incredible run of races.
[embedyt] https://www.youtube.com/watch?v=VGsLgLpkUEo[/embedyt]
Mach One Rules Trainer Frank Lucarelli said this was exceptionally frustrating and at the same time he was a fan of Barkley too. Lucarelli talked with Emerald Downs Director of Publicity and one or our own here at ESN Joe Withee. Withee asked him about that rivalry and how Mach One Rules finally got Barkley in the 2017 Budweiser Handicap.
Joe Withee with Frank Lucarelli
[embedyt] https://www.youtube.com/watch?v=Q1m7xq-HdhU[/embedyt]
2016 alone is worthy of a splashy tribute but Barkley was just getting started. Let's start from the beginning. Barkley was purchased for $21,000 by the Rising Star Stable III. The Rising Star Stable is a group of investors that buy horses and race them. Howard Belvoir is the trainer and the group is headed up by Howard's longtime companion Vicki Potter. We talked with Belvoir who said in 2014 the group had a budget and went looking locally for a good candidate but said we just didn't have the confidence in what was available.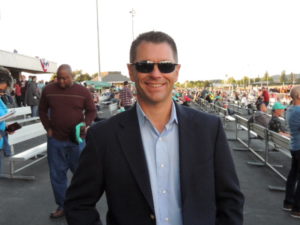 He said his son Vann, a Champion jockey turned trainer and a Longacres Mile Champion as both a jockey and a trainer, was going to be at the Keeneland sale. Howard gave Vann his budget and told him to see if he could spot anything interesting. Howard says he got a call from Vann about this horse that stuck out to him immediately. He still had a lot of growing to do but Howard told him to pull the trigger and the Rising Star III stable were now the owners of Barkley at price tag of $21,000.
Barkley is the son of Munnings and out of Numero d'Oro by Medaglia d'Oro and his appearance is stunning. He has this big white blaze down the middle of his face, white sox and Chestnut body.
Belvoir says Barkley was not a good work out horse he liked to play around and seemed to know when it was time to work and when it was time to play. When Barkley arrived in Washington State Belvoir says he was a little puny and literally looked like a llama with the white face an all. Then he finally got to see him run and it was that instant he knew this guy was special.
As he prepared him for his 2-year-old season Belvoir noticed there could be some tendon issues with him. He said it was very minor but he always kept an eye on it and you will see how protective he was of Barkley as we go through his career.
Barkley had an amazing win average of 50%. He ran 20 times in his career and finished 1st 10 times, second 5 times and 3rd once. He had 3 4th place finishes and then his final race he was 7th. So he was 50% a winner, 75% top 2, top 3 80%, in the superfecta 95% of the his career. He earned a total of $368,425 or nearly $18,500 per start.
Belvoir says the money and the prestige of winning is all great but he gives a ton of credit to his significant other Vicki and the Barkley team, which by the way consist of 20 owners. Belvoir says they created such an atmosphere for each of Barkley's races. Belvoir says the party like atmosphere was like hanging out at a tailgate party.
Barkley was carefully prepared and finally debuted on the track on June 20, 2015 in a Maiden Special Weight race. It would be the first time his only rider, Javier Matias would get on the white faced wonder. In that 4 and half furlong race Barkley went off at 2-1 but was not the favorite and got off a step slow. He broke from the 5 hole out of the 6 horse field and quickly gained momentum on the outside. Matias kept him wide to keep him out of trouble and blew the doors off with a dazzling stretch run to win by more than 3 lengths.
In his 2nd race he was bet down as the 1-1 favorite in the Emerald Express Stakes at 6 furlongs. Gold Rush Dancer was a close 2nd choice in the field of 5. Dancer went to the lead while Barkley dropped back to 3rd down the back stretch and turning for home was behind by 4 lengths but Matias tap on the gas pedal and Barkley responded with a going away 1/2 length victory. This would end his 2-year-old season. Belvoir had a few concerns and felt it was best to turn him out and let him recover and continue to grow and he certainly took advantage of that time off.
2016 he was rare'in to go and Belvoir found an early Allowance race in April. Again, he would not be the favorite, Viewingthegold was and took the lead but once again Barkley just rolled over the field with a mighty stretch run for a comfortable 2 length win. That led into that 3 race streak with Mach One Rules and once he got done with that he was 6-0. Belvoir pointed him for the Derby but others were also pointing for that and that is when Lucarelli set out to change up how they ran against Barkley.
Belvoir was quite aware that Barkley was going to be targeted and they indeed did that and no doubt cost Barkley the win since he lost to Opportunistic by a head. Belvoir says there were a few that wanted to keep us wide but Mach One Rules made sure and in the end cost Mach One Rules as he faded to 4th. That was enough for Belvoir even though it was just the end of July and there would be some end of season races for Barkley it was back to the farm for him.
In 2017 Barkley again would start in an allowance race but this time seemed to need the race and settled for 2nd. Belvoir and the Rising Star fanatics had one goal in mind and that was the big race, the Longacres Mile. Up next for Barkley was the Governor's Handicap and once again ran down Mach One Rules for his 4th win over Mach. But then he struggled a bit with a 4th place finish in the Budweiser and that would be the first time Mach One Rules would get the win over Barkley. Mach One Rules was really coming into his own at this point and made it 2 in a row over Barkley with a win in the Mt Rainier while Barkley was 3rd heading into the Longacres Mile.
Another former foe of Barkley would get the better of the white blaze wonder in Gold Rush Dancer who was trained by Vann Belvoir and raced for John Parker. Barkley would run a solid race with a 4th place finish but he didn't have that celebrated stretch run that he had and now questions were being asked if he had lost a step.
After the Mile Belvoir again turned him out and also truly believed he had not lost anything and was determined to get him back to being Barkley. Belvoir went back to square 1 and prepared him for a year of redemption. He began with an allowance win over Mach One but this time by 3/4's of a length and then stepped up to the Governor's where a new rival would emerge from the Blaine Wright barn.
Riser shipped in from Kentucky and went right to the front in the 6-furlong Governor's and never looked back with Barkley settling for 2nd. In the Budweiser an incident at the gate cost Barkley all chances of winning and certainly of placing when Riser in the 1 stall took a hard right out of the gate hammering Barkley and pushed him back to last. Barkley never recovered in the field of 5 and finished 5th but the Stewards disqualified Riser and placed him last moving Barkley up to 4th.
Belvoir was a little concerned that incident may have shaken up Barkley and in the Mount Rainier once again Riser would have an easy lead and with no pace to run at Barkley had to settle for 2nd again. Up next was the Mile and if the big race didn't attract any other legitimate speed to take a little something out of Riser then winning the Mile just might not happen.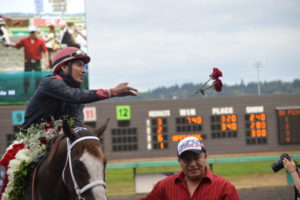 The showdown every fan wanted to see would not happen due to Riser suffering an injury while training for the Mile and he was not entered. But Blaine Wright was not out he instead brought up Alert Bay from Santa Anita and he would go off as the favorite in the Mile that only attracted 6 entries. Turning for home Barkley was 4th on the rail and Alert Bay 3rd but 4 wide and had clear sailing. Matias didn't want to get trapped and angled Barkley to the outside of the front runners and just inside of Alert Bay. In that instant the old Barkley was back as he exploded from between horses and drew off for a length and a half win over Alert Bay with Oh Marvelous Me hanging on for 3rd.
Barkley's Longacres Mile win in 2018
[embedyt] https://www.youtube.com/watch?v=Be-z70PGBu0[/embedyt]
Barkley earned his time off and was sent back to the farm off that scintillating victory. He was only 5 and had more racing in him so Belvoir once again being very careful with him sent him to the farm and settled into the usual rest and training regime to get him ready to defend his title in 2019. Belvoir targeted a mid-May allowance race as his starting point and Barkley ran off to a 2 and half length easy win.
But this is when the real concern began. Belvoir noticed a small bump on a tendon, one you could not see with the naked eye but he could feel it and shut down Barkley immediately and just like that his 2019 season was over. Belvoir says it just not worth the risk and he will always be over protective of his horses. It was off to re-hab and to see if he could get Barkley back for 2020.
Barkley was doing really well in his comeback and Belvoir was again aiming at a late April to mid-May return but Covid 19 hit and the track was closed. Well it was closed to racing, the horses and backstretch folks remained through the entire time. Once State officials okayed the current racing schedule opening day was pushed from mid-April to June 24th.
Belvoir says during that time to try and keep Barkley sharp he trained him to stay on edge because there was no indication when they could begin to race. Belvoir says he is grateful to be allowed to race but all through April, May and part of June we were all wondering if and when there would be racing. He said Barkley ended up working out 19 times prior to his first race in 2020 on July 15th, another allowance race to prepare for the only Longacres Mile prep race this season the Mount Rainier. Barkley finished 2nd in that allowance race but still Belvoir believed he was ready to fire again so they got ready for the Mount Rainier.
He worked again prior to the Mount Rainier and Belvoir along with Joe Withee who watched him work thought Barkley looked real good and would be a big factor in the upcoming Stakes race. Regular workout rider Jennifer Whitaker also said she thought Barkley was sharp.
However, Javier Matias had voiced some concern to his son Aldo Matias who has been his father's jockey agent. Aldo said it wasn't something major but Javier told his son Barkley didn't feel like he had that kick in his 2nd place finish in July. Aldo said they both agreed that Barkley had not been in a race for more than a year, in fact about 14 months and no doubt needed that race.
Barkley was bet down at one point to 3-5 but would go off as the clear 3-2 favorite. He was 7th and last out of the gate as Papa's Golden Boy jumped out to a big lead Barkley although last was not far behind the others. As they headed into the far turn Barkley began to pick it up with Elliott Bay just in front of him. As the duo passed one of the horses near the quarter pole Matias felt something. He knew it wasn't right and began to decelerate and by the 1/8th pole you could see Matias raise up a bit from his saddle and by the 1/16th pole was nearly standing easy Barkley in for what turned out to be his final race. Elliott Bay would go on to win ironically in the fashion many thought would be Barkley uyp in the final strides for the win.
Belvoir was so thankful that Matias took care of the white blazed wonder. Matias was the only race rider Barkley ever knew and Matias knew Barkley and it isn't hard to imagine a rider not that familiar with Barkley may have interpreted the issue with something else and may have asked or pressured Barkley but instead Matias wasn't about to let anything happen to Barkley. Joe Withee had a chance to talk with Javier Matias about what Barkley meant to him.
Javier Matias rider of Barkley
[embedyt] https://www.youtube.com/watch?v=GqTxko-Z-Gw[/embedyt]
Barkley again suffered a minor tendon injury but Belvoir says it took 2 seconds for the group to decide to retire Barkley, it wasn't even a question. Belvoir says in his long career as a trainer this will be the first time he will retire a horse to stud. He says there were requests almost immediately but the group needs to figure a few things out and first and foremost they need to make sure he heals up and remains healthy. 
Belvoir says before they start to stud him out he is first in line and has 3 mares he would love to see a Barkley bloodline come out in Washington State. Belvoir says this bloodline that Barkley comes from has not really been out here in the Northwest and really has a chance to add another strong line of Washington breds. 
Belvoir has had his share of memorable and fan favorite horses with Barkley back to Wasserman and way back to the Longacres days with Red Eye Express. Joe Withee had a chance to catch up with Howard and get his thoughts on the retirement of Barkley.
Barkley's Trainer Howard Belvoir
[embedyt] https://www.youtube.com/watch?v=YvipIcRUYRM[/embedyt]
The final reflection on the final race of Barkley's career and in a strange way maybe the covid 19 issues were helpful in this one instance and we are talking about the fact fans were not allowed at the track. Maybe if this was going to happen that it happened in front of only a few and not the thousands who would come out to see that big white blaze and his incredible determination to win. Maybe it was best he finished in front of those who loved him and those in the industry that could really understand and respect his career and what he, along with Mach One rules especially meant to racing at Emerald Downs.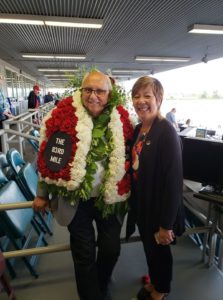 Howard and Vicki, the Rising Star III faithful, Javier Matias, Jennifer Whitaker and the support team of Barkley can look back and smile. They can be proud they brought Barkley to the Northwest where he was adored by fans, feared and respected by opponents and showed the racing world that indeed we can all have our own Seattle Slew. These folks helped make racing even more personal you can reach out and give Javier a handshake, you can approach Howard, Vicky and anyone in Rising Star and personally congratulate them, you can celebrate them and cheer them on even when your ticket has a different number on it. 
This is horse racing and why it is so special. In a day and age of needing Champions we can all cheer for there was Barkley. Competitor, Winner and Heart of a Champion…He is Barkley! 
www.elisportsnetwork.com