11/9/2020
(Auburn, WA) The post season awards have been announced for the 25th Emerald Downs season. We will go through each one and category and in this piece we focus on the horses.
Horse of the Meeting, Top 2-year-old Male & Top Washington Bred
Dutton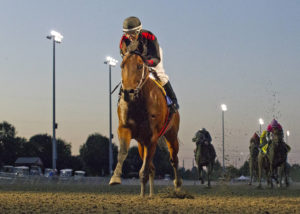 This is the 3rd Horse of the Meeting award that trainer Howard Belvoir has collected and the first one since 2009 when Assessment was the winner. Belvoir also won it in 2008 with Wasserman, somewhat surprising as fan favorite Barkley was never Horse of the Meeting including the year he won the Longacres Mile.
Dutton is the next Rising Star from the Rising Star stable but his career debut did not go as planned. Belvoir had his eye on the Lads Stakes and wanted to cut his teeth in a maiden special when there was a ruckus at the gate by another horse that got Dutton all stirred up and the Stewards scratched him at the gate.
This did not allow Belvoir to run him prior to the Lads so his career debut came in a stakes race. The public was not sure just how good of horse he is and let him go at 7-1. When the gates flung open Dutton quickly built a 3 length lead and went on to win by 9 and stopped the clock 1:16.25 for the 6 and a half furlong run.
The only thing left for Dutton was the Gottstein but Belvoir didn't want him to be off that long so ran him in an allowance race and at 1-9 smoked the field with a 14 length win over 6-furlongs in a time of 1:09 flat.
There is no question that Dutton would be the favorite in the Gottstein, the only question after winning a 6 and half and a 6 by a total of 23 lengths can he go the 1 1/16th? Still the over-whelming favorite, this time 1-5, Dutton went straight to the lead and set fractions of 22.48, 45.49 and 1:09.43 for 6-furlongs.
During this time he had built a 5-length lead and as many were waiting to see him extend that lead what they saw instead was Coastal Kid begin to close along with Easy Silence. That 5-length lead had been gobbled up just inside the 1/8th pole by a fast closing Coastal Kid in the middle of the track and Easy Silence was making up ground on the rail. As soon as Coastal Kid caught and passed Dutton, two things happen simultaneously, first Dutton dug back in and did not give up and more importantly Coastal Kid bolted dramatically to the outside fence nearly dumping jockey Alex Cruz.
Dutton kept to task under Jennifer Whitaker and held off Easy Silence on the rail by more than 2 lengths. Miraculously Coast Kid with Cruz's legs out of the stirrups rallied to finish 3rd. Despite Dutton digging back in and ultimately picking up the win there was no way he was going to deny Coastal Kid the win had he maintained his run.
Dutton still proved to be the horse of the meeting over several deserving but no horse won more than 2 Stakes races and Dutton was the only one with a perfect 3-0 record. The other two who both had clear arguments for the title were Unmachable and Alittlelesstalk and both were honored with other awards below. Time for Gold was also impressive with 2 Stakes wins in the 2-year-old filly division and certainly one to keep an eye on in the future.
Dutton is 3-0 in his career and earned $71,500 for the Rising Star Stable VIII. Dutton is a Washington bred by Noosito and out of Ms Moscow Mattie and bred by Ronald and Nina Hagen and Larry and Miriam Bonwell.
Here is a re-play of the Gottstein and interview with the connections of Dutton
[embedyt] https://www.youtube.com/watch?v=e0U0mkv3wFE[/embedyt]
Top Older Horse & Sprinter
Elliott Bay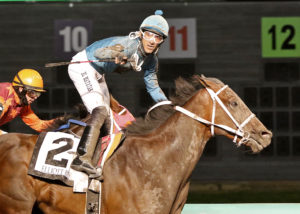 Elliott Bay a 5-year-old by Harbor the Gold may have had his best season yet. In his first start in a tough allowance race he ran the competition off their feet with a 7 length front running win at 6-furlongs with Javier Matias aboard.
Bay then made it 2 in a row in the 6 and half furlong Mt Rainier Stakes with a complete opposite approach than in his allowance win and with a different jockey. This was also the showdown between Bay and Barkley. Both were owned by the Rising Star Stable and trained by Howard Belvoir until Chad and Josh claimed Elliott Bay for $50,000 in May of 2019.
Matias was a regular rider for Elliott Bay's new trainer Frank Lucarelli but also had been the only jockey to ride Barkley in his 19 career starts. Matias stuck with Barkley of course and that opened the door for Eddie Martinez to take the mount on Bay.
When the gates opened instead of breaking for the lead as he did in his season opener Elliott Bay was looking at them all except for Barkley who trailed the field of 7. Martinez says he knew the pace would be hot with Papa's Golden Boy in the race and did not want to get hung up in a pace duel so he sat on Bay.
On the far turn Martinez and Bay were skimming the rail and began to move along with Barkley. As they got to the quarter pole Elliott Bay pinned his ears back and took off while Barkley was beginning his last run down the stretch as Matias began to ease him up.
Martinez and Elliott Bay had their sights set on Papa and Take Charge Deputy and veered to the outside and closed with a rush to get the win by a half-length. Bay stopped the clock in a time of 1:15.30.
Elliott Bay then emerged as one of top local entries in the Longacres Mile. Martinez again took Bay back this time to the very back 9th in a field of 9. Martinez says he again tried to save ground but ran into some traffic issues on the first turn and then again on the far turn but closed well to be 4th. Martinez felt he had a shot at finishing 2nd had he had a clean trip.
In his final race of the season Elliott Bay as the betting choice laid back again with Papa's Golden Boy assuring a fast pace but this time Unmachable also was in the race and laid off the pace. Unmachable got the drop on Bay along the inside as Papa's Golden Boy was tiring and veered out causing bumping between several horses including Bay. E-B closed well to be 2nd but Unmachable held a 3 length win.
Elliott Bay would run 4-times, have 2 wins with a Stakes victory, a 4th place in the Mile and a 2nd place in the Muckleshoot Tribal Classic. He earned $46,450 this season for owners Chad and Josh and gave Frank Lucarelli one of his 5 Stakes wins in 2020. Elliott Bay was bred in Washington by Mr and Mrs Frederick Pabst.
We talked with Jockey Eddie Martinez on his ride in the Mt Rainier Stakes:
[embedyt] https://www.youtube.com/watch?v=6ANkpV0EMYE[/embedyt]
We also talked with trainer Frank Lucarelli about Bay:
[embedyt] https://www.youtube.com/watch?v=SwwX7FjgMRc[/embedyt]
Top Older Filly or Mare
Alittlelesstalk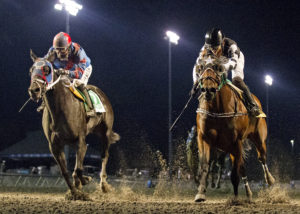 Trainer Roddina Barrett waited to start Alittlelesstalk until mid-July clearly with an eye toward the Stakes schedule and began in a highly competitive Allowance race. At the end of the 5 and half furlong sprint a head separated 3 of them in a blanket finish but Juan Gutierrez had Alittlelesstalk's nose down first for the win.
Up next was the 6 and half furlong Boeing Stakes and she was the 9-5 betting choice but it was Killarney Lass who had tired in that Allowance race after setting the pace and finished 4th who again took the lead but did not stop in this one. Alittlelesstalk was behind her every step of the way and they finished 1 and 2.
'Talk may have needed both races to be in top form as she entered the Distaff. Killarney Lass in this one was bet down to even money but going the mile and 16th she tired and set up Alittlelesstalk' who was again stalking Killarney Lass and at the top of the stretch ran past Lass to pull away for a 2 and a half length win. Gutierrez had 'Talk in perfect position and despite Killarney Lass setting all the fractions the distance was too much and Alittlelesstalk rolled.
In the Washington Cup for fillies and mares also at a mile and 16th Alittlelesstalk was the heavy favorite and without Killarney Lass might even find herself on the lead but instead outsider For You Only took that position and once again 'Talk stalked and struck at the top of the stretch and looked like she would roll to another win when Fortune's Freude came flying late and one more jump would have caught 'Talk but Gutierrez with great awareness got her home by a nose for her second straight Stakes win.
Had Alittlelesstalk won the Boeing she would have easily been the Horse of the Meeting and frankly had Coastal Kid not bolted it would have likely come down to Alittlelesstalk and Unmachable.
Alittlelesstalk was 3-1-0 from 4 starts and 2-1 in Stakes and earned $63,550 in 2020 boosting her career savings account to almost $157,000 for her owners the Warlock Stables, Kelly Dougan and Roddina Barrett and Barrett is also the trainer. Alittlelesstalk is a 5-year-old Washington bred by Demon Warlock and out of Trainingat the Bar and bred by the Warlock Stables, A. Floyd, K. Dougan, M. Hudson and the Horseplayers Club.
Here is a replay of the Washington Cup followed by Emerald Down's Joe Withee who talked with Owner/Trainer Roddina Barrett after her win in the Washington Cup:
[embedyt] https://www.youtube.com/watch?v=rEltKxFdxmw[/embedyt]
Top 3-year-old Male
Unmachable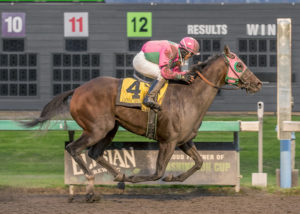 Unmachable came into the 2020 season after a successful 2019 year at Emerald Downs winning his career debut in the Juvenile Stakes at 13-1 coming from last to first and then running 2nd in the Gottstein. After a short break he shipped down to Turf Paradise where he ran 3rd in the Lost in the Fog Stakes.
That would be it for Unmachable in 2019 and trainer Jack McCartney focused on having him ready for the 2020 Emerald season. He would open his campaign with an allowance test and finished 3rd just missing 2nd by a head coming from last but well behind Papa's Golden Boy who won by 8.
In his next start he took on just the 3-year-olds in the Seattle Slew. He began 7th of 7 out of the gate with Javier Matias aboard. Matias saved ground and took aim at Gold Crusher who had built a 2 and half length lead. Matias went to work and Unmachable responded and ground away to win it by a half length. He finished the 6 and a half in 1:15.84.
We talked with rider Javier Matias after his win in the Seattle Slew:
[embedyt] https://www.youtube.com/watch?v=W_Ley6tp3XE[/embedyt]
A few weeks later Unmachable was the heavy favorite in the Muckleshoot Derby and again came from far back. This time Gold Crusher went to the lead and no one went with him allowing him to set the fractions and would pull away to an easy win while Unmachable who needs a pace to run at had to settle for 2nd. He then won by just a neck in an Allowance race staying primed for his final start in the Muckleshoot Tribal Classic Stakes at a mile and 16th.
Unmachable's regular rider for 2020 Javier Matias had to make a decision, Unmachable or Gold Crusher and he chose Gold Crusher and he chose wrong. This opened the door for Leslie Mawing who had never ridden Unmachable but you couldn't tell in the end.
As usual Unmachable dropped to the back while Papa's Golden Boy who had beaten Unmachable by 8 lengths in his first start of the season was once again out flying on the front end. But he would not last and Unmachable snuck up the rail and quickly drew away and Mawing rolled Unmachable to a 3 and a half length win over Elliott Bay.
As they turned for home Papa's Golden Boy did get out and caused a domino effect but watch the replay below and it doesn't appear it would have mattered with how Unmachable exploded along the inside for the easy win.
The 3-year-old has set the bar high with this season finishing 3-1-1 with 2 Stakes win and now 4-2-2 lifetime from 8 starts. He earned $65,225 this season to push his career bankroll to $111,515. Unmachable is owned by Tawnja Elison. Unmachable is a Washington bred by Macho Uno and out of Point of Reference and bred by John Jones and Ivor Jones.
Here is the replay and after Joe Withee's interview with trainer Jack McCartney:
[embedyt] https://www.youtube.com/watch?v=pfzxWM9KUqM[/embedyt]
Top 3-year-old Filly
Daffodil Sweet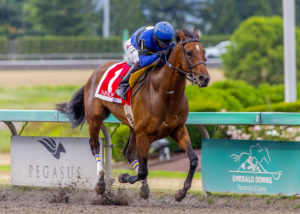 Patience was a virtue for the ownership of Daffodil Sweet. The 3-year-old made her presence known right out of the gate with a blistering performance in a maiden special weight. She also took the betting public by surprise as well going off at 17-1. In her career debut with Juan Gutierrez aboard took the lead which she held by about a half length to the quarter pole when Juan let her out a little and she not only had another gear but 2 or 3 to win going away by nearly 9 lengths.
Trainer Chris Stenslie then put her in an Allowance race and she went off at 1-2 and did not disappoint. Gutierrez took her straight to the lead and built up a 4 length lead heading for home and drew off to win by 8. She covered the 6-furlings in 1:10.62 and now ready to step up to Stakes company.
Daffodil Sweet would only draw 4 challengers in the Coca Cola Stakes and again was odds on and it wasn't close. She would win by 6 and stopped the timer at 1:16. 86 for 6 and a half. After 3 career starts she was 3-0 and combined wins by 23 lengths.
Daffodil Sweet was pointed toward the Oaks but was also a big step up in distance to a mile and a 16th. The race did not play out as the previous 3 trips on the track, first she had company on the engine. She never had more than about a length lead first pressured by She Owns the Paynt who eventually would relent only to be picked up by Princess of Cairo.
As they turned for home Daffodil Sweet led by a head but Princess of Cairo bore down and pulled away for a 3 length win while Sweet held on well for 2nd place.
That would be it for Daffodil Sweet for 2020 and finished with a 3-1-0 record from 4 starts. Daffodil Sweet earned $50,590 for her career season debut for owners One Horse Will Do Corp and Steve Shimizu. Daffodil Sweet is a California bred by Ministers Wild Cat and out of Easy on My Heart and bred by Michael Terry.
We talked with Owner Jody Peetz after Daffodil Sweet's win in the Coca Cola:
[embedyt] https://www.youtube.com/watch?v=Rfpfeeu3fYg[/embedyt]
Top 2-year-old Filly
Time for Gold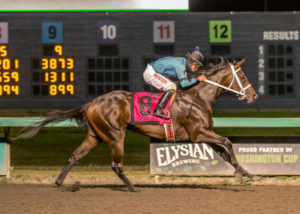 This Washington bred by Harbor the Gold burst on the scene after a very useful career debut run in a MSW. In her 1st race she had a very even effort finishing 3rd in a field of 7 and 2 lengths behind the winner. This was enough to get her prepared for the Angie C, the first Stakes race of the season.
Javier Matias got to know Gold in the first run and this time was focused on the break when she took a half length lead and built that to a 4 length advantage turning for home. Trainer Frank Lucarelli was unsure of what she might have left but when she drew off to a 9-length lead he was not expecting that. The bettors didn't either letting her go off at 12-1. She clocked the 5 and half furlongs in 1:02.72.
Lucarelli wheeled Gold right back in the Barbara Shinpoch Stakes where she demolished the 9 horse field by 11 lengths. Matias again broke well and turned away Sacagewea who did well to hold on for 2nd despite watching the Time for Gold get further and further away with each stride for the easy win.
Time for Gold finished her career season debut with 3 starts and a 2-0-1 record while picking up nearly $44,000 for owners Chad and Josh. Time for Gold was bred by Bar C Racing Stables.
We talked with trainer Frank Lucarelli after her dazzling performance in the Shinpoch:
[embedyt] https://www.youtube.com/watch?v=hSsjtA5SlA8[/embedyt]
Top Claimer of the Meet
Omache Kid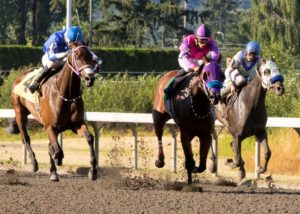 Being the only horse to win 4 races in this abbreviated season certainly gave Omache Kid credentials to be the claimer of the meet but it wasn't a slam dunk. The others considered were all 3 race winners that included Always Working, Buckley Bay, Dr Bruce S., Golden Cowboy, La Waun, Licorice Drop Pops, Lobaness, Missed the Boat, Pin Up Lady, Pistol Power, Pure Pursuit, Remembertobreathe and Stay in Grace.
But Omache Kid was the only one with 4 wins. Omache Kid went to work on day 2 winning the 8th race, a $6,250 price tag. Alex Cruz rode him to a half length win at 9-1. His next race was on July 9th and Cruz just got there by a neck again at $6,250. He was claimed from Carol and Sam Dronen by Joe Burke and Joe Crawford and went to the barn of trainer Tena Birdwell.
Kid was 2 for 2 and despite doubling his claiming price at $12,500 he would go 3 for 3 winning his first start for his new connections on July 22nd. Birdwell kept Cruz which was a good move as Cruz was in-synch with the Kid. Now could he string 4 wins together? He would give it a good shot but come up short with a 2nd place finish by less than a length.
Omache Kid would then run a pair of duds and the question was Kid tired? Did he need a break? He would finish 7th and then 6th but then turn things around in his 7th start of the season with his 4th win but had dropped to the bottom of class ladder to $2,500 to get it done. Kid would win with his 3rd different rider and the Dronen's would claim him back.
In his final race of the season on October 21 the Dronen's would push him back up the ladder to the $6,250 level and he ran a solid 2nd with Alex Cruz back on board coming full circle back with the Dronen's and Cruz.
Omache Kid finished the year with 8 starts, 4 wins and 2 seconds. He earned nearly $25,000 this season at Emerald. The 6-year-old now has a career bankroll of more than $82,000. His career record is now 45 starts and an 8-12-8  mark. That's an 18% win rate and in the money 62% of the time.
Omache Kid is a Washington bred by Polish Miner and out of D J's Storm and bred by Preston Boyd.
Race of the Meeting
Longacres Mile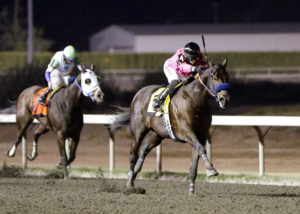 The Longacres Mile was voted the race of the meet as voters stuck with the most prestigious race over the Gottstein. The choice was disappointing to many we talked with because it was truly uneventful. The 6-5 favorite, Anothertwistafate, shipped in and rolled to a 4 and half length win with Juan Gutierrez aboard. Blaine Wright did win his first Mile and Peter Redekop was the winning owner.
The only anticipation to the race was whether or not speedster Papa's Golden Boy could pull a stunning upset with his quick turn of foot but stamina was the question. Anothertwistafate sat just off and had a length and a half lead at the top of the stretch and won by 5.
The Gottstein Futurity was clearly more entertaining with up and comer Dutton looking to extend his winning streak and when it looked like it was over with Coastal Kid closing fast on the outside Coastal Kid would bolt and allow Dutton to re-take the lead and win which led to the horse of the meeting honors and made the Gottstein was a pretty interesting race to watch and clearly impacted the post season awards.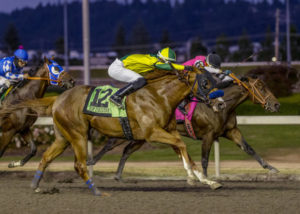 There were other races as well including the Washington Cup for Fillies and Mares that Alittlelesstalk held off Fortune's Freude for a neck win, the Washington Oaks with a huge move from Princess of Cairo to run down undefeated Daffodil Sweet or the King County Express with Top Executive nosing our Seattlesbestsecret.
But our vote was for the Mount Rainier Stakes, this year's one and only prep Stakes race for the Longacres Mile. There were so many sub-plots in this race it would have made a soap opera blush. Led by Barkley and his journey to get back to the Mile where he won it in 2018 to Papa's Golden Boy who had proven to be the fastest horse on the grounds and had 2 big wins coming into the Mt Rainier.
Then there was Take Charge Deputy from the Jorge Rosales barn. He was coming off an impressive 24-1 4-length allowance win over Barkley and last but not least Elliott Bay. Bay had been in the same barn as Barkley owned and trained by the same connections the Rising Star Stable and trainer Howard Belvoir. Elliott Bay was claimed in the spring of 2019 and ended up in the Frank Lucarelli barn.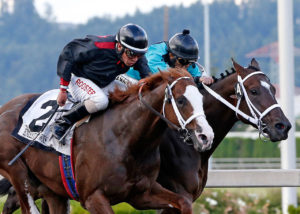 This is an interesting twist since Barkley and Lucarelli's Mach One Rules were Emerald Downs' version of Affirmed and Alydar for a couple of summers that led to the popularity of both horses.
In the end Barkley had been struggling with minor injuries and Belvoir felt he had him ready to go but regular rider Javier Matias felt something was not right and he eased him home in the Mt Rainier and he was retired to stud shortly after the race. That's is the first thing that occurred in this race.
Next, Papa's Golden Boy had built a big 6-length lead turning for home but this time Take Charge Deputy was battling up the rail while Elliott Bay was rolling and jockey Eddie Martinez shifted to the outside to get up and win by a half length with Martinez striking a pose as he crossed the line. Papa held off Deputy by a neck for 3rd.
So on the day Barkley ran for the last time his former stablemate won the race in dramatic fashion, the Mount Rainier Stakes, in our view, was hands down the race of the meet.
But the voters made their decision and the Longacres Mile won the award and we shall respect those results, simply not agree with them.
There is our post season rundown of the horses. Still to come Trainers, Owners and the betting windows.
www.elisportsnetwork.com