Kevin Orozco continuing the NW Apprentice Legacy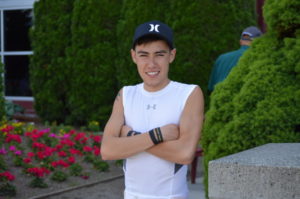 (Auburn, WA) Apprentice jockey's are the rookies of horse racing and many times are treated as such in the jockey's room like rookies at an NFL training camp. Apprentices when they win their first race know they have at least a bucket of water dumped on them and in some cases and certainly in the past young jockeys got painted with Blu-Kote a substance used to cover small abrasions on horses. The "Blu-ing" ritual would stick with the apprentice for several days before wearing off.  In many areas of the Horse Racing nation apprentice jockeys struggle to get mounts let alone quality mounts.
It has been quite the opposite for apprentice jockey's in the Northwest going back to the Longacres, Yakima and Playfair days, apprentice jockeys have flourished. Kevin Orozco is the latest to hit the Northwest at Emerald Downs and he is actually a little on the old side for apprentices. Many apprentices dive in at the age of 16 because they are small enough and have not finished growing. Many careers are cut short when they simply can't cut the weight any more to be light enough to ride.
This was the case for the 1st Emerald Downs jockey Champion Vann Belvoir who began riding at Longacres as a 16-year-old in 1990 but by the time Emerald Downs opened in 1996 he was hard pressed to get down to 120. During the inaugural season of Emerald he would cut so much weight some days he would get dizzy and literally have to take off mounts. Belvoir had hoped to ride into his 30's at least but the writing was on the wall and he then turned to training. He actually won the Emerald winter meet in 96-97 to become the only one that we could find to win a jockey title and then a training title in back-to-back seasons.
Another talented apprentice at Emerald early on was Geoff Cooper who followed in his Father's footsteps, Bryson Cooper. He got his riding talent from Bryson but his genetics with Mother Kay Cooper and longtime great trainer Grandfather Jim Penney from the Penney side of the family and also outgrew the jockey saddle by the time he was 20. He began riding in 1994 at Yakima Meadows and like Belvoir had ridden in California and even at Belmont but knew at the beginning of the 1999 Emerald season it was over as he had shot up to 5'10 and could barely get down 122.
There are many other apprentices that we'll include later in this story but now back to the latest bug sensation in Washington State Kevin Orozco. We sat down and talked with Orozco for quite some time and his story is pretty fascinating. Orozco is extremely mature for his age and understood from the beginning what it would take to achieve his dreams.
The Beginning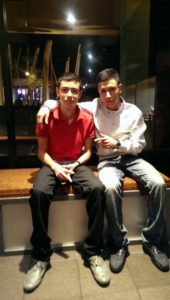 So let's start from the beginning. He grew up in Southern California in El Mirage just north of Riverside and east of Los Angeles. Orozco and his brother Irving got their interest and start in horse racing from their Grandparents who worked the SoCal circuit as hotwalkers and grooms. They would take the boys to the track where Kevin and Irving became interested in becoming jockeys.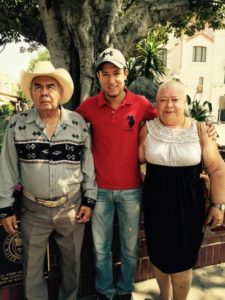 The boys would really get involved when their family bought a yearling from Los Alamitos and it was up to them to take care of the horse and to help get it ready to race. They worked on a ranch and were joined by friend Eswan Flores.
It was on the farm breaking horses that Kevin would learn his trade. Many jockey's attend formal jockey schools and learn how to ride in a controlled setting with a program. Kevin, Irving and Eswan did it old school first breaking horses and just trying to stay on to galloping to working to racing. Eswan and Irving being a few years older began their jockey career before Kevin decided to give it a try. Although Kevin was old enough he knew he wasn't ready.
Timing is everything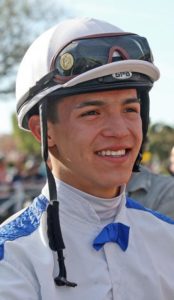 This is extremely impressive for a young wanna-be jockey. It's one thing to give up the earning potential of young apprentice jockeys when maybe you aren't quite sure how much money you can make but it's another when you see your brother and friend doing it. The temptation was there but Kevin resisted it instead focusing on his riding skills and continue to work behind the scenes.
Kevin continued to work at the ranch breaking and working horses and actually working with other young riders who also wanted to become jockeys. Kevin says helping share what he had learned, although not extensive, helped him gain more confidence in his own ability.
Kevin credits trainer Eloy Navarro for his opportunity to take the final step in achieving his goal when Navarro signed for his exercise license that allowed Kevin to get on horses in the morning at the tracks. Kevin says this was part of his own process of getting himself ready to become a race rider. He says the last thing he wanted to do was begin riding before he was not only physically but mentally ready. He says you only get one chance at being an apprentice and he didn't want to waste this year.
Ready to race!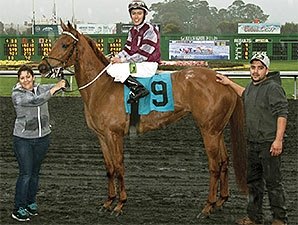 When he felt he was ready to ride races he followed both his brother and Eswan who were at Golden Gate. Kevin joined them with jockey's license in hand and the of course the bug that he hoped would entice some trainers to give him a shot. In short order he started working regularly for trainer Sherrie Monroe. He worked most of her stable and started working horses for other trainers and finally got his chance to get on some in the afternoon. It did not take long for the 19-year-old to get his 1st win. He remembers it clearly, Elle Woods Too broke from the 9 hole in a field of 12 and went right to the lead. He says he remembers Russell Baze stalking him the entire way but could not get past him as he went gate to wire. Kevin says the 10-pound bug probably helped a little but he remembers the line couldn't get there fast enough when he turned for home. The 6-1 Elle Woods Too didn't fool everyone as he won his first race with decent backing from the public. Link to Kevin's 1st win chart
That 1st win would get him excited and he felt he was on his way but this business can bring you back to earth in a hurry and he would not get his next win for a couple more weeks winning on an odds on choice on March 4th, also gate to wire. Then a long drought would set in and he wouldn't see the winners circle again until July 29th at Santa Rosa. It was a hard ridden win coming for the first time from just off the pace to get his horse Miss Marini up by a nose. He would then get wins 4 and 5 in August, no wins in Septemeber, 1 in October, 2 in November and 1 in December including another win on Elle Woods Too. He was finding he was only getting repeat mounts on horses he had been riding and not expanding his chances.
Time for a change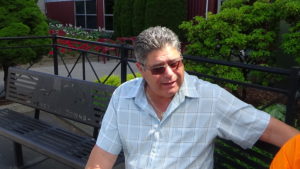 In 2017 he continued riding at Golden Gate where he would post just 1 win through February and he was beginning to really question himself. It was at this time Kevin began talking and working some horses with trainer Frank Lucarelli. Lucarelli encouraged him to think about heading north to Emerald Downs where he told him he would get a chance to ride not only more than he was at Golden Gate but on horses with real chances to win on a regular basis. Kevin then again thought about not wanting to waste his bug and decided to come North. Lucarelli then hooked Kevin up with his brother Vito who is now Kevin's agent.
Lucarelli also put his money where his mouth was and began putting Kevin on a bunch of his horses at Emerald Downs. He rode only once on opening day and finished 3rd for Lucarelli. On day 2 he got 2 more Lucarelli rides and finished 4th then got his 1st win aboard Raging Warrior. The 2nd weekend of racing Orozco got 6 rides and 2 more wins. He also began riding for someone other than Lucarelli with rides for trainers Chris Stenslie and Kay Cooper.
But it was the Lucarelli connection that really cemented his success at Emerald Downs winning his 1st 4 races on Lucarelli horses and 6 of his 1st 8. He won for trainer Jeff Metz on April 23rd for his 1st non-Lucarelli win and then on the 28th had his 1st multi win day winning for Blaine Wright and Lucarelli. Lucarelli agreed that apprentices do well up here in the NW and also could see that Kevin had some talent as to why he encouraged him to come to Emerald Downs. Lucarelli added that Kevin is also simply a really nice young man and was excited to help give him a shot at growing as a rider.
Orozco headed for EmD in March and bunked with last year's leading rider Rocco Bowen and journeyman Leonel Camacho-Flores. He wasn't sure if this was going to work out so he didn't want to find a place to rent and get stuck with a 6-month lease if he was not going to stay. Instead he is no doubt staying and Rocco and Leonel told him he could stay with them as the three of them share a house. Kevin says having 2 veterans like Rocco and Leonel around has also made it a much easier transition.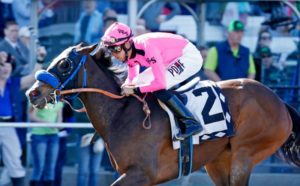 After gaining the confidence of a large cross section of trainers at Emerald the next step for Orozco was to get on some of the elite stock. May 7th would feature the 1st Stakes race of the year  in the Seattle Stakes. But Kevin did not get a call which was disappointing but it turned out to be a special race for him anyway as his brother Irving traveled up to ride Alliford Bay and won the race by 3 lengths as the odds on choice. Even though they did not get to ride against each other Kevin did tally 2 wins and so the Orozco brothers accounted for 38% of the wins on this day.
Moving up to Elite Status
Kevin kept after it and would get his first Stakes ride on Saturday, May 20th on Perhaps a Pie in the Hastings. Perhaps a Pie went off at 5-1 and just missed 3rd place by a nose. His next shot would be on May 28th in the Kent Stakes where he was on Irish Lass a 56-1 outsider and finished last. It would be double disappointing as his brother Irving was back to ride Alliford Bay who disappointed at overwhelming odds finishing 6th.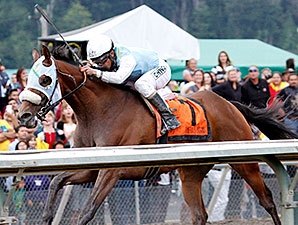 Then on June 4th Kevin took the ride on Aqua Frio for trainer Blaine Wright and closed strongly to stablemate Riser at 9-2. Orozco then got the surprise of his young riding career when Larry and Sharon Ross decided to put him on Stryker Phd. Stryker Phd was a 2-time Longacres Mile Champion and had been the fan favorite for the past several seasons. He ran a hard closing 5th in the Budweiser. He got the call again to ride Stryker Phd in the Mt Rainier but was scratched at the gate in an odd ruling from the Stewards claiming he was too far from the gate when the loading process began. The race was to have been a final prep for the Longacres Mile on August 13th where he tries to become the 1st 3-time champion at the age of 8. Orozco called the chance to ride Stryker Phd the biggest thrill in his short career at the time and hopes he gets to keep the ride if the big horse goes in the Mile.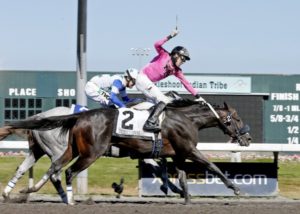 Meantime, Orozco got his biggest thrill since then back on Aqua Frio in the Seattle Slew Stakes on July 2nd. Aqua Frio wanted more distance and got it in the classic one-mile distance but still had to chase his stablemate Riser who know doubt would go to the lead once again. Orozco kept Aqua Frio never further back than 5 lengths and turning for home had 3 and half to make up and it turned into a match race with Aqua Frio bearing down hard on a tiring Riser and got him on the wire by a head. It was a personal trifecta for Kevin beating his longtime friend Eswan Flores who was on Riser and his roommate Rocco Bowen who finished 3rd.
Since then Kevin is looking for his 2nd Stakes win but is certainly going to have his chance as he continues to get rides in the elite races on the elite horses. Orozco has found at least a temporary home in the Northwest. He wants to get back to California and dreams of being a regular rider on the Southern Cali circuit. Being able to go home and be successful surrounded by family would be the ultimate goal.
Staying Focused
Right now the 21-year-old is focused totally on his trade. The maturity he showed in his preparation for this moment he carries with him in his personal life. He says he dates from time-to-time but is not ready for a serious relationship. He is much like other energetic 21-year-olds and enjoys getting outside and taking advantage of the Pacific Northwest with hikes and camping, kayaking and doing things with his extended "track" family.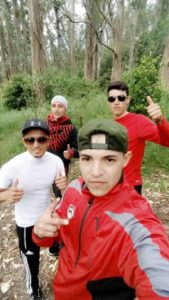 Orozco as we said earlier is just the latest apprentice to roll up a number of wins in the Northwest. He rode for nearly a year at Golden Gate and won just 10 races. In just 48 race days has racked up 42 wins and is currently in 2nd place in the jockey standings trailing Bowen who is running away with the title with 79. Orozco went from 1 win every 30 days to nearly one win every day. He is hitting the top 3 at a 56% rate that puts him in the top 4 while his win percent is 19% also 4th among the regular riders. To say this was a good and right move for Orozco would be stating the obvious.
Will this success lead Orozco to his ultimate goal of being a regular on the SoCal circuit is still to be answered. The sure bet is that he will continue to stay humble and learn from others and take all that information in making him a better rider every time he gets on a horse. It would be an unwise wager to bet against Kevin Orozco and he has all the makings of yet another rider developing their skills in the heat of the Pacific NW summer to someday watching those lessons and hard work pay-off on the national stage.
Sampling of the Success of Washington Apprentice Jockeys
Trying to pick out just a few examples of incredibly successful apprentice jockey's was simply impossible and we didn't go back in history nearly far enough. We are going back to 1973 with Gary Baze who burst onto the scene winning his 1st of 6 jockey championships at Longacres. Here are the names and a quick re-cap of their riding careers or up to current status.
Gary Baze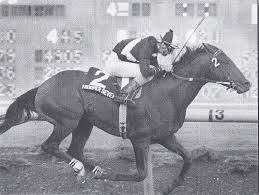 Gary Baze began riding in 1973 and began winning right away and didn't stop until winning his 1st of 6 Longacres riding titles. Baze finished his career for good after intermittent blocks of time off in 2011. He had 23,708 mounts and finished with 3,504 wins, 3,149 2nds and 2,945 3rds. He finished with a 14.8% win percent and 40% in the money. He racked up 29.2 million in earnings and won 5 Longacres Miles including 2 on the spectacular Trooper Seven and in 1987 with Judge Angelucci for Hall of Fame trainer Charlie Whittingham.
Russell Baze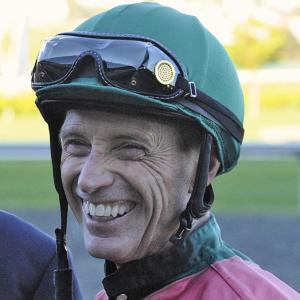 The cousin of Gary also cut his teeth mostly at Longacres and then when on to much bigger things including becoming the most winningest jockey in the world. Baze no doubt had no idea after winning his 1st race at Yakima Meadows in 1974 that he would return to the Winners Circle another 13,841 times. He won the Longacres Mile 3 times his first at Longacres on Simply Majestic and twice at Emerald Downs in back-to-back fashion with Sky Jack in 2003 and Adreamisborn in 2004. He also rode nationally recognized runners Lost in the Fog and Bold Chieftain. Baze rode an incredible 53,578 mounts with 13,842 wins, 9,600 2nds and 7,855 3rds for an amazing win percent of 25.8% and in the money 58% of the time with career earnings of 199-million.
Vince Gibson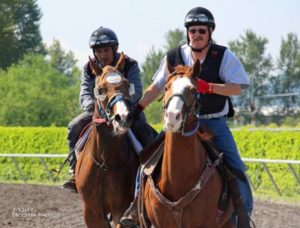 Vince Gibson part of the longtime Gibson racing family not only was a highly successful rider and apprentice but then has gone on to be a longtime successful trainer. Gibson's numbers as a jockey and trainer are eerily close. Gibson's family has long been known for using apprentice jockey's and bringing them along. Gibson rode many fan favorites from the Longacres era including Pappy and Louise's Pride. As a jockey he had to wrap up his career in 1982 he simply outgrew being a jockey. Gibson rode 4,625 career  mounts with 503 wins, 496 2nds and 466 3rds. His win percent was 11% and 33% in the money and earned 1.48 million dollars.
As a trainer Gibson's career has obviously been much longer and has started 3,951 with 513 wins, 518 2nd and 507 3rds for a win percent of 13% and in the money 39% of the time with 2.9 million in earnings for a combined 4.38-million in earnings.
Vicky Baze (Aragon)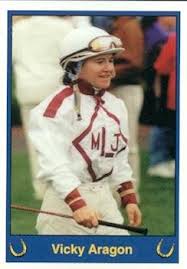 Vicky Baze began her long career in 1985 and recently rode a stretch at Delaware in 2016 but is now retired. She is married to Gary Baze and was plenty successful in her own right. She too burst on the NW racing scene and was not only aggressive but she had an edge to her that let everyone know just because she was a woman she wasn't about to back down to anyone. She was the 2nd female jockey to ever win a Stakes race in Washington State and first to win a jockey title in 1986 with 179 wins at Longacres. She won a 2nd Longacres title in 1988. Her career stats were an impressive 13,697 mounts with 2,146 wins for a 14.7% win percent while posting 1,924 2nds and 1,746 3rds for an in the money percent of 42%. She earned nearly 15-million dollars during her career.
Vann Belvoir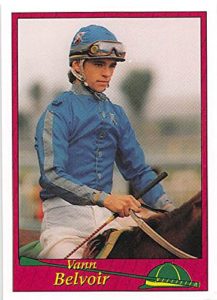 Vann Belvoir is our 2nd jockey who went to training after he no longer could make weight as a rider. Belvoir also from a racing family including his longtime trainer father Howard Belvoir and from his Mom's side the Taylor family. As a 16-year-old high school sophomore Belvoir turned in his books and wrestling gear to ride. He began riding at Yakima Meadows in late 1989 before riding a full season in 1990 at Longacres. His first win came on his 12th ride with Palermitano, in fact his first two wins were with Palermitano. His 1st win at Longacres was on his Dad's horse That Knight on April 7th, 1990.
Belvoir rode in Northern California and other tracks and won the Longacres Mile on Want a Winner in 1994 at Yakima Meadows. He came home in 1996 for the inaugural Emerald Downs season in 1996 which would be his last as a rider. He won his only riding title at Emerald Downs in 96 with 148 wins. He retired after the summer season and immediately got his trainer's license and then won the winter meet at Emerald Downs.
Here are Belvoir's numbers as a jockey with 8,147 rides, 1,353 wins, 1,217 2nds and 1,075 3rds a 16.2% win percent and in the money 45% with earnings of 16.2 million. His training numbers are 3,860 starts, 546-547-524 a win percent of 145 and in the money 42% with 8.2 million in earnings with a combined 24.4-million in earnings.
Geoff Cooper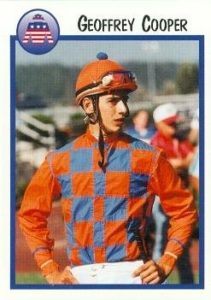 Cooper another from a racing family, his father Bryson a longtime NW jockey with a Longacres Mile victory on his resume in 1978 with Theologist. Cooper's Grandfather was Washington Hall of Fame trainer Jim Penney and his Mom, Kay Cooper, the longtime assistant trainer to the Penney barn and now a great trainer in her own right.
Cooper had less than 6 seasons to accumulate the numbers he did and he finished with 3,875 starts 448-488-486 with 3.3 million in earnings and an 11.5% win percent and in the money 37%. Cooper's biggest win came on Kitty's Link for his Grandfather in the Washington Championship Stakes that gave Jim Penney the training title by 1 win over Tim McCanna.
Chelsea Zupan, Nathan Chaves, Hector Ventura Jr
Zupan, Ventura Jr and Chaves all rode as apprentices in 1996 at Emerald Downs. Zupan and Ventura tied for 8th with 39 wins while Chaves who didn't arrive until August, 2 months after the opening tallied 34 wins and the 3 combined for 112 victories. The 3 many times also completed each other's exacta tickets and there were a few all apprentice trifectas.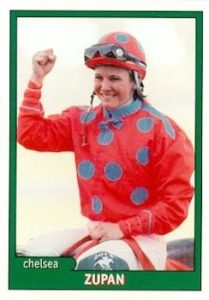 Zupan began riding in 1995 in Oregon and then  traveled to the east coast riding at Delaware and Atlantic City before heading back west for the opening of Emerald Downs. She would win several Stakes with her best horse being I M Bzy. She retired in 1999 with her best finish in 1997 with 105 wins finishing 3rd in the jockey standings. Zupan's final numbers were 1,991 mounts with a 308-282-308 record posting a 15% win percent and in the money 45% and 1.7-million in earnings.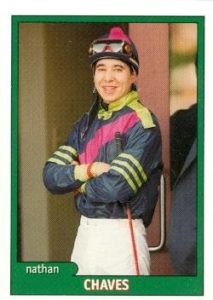 Chaves from Sumner began riding in the March of 96 at Yakima Meadows then got his 1st win at Sun Downs in the Tri-Cities before heading south to Santa Anita and Hollywood Park. He came back home in August of 96 and rode through October at Emerald before heading back to Santa Anita. Chaves bounced around to many tracks during his career but settled in during the summer at Emerald from 99-2002. His biggest win was aboard Sabertooth in the 2002 Longacres Mile. Chaves stopped riding in 2015 but still works horses. Through 2015 his career numbers were 5,628 mounts, 660 wins, 646 2nds and 699 3rds with 7.4 million in earnings. His win percent was 11.7% and in the money 35.6%.
Ventura Jr began riding in 1995 at Thistledowns in Ohio, worked his way to Beaulah Park then headed west to Hollywood Park. After trying to catch on in So Cal Ventura decided to head north to Emerald Downs to try and get more and better quality rides which he did. Ventura Jr rode several seasons at Emerald with his best season in 2001 finishing 4th with 62 wins. His top horse was multiple Stakes winner Handy N Bold. Ventura died suddenly in 2007 after a promising re-boot to his career in 2006 where he tied for 8th with 37 wins. Ventura's career totals were 2,900 mounts, 365-360-375 for a 12% win rate and 38% in the money.
Jennifer Whitaker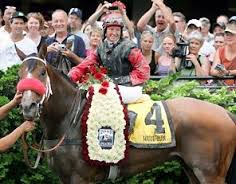 Whitaker has had many highlights as a regular rider at Emerald Downs and has been known as the #1 rider for the Howard Belvoir barn for several seasons now and cemented her legacy in Emerald Downs history when she won the Longacres Mile in 2008 aboard Belvoir's Wasserman and is the only woman ever to win the Mile. In her apprentice season she won 35 good enough for 8th in the jockey standings. She has finished in the top 10, 11 times since 2000 and is the track's all-time leading female jockey with 457 wins.  She is still riding and still winning, her current career stats are 4,324 mounts with a 562-640-613 career mark. Her win percent is 13% and in the money 42% with career earnings of 5.7-million.
Cassie Papineau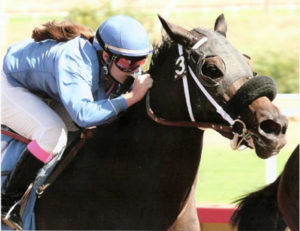 Cassie Papineau  made a huge impact on her arrival as an apprentice at Emerald Downs and set the record for wins by an apprentice at Emerald Downs with 70 in 2009. She got her feet wet in 2008 at Turf Paradise then Boise before coming to Emerald in 2009. Papineau would reel off 70 wins and earn nearly a million dollars. The grind was hard on Papineau and tried a comeback but has been retired since a short stint in 2013. Her career earnings were 1.4-million from 1,526 mounts with 171 wins, 189 2nd and 223 3rds for a win percent of 11% and in the money 38%. She finished 5th in the jockey standings during her apprentice season in 2009.
Eliska Kubinova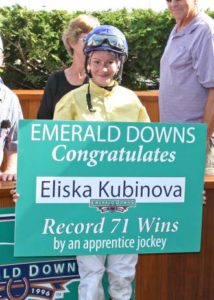 Eliska Kubinova began riding in the Fall of 2011 at Emerald Downs and picked up her 1st win on her 5th ride with Get Going on September 10th. She rode at Portland over the winter but it was the Emerald season of 2012 where she placed her stamp. Kubinova would break Papineau's apprentice win record with 75 wins finishing 3rd in the jockey standings, the highest finish for any apprentice at Emerald. She has been a regular in the Emerald jockey colony since and is currently 4th with 190 wins at Emerald on the all-time female jockey list. Kubinova won the opening race of the 2017 Emerald season. She has 2.6-million in career earnings with 2,037 mounts and a 361-335-317 record. She has a 17.7% win percent and in the money nearly 50%.
David Martin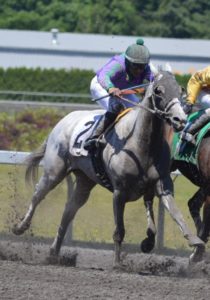 I mention David Martin in this piece because he with Orozco got me thinking about the beginning of Emerald Downs with Chaves, Ventura and Zupan. Martin had spent most of his time at Golden Gate and was having limited success. He also has ridden at Portland Meadows before shifting his tack further North. Martin is off to a decent start but not getting as much attention as Orozco but still getting more chances. He has been for the most part on longer shots and has led the jockey's in ROI for bettors for most of the season. He currently has 11 wins, 12 2nds and 18 3rds from 146 rides. His career totals are 397 mounts and a 25-41-49 record with 372k in earnings.
Wrapping this up it is clear NW trainers do not believe being an apprentice is a disadvantage but rather a plus. Orozco with Martin are proving again that putting up with a little inexperience is a small price to pay to get riders that are on the verge of blossoming plus a handy little weight break. The history of apprentice success in the NW has not slowed down nor does it look like it will anytime soon.
Photo Gallery