10/30/2020
(Auburn, WA) Just the fact that there was a season is a tribute to everyone in the business from the jockey's and trainers to the grooms, track crew, Emerald staff, stewards, race office, owners and everyone else involved and they all should be congratulated, well done and a great example of working together regardless of opinion to achieve the result we all wanted and that was to have racing. Will there be a so-called asterisk placed next to this year? I hope so! The asterisk would remind everyone how this group pulled together and pulled off 38 days of racing, how the Stakes schedule was run on Thursday nights including the Longacres Mile, how fans from all over the country were exposed to how racing in the Northwest can be and just what a special year this ended up being.
Closing day was the first and only time Eli Sports got a chance to come and cover the races so we took advantage of the space and the access to all the horsemen. We did many interviews throughout the night and finally got to talk with many who have not had a chance to be in the spotlight a little bit. We were excited to talk with so many good people and appreciate how many went out of their way to sit and talk with us.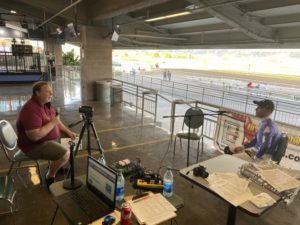 We have done quite a bit of coverage all season and all of it remotely until closing day. We want to thank Joe Withee and Vince Bruun for their help in our coverage. Joe would come back the next day to get interviews for us through out the season and Vince provided us with lots of information.
This year we were able to do interviews with Javier Matias, Juan Gutierrez, Jennifer Whitaker prior to closing day and then talked with Cerapio Figueroa, Heribert Martinez and Alex Cruz on closing day. Cerapio and Heribert were kind enough to make time before the races and Alex, after riding the card stopped in after winning the 11th and final race to talk. We talked with many trainers including Frank Lucarelli, Howard Belvoir, Kay and Bryson Cooper, Joe Toye, Vince Gibson and Bill Tollett. Some of the owners we talked with included Jody Peetz, Todd and Shawn Hansen and Chad and Josh plus several of the trainers that are also owners.
The stories we covered this year included opening day, how this whole strange season would work, early success in the handle, Juan Gutierrez winning #2,000, all the stakes races, additional coverage of the Longacres Mile, a special report on Barkley "Heart of a Champion", Jennifer Whitaker's 500th win at Emerald Downs, the passing of Hall of Fame trainer Ben Harris, the postponement of racing not due to covid but due to the smoke from the wildfires, Washington Cup day, the purse's increase, a fun piece on keeping track of your bets and tickets, again on Juan Gutierrez when he became the all time winningest jockey at Emerald Downs surpassing Gallyn Mitchell, re-caps of several weeks and of course Larry the SportsCat's picks every week.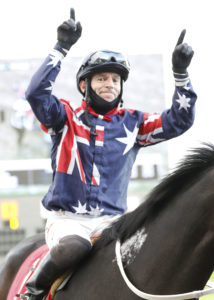 But the story that got more reads than any of them was the story titled "Emerald Downs Horse Racing Family set the example on how to deal with Covid-19". (I have updated the story as well to reflect the results.) This was the most important story we did all year because it wasn't about just horse racing but about how a whole community of what 400-500 people who interacted with each other since February followed all the guidelines and kept Covid-19 out of their world.
Eli Sports covers a lot of high school some college and other pro and minor league sports and we can't tell you how many times we sent a link to this story to high school officials, people in charge of sports teams even school superintendents heck I even sent it to the State Superintendent and or just the whiners and complainers to show this is how you do it. The Emerald Downs community is truly the shining example of how to pull together regardless of opinion and politics to get to the place you want to be. All you have to do is look around to see how many other sports even other race tracks that have had to stop or cancel or re-schedule because the virus got in. To go from February 1 to basically November 1 or 9 months and not one single positive covid test? That is amazing and again another round of applause and congratulations to everyone involved.
We talked with long time trainer Joe Toye who said the Emerald Downs season turned what looked like a disaster into a pretty good year.
[embedyt] https://www.youtube.com/watch?v=M0u9M7VGEnU[/embedyt]
Let's get to the racing from closing day!
The first race of the day was a field of 6 in a very contentious race with speedster Papa's Golden Boy bet down as the expected favorite. Papa's Golden Boy jumped right to the lead and set blazing fractions of :21.2 and 42.4 and had a lead of 5 lengths. But Papa went too fast and by the top of the stretch his lead was down to a length with Windribbon making a run along with 8-year-old Oh Marvelous Me otherwise known as "Marv".
Marv kept on rolling for leading rider Alex Cruz and pulled away for a length win as the 5-2 second favorite. Marv ran the 6-furlongs in 1:08.50. Oh Marvelous Me is trained by Blaine Wright and earned more than $12,000 for owners Todd and Shawn Hansen and pushed his bankroll to more than 230k. Marv now has 11 wins, 8 2nds and 8 3rds from 40 starts.
We talked with owner Todd Hansen who said Marv is a pretty special horse:
[embedyt] https://www.youtube.com/watch?v=yrAH4Sp1VvE[/embedyt]
We also talked with Papa's Golden Boy trainer Vince Gibson who said he expects fast fractions from Papa but a 42 half was not the plan:
[embedyt] https://www.youtube.com/watch?v=QNcvR5fanoM[/embedyt]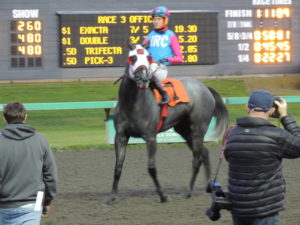 In the 2nd race Vicente's Shadow the odd's on choice Vicente's Shadow held off Aero Street for neck win. Juan Gutierrez was aboard for owner/trainer Satchell Stevens. Alex Cruz picked up his 2nd win of the day in the 3rd with Abraa Jabraa. Tim McCanna was the trainer and owners Horseplayers Racing Club. Abraa Jabraa also happened to be Cruz's first win at Emerald Downs back on opening day, June 24th in the 7th race.
In the 4th race Genoa Bay took  the lead set the pace and maintained the lead for a wire to wire win with Gary Wales aboard. Bay is owned and trained by Robbie Baze. The story though was the 2nd place horse Look At My Star with Alex Anaya. Look At My Star was trained by 87-year-old Bill Tollett. This was Tollett's final race and nearly finished his career with a win. We had a chance to talk with Bill and his wife Donna and that story will be released at a later date.) The 17-1 second place runner combined also began a run of big 10-cent Superfecta pays with the return of $100 for the 6-5-4-2 dime wager.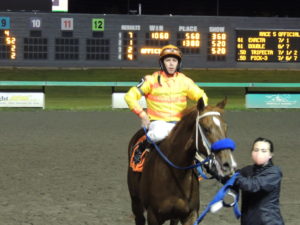 In the 5th race Lets Declare Peace got Gary Wales his 2nd win of the day as the 4-1 2nd favorite in a field of 11. Wales just outlasted 17-1 Hefty Garcia with Matias up by a head. Joe Toye was the winning trainer and the owners were Rick Kessler and Terra Firma Farms. The 10-cent superfecta blew up here with an 11-1 and 30-1 shot running 3rd and 4th returning $525 for the 7-1-2-4 10-cent bet or $5,250 for a dollar.
Trainer Tim McCanna got his 2nd win of the day in the 6th and Alex Cruz his 3rd when Cruz brought home 3-2 favorite She Began Again for the Horseplayers Racing Club.
The 7th race saw boxcars hit the board with 22-1 Jerre to Carrie drawing away to a 4-length lead at the top of the stretch and denying 8-1 If You Want It for the neck win. Eddie Martinez rode the winner for trainer Rigoberto Velazquez and owner Lisa Baze. A 5-1 and the 1-1 betting choice finished 3rd and 4th for another huge superfecta pay of $352 for the 10-cent bet or $3,520 for the dollar.
Martinez would win back to back as he piloted Smashing Success to a 2 length win at 5-1 in the 8th race. Doris Harwood got the training win for longtime owners the Shady Valley Ranch. The $1 Martinez daily double was good for $225. In the 9th race Alex Cruz got win #4 on the card with a handy front running win on Sovereign Nation. The Still Dreaming Stables own Sovereign Nation and trained by Vince Gibson.
In the 10th, 9-year-old Grinder Sparksaglo won for the 2nd time in the last 30 days with Juan Gutierrez aboard for his 2nd win of the day. In what looked like a competitive race the old guy says nope, took the lead by 2 out of the gate and drew away for an impressive 6+ length win. Robbie Baze scored his 2nd training win of the day and Richard Sena is the owner. Mixo ran on well for a clear second and long shot Wine at Nine got up for 3rd.
Alex Cruz would wrap up the season with a dominating win on Maybe a Diva in the 11th. Cruz sat on Diva for the 1st quarter about 4 lengths behind front running A Good Snicker when he just couldn't contain her any longer and quickly surged to be head and head with Snicker at the half and just kept on running pulling away in a dominating 7 length win. Alan Bozell was the owner and trainer as Diva was let go at 6-1.
6-1 Pinchalinch rolled up to be 2nd and yet Snicker held on for 3rd also at 6-1. 4-1 the 2nd favorite Easy Does It was 4th. The 3 6-1's and the 4-1 was just 12-cents shy of being the 4th triple figure 10-cent superfecta paying $99.88.
The final day was also a great day for the bettors with lots of chances to cash in big outside of the superfecta's already highlighted. The largest exacta of course was the 7th with the 22-1 to 8-1 top finishers paying $218 for the $1 bet. Triple figure 50-cent trifecta's were in the 4th for $134, 5th race $208, 7th $455, 8th $120,10th $104 and the 11th just missing at $95.
50-cent Pick 3's that returned more than $100 were the sequences of 5th-6th-7th $293, 6th-7th-8th $241 and 7th-8th-9th $585. There were 4 50-cent pick 4's and the 4th-7th races paid $1,240, 6th-9th sequence was good for $1,181 and the final pick 4 the 8th through the 11th was good for $558. But the final sequence was in the 8th the 3rd favorite at 5-1, the 2-1 2nd favorite in the 9th, the 7-2 2nd favorite in the 10th and the 6-1 4th favorite in the finale. 
The Jackpot 7 had a carry-over and had to be paid out but no one could break through with a 6 out of seven ticket so many shared the 10K+ pool with 5 of 7 paying $187 each. The best was saved for last because one person strung all 5 winners together in the final Pick 5 of the year. 22-1 Jerre to Carrie began the final 5 followed by 5-1 Smashing Success in the 8th, then came 2-1 Sovereign Nation in the 9th, 7-2 Grinder Sparksaglo in the 10th and 6-1 Maybe a Diva to finish the Pick 5. The 50-cent ticket with the numbers 3-5-5-8-2 paid an eye popping $44,255.
This is just part 1 of our wrap-up coverage we still have features coming on the season ending awards, special feature on Bill Tollett and a final betting parlor. 
www.elisportsnegtwork.com