7/6/17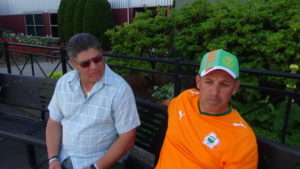 (Auburn, WA) Dean "Deano" Mazzuca has a serious passion burning for NW horse racing and it began much like it did for many back in the Longacres days. Mazzuca worked at the Renton oval earning money to go to college that would lead to a long career at Boeing. Mazzuca did it all at Longacres, worked concession stands, worked on the backstretch grooming, hot walking and anything else just to be involved.
Mazzuca would never lose that passion despite the hard times the racing industry went through with the closing of Longacres and the uncertainty of the future of racing back in the early 90's. But when Emerald Downs opened in 1996 he was ready to jump back in with both feet. He bought in on his first horse in 96 that raced in Emerald's inaugural season. Assissinini would run and had a success that fueled not only his passion but his competitiveness.
Mazzuca would throw himself back into his extensive hobby and began organizing ownership syndicates, basically getting multiple partners all in on one horse to reduce the cost and risk of owning horses. He also is the emergency race caller for Emerald Downs while calling the races on the Oregon Fair circuit. Mazzuca's enthusiasm for horse racing is so genuine and contagious he was asked to host the Breakfast at the Wire program at Emerald Downs. This is a chance for fans to see the horses workout in the morning and includes tours and interviews with jockeys, trainers and other racetrack personnel.

Mazzuca would begin his syndication business under the "Two Putts for the Win" barn name and his first to run under that banner would be Afleet Pete. Mazzuca is forever grateful for Emerald Downs opening and saving racing in the NW but he also isn't about to forget the history of Longacres. His silks are designed with the familiar kelly green and gold colors of Longacres with the track's slogan Doo-Dah on the silks with the picture of the famous jockey mascot.
Mazzuca has also started doing something that has some oldtime racetrackers a bit miffed while exciting others. He has been naming his yearlings after longtime familiar to famous horses that ran at Longacres. His first was "Little Joker" that was a Stakes winner for trainer Kathy Walsh. Mazzuca says he first saw Little Joker run on his first day of going to the track and he was always one he remembered.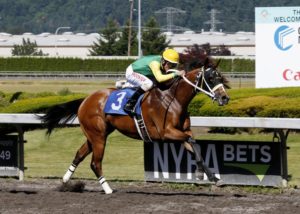 Little Joker also was no joke and 1st ran breaking his maiden in May of 1976 at Longacres and then after dominating the allowance class at Golden Gate won his first Stake in the Yakima Mile at Yakima Meadows in May of 1977. Joker would then win the Lewis and Clark Handicap a week later at Longacres and then the Renton Handicap. Little Joker would run in the prestigious Longacres Mile just once in 1979 and finished 9th. He would finish 3rd in the Governor's and 2nd in the Memorial Day and Speed handicaps and was retired in 1984 after starting 77 times and winning 20 of those races with career earnings of more than 144k.
Mazzuca thinks horses like Little Joker and many others deserved to be remembered and not forgotten and this is his way of honoring Washington's rich racing history. The new version of Little Joker is off to a great start with 9 lifetime starts and 2 wins, 2 2nds and 2 3rds with more than 20k in the bank. The new Little Joker is a filly and broke her maiden this past April 30th and then won again on June 10th.
Mazzuca debuted his 2nd Longacres tribute horse this past weekend when "Bell of Rainier" ran in her 1st career start and finished 4th in an even effort. This is one that has some of the old-timers a bit flustered because the original "Belle of Rainier" was such a dominating performer and fan favorite. The original Belle raced under the owner colors of Al Benton who had a string of horses for decades.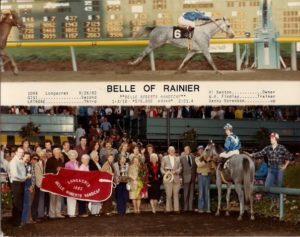 The Belle of Rainier burst on the scene in July of 1981 and won in her first try going 5 furlongs. She capped her 2-year-old season at Longacres winning the Gottstein Futurity. She would win 5 Stakes in 1982 at Longacres with regular rider Danny Sorenson aboard highlighted with her win in the Belle Roberts. Belle would win Stakes races at Exhibition Park (now Hastings) and Bay Meadows and retired in 1984. The original Belle of Rainier had a career mark of 43 starts with 17 wins and nearly 435k in career earnings.
Mazzuca says watching these 2 from start to finish has been a thrill of a lifetime but does not necessarily think that is the best way to break into horse ownership and highly encourages going the claiming or private sale route. Mazzuca has worked and works with multiple trainers including 5 time champion Frank Lucarelli and Vince Gibson. Mazzuca says he has great relationships with many and is open to working with anyone if the right partnership can be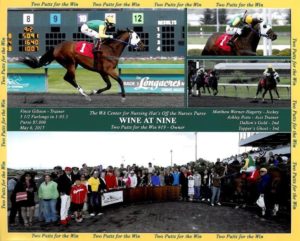 formed.
Mazzuca says he has great respect for Lucarelli and Gibson saying they both have been around the game for most of if not their entire lives and both are great communicators. Mazzuca says that is extremely important to him that the trainers maintain that open communication. Mazzuca is by nature a communicator and when you're working with multiple partners and multiple horses keeping the group up to date is key to creating a team atmosphere.
Mazzuca says he has been lucky to have a great career at Boeing that has allowed him to chase his passion of horse racing. He says this is as close to owning a sports franchise as most people will ever have a chance at doing. Owning the Seahawks may be for billionaires but owning a $5,000 claimer with a group of 10 friends is something that most people can be a part of and when you come to the track to watch "YOUR" horse run  whether you own 5% or 100% it's "YOUR" horse! That is your franchise and when "YOUR" horse wins and you get to go into the Winner's Circle you are the winner and there is no better feeling than that rush of adrenaline you get when the gates fling open and "YOUR" horse is pulling away for the win late in the race.
Mazzuca is a 1-man PR wrecking crew for Emerald Downs and the racing industry and he isn't afraid to share his love of the sport with friends, friends of friends, co-workers and total strangers. When we sat down to talk with Mazzuca there was someone every 5 minutes stopping by to say hi because everyone knows Deano.
If you are interested in getting into the horse ownership game and would like to talk with Dean he can be reached on his cell number at 425-941-6809. Mazzuca says information is key and he is willing to talk with anyone and share information and experiences that he has had to help new people get into the sport of horse racing.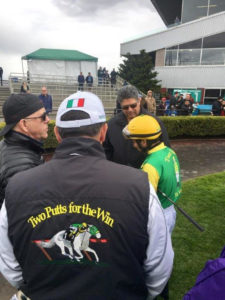 Mazzuca says the current state of horse racing is far different than it was back in the days when Longacres was the only legal gambling option in the state and the days that the Mariners had gone season after season of losing playing in the concrete tomb the Kingdome. Longacres had little competition but Mazzuca says plenty of the good things that many remember from Longacres remain today at Emerald Downs. The day at the races may not be the dress up affair it once was but now it is truly a family event but more importantly it's the social aspect that is fun to Mazzuca.
Mazzuca says just coming to Emerald Downs either with a group of friends and we're playin the ponies or having a beverage and talking other sports or catching up or coming to the track by yourself because you have your racetrack friends you know will be there it is just really a unique sports opportunity. Then add in the relatively low cost it takes to actually be part of it all, this really is a special sport and has been specifically to the Northwest. Mazzuca says he will never stop spreading the good news and good people in horse racing and certainly not going to forget the past it only leads to a stronger future.
Photo Gallery