8/6/2020
(Auburn, Wa) Week 7 began on Wednesday with an 11-race card and a big Pick 5 carryover was hit with a massive pay-out just one result among many that are seeing bettors flock to the gem in the Northwest. More on the game later first the competition with another 2 big Stakes races contested.
Coca Cola Stakes $40,000 Added
The Coca Cola is for 3 year-old fillies and one has risen to the top and in a hurry. No one thought much of Daffodil Sweet July 2nd when she made her career debut. Juan Gutierrez got the call from trainer Chris Stenslie and she went to the post of the 5 and half furlong event as a 17-1 outsider. Gutierrez took her to the lead and she never looked back demolishing the field of 9 by more than 8 lengths.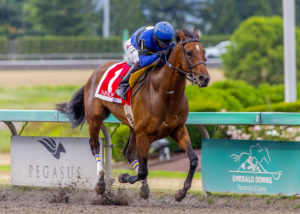 In her first run as a winner bettors were not going to be fooled again and she went off as an odds-on favorite and she did not disappoint with a dazzling win in an 18-thousand dollar allowance race by 7+ lengths.
In Daffoldil's 3rd career start Stenslie and the owners, the One Horse Will Do Corp and Steve Shimizu had an easy choice to start D-S in the Coca Cola. Her performances so far kept the Coca Cola to a bare minimum of just 5 starters as others certainly had noticed how dominate she was in her 2 starts. Among her competitors were the Howard Belvoir trained For You Only who was coming off a 2nd place finish to Daffodil Sweet in her last. For You Only won the Angie C Stakes in 2019 in her second career start at 11-1.
When the gates flung open Daffodil was actually off a step slow but still was in front at the first call. Gutierrez got her to relax and ran 22:42 for the quarter, 45:15 for the half with a 2 length lead. By the top of the stretch Daffodil had widened her lead to 4 and Gutirrez let her out to win by 6 and stopped the clock at 1:16.86 for the 6 and a half furlongs. She has now won her 3 lifetime starts by a combined 22 lengths or more than 7 per start.
"For You Only", coming off 2 straight 2nd place finishes was dismissed at 20-1, the longest shot on the board actually ran as good as you could expect and took the runner-up check with Jennifer Whitaker in the saddle. Windy Point with rounded out the top 3 with Alex Cruz aboard and Pearl Dragon, the 2nd favorite at 4-1 completed the Superfecta with On Purpose running last.
Daffodil Sweet picked up $22,000 for the win and has racked up $42,000 in career and season earnings in just 3 races. Daffodil Sweet is by Easy on My heart and out of Lion Heart and bred in California by Michael Terry. She went off as the 2-5 favorite and returned $2.80 for the win.
We had a chance to talk with Jody Peetz, one of the owners of Daffodil Sweet after the race, Jody talks with Emerald Downs' and ESN's Joe Withee
[embedyt] https://www.youtube.com/watch?v=Rfpfeeu3fYg[/embedyt]
The Seattle Slew Stakes
The public did not have as easy of a time in figuring out the favorite in this one where Daffodil Sweet was the clear stand-out in the Coca Cola but they finally settled on Unmachable who took very late money to push him down to 9-5. Tig somewhat surprisingly ended up as the 2nd choice at 5-2 while Vroysky, Muncey and Gold Crusher were between 5-1 and 6-1. Gold Crusher was the morning line favorite at 5-2 and was the one at 6-1. Wilson to Lockett was 14-1 and Mosquito Fleet the 22-1 longshot.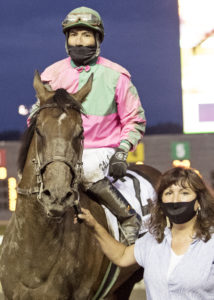 As it turns out bettors should have paid more attention to odds maker Vince Bruun who didn't have them in order but his top 3 finshed 1st, 2nd and 3rd. He had Unmachable at 4-1 the 3rd choice. The 6 and half furlong event initially looked to short for Unmachable who broke last and took his time to pick up the pace. Meantime Tig, Vroyski, Muncey and Gold Crusher were within 2 lengths of each other and setting up a pace for Unmachable to run at with a 22:14 quarter and 44:52 half.
Vroysky who had blitzed the field in his last race was the first to throw in the towel about halfway around the far turn and ended up last. Tig tookover with Muncey and Gold Crusher making their move. Meantime, Unmachable was riding the rail and trailed by about 6 lengths when jockey Javier Matias angled to the outside off the rail and unleashed the beast. Gold Crusher had taken the lead while Tig was faltering and Muncey was sticking close but none showed the turn of foot Unmachable did as he roared past with a last to first place run getting up for a half length win over Gold Crusher. Muncey held 3rd and Wilson to Lockett closed well to be 4th.
Unmachable is owned by Jack McCartney and trained by Tawnja Elison and stopped the clock in a quick 1:15.84. Unmachable returned $5.60 to win. He added $22,000 to push his lifetime earnings to just a little more than $71,000. He has run 4 times at Emerald Downs and now has a 2-1-1 record with his 5th career start in a Stake at Turf Paradise last December where he finished 3rd. Unmachable is by Macho Uno and out of Point of Reference and bred in Washington by Ivor Jones and John Jones. 
Javier Matias continued his hot streak after scoring 5 wins in week 6 to push his win total from 6 to 11 and he won the Angie C Stakes, to this week where he added another 3 wins for a total of 14 but is the fisrt 2 time Stakes winner for 2020. In fact Matias has ridden in all 4 Stakes races so far and has 2 wins, a 3rd and a 4th.
Joe Withee talked with jockey Javier Matias after the races about his winning ride on Unmachable:
[embedyt] https://www.youtube.com/watch?v=W_Ley6tp3XE[/embedyt]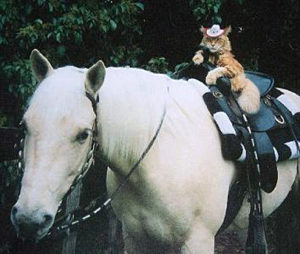 Jockey's
As mentioned before Javier Matias continues to ride red hot with 8 wins in the last two weeks. Maybe getting disqualified in the final race of week 6 on a call that many did not agree with, no doubt including Javier, ticked him off and now is on a tear. He added another 3 wins this week and is now up to 14 but with 2 of those as Stakes wins.
For the week, Juan Gutierrez won 4 times and pulls into a tie with Alex Cruz to lead the standings with 21 each. Cruz had 2 wins., Matias, Gary Wales, Bruce Samuels and Cerapio Figueroa all had 3. Among Figueroa's wins was a season high 45-1 shot "Continue On Victor" in the finale on Wednesday in the 11th race. The $2 win was $93 and it triggered a $32,000+ Pick 5 pay-out. Wales drops to 3rd in the standings with 20 then C-Fig with 18, Matias 14, Eddie Martinez is next with 11 although he did not win this week but had 4 places, no doubt a bit frustrating. Samuels has 9 and is tied with Alex Anaya and Jose Zunino got the win in race #22 this week for his 8th victory.
A couple of other notes, apprentice Joree Schriver got her first win at Emerald Downs when she got "Wild Wild Kingdom" home by a head in the 7th on Wednesday at 8-1. Lorenzo Lopez had just 4 rides this week but brought home 25-1 Autumn Arrives in the 5th race on Thursday and had a 2nd place finish so 50% in the money and a 25% win rate. Jennifer Whitaker had just 5 mounts but led the in the money percent with a 2nd and two 3rds but two of those rides were in Stakes Races with a 2nd in the Coca Cola with "For You Only" and a 3rd in the Seattle Slew with "Muncey". 
There were two more fresh faces taking rides this week and although they did not hit the board we'll see if Vladimir Jensen and Gerardo Martin can get some momentum behind them over the next few weeks.
Trainer's
In the trainer battle the big Frank Lucarelli barn had another solid week and added to his lead with 3 more wins to push his total to 17 wins. Luke also placed 4 times and showed once for a total of 9 in the money finishes. Jorge Rosales moved into 2nd place with 3 wins himself tying for the most of the week with Lucarelli but now has 12 wins on the year. Blaine Wright was tied with Rosales at 9 and did get 1 win but drops to 3rd in the standings with 10. Joe Toye had 7 to begin the week and he remains there although with 4 2nd place finishes he too had a bit of a frustrating week with being that close but no wins. Chris Stenslie and Kay Cooper each had a win to get to 6 wins. Stenslie's was a Stakes win with "Daffodil Sweet".
A couple of other notes of trainer accomplishments include a great week for Jack McCartney with 2 wins and a place with one of those wins with "Unmachable" in the Seattle Slew Stakes. Jose Navarro had 2 wins and 2 3rds while Tom Wenzel, Shawna Whiteside, Charles Essex, Bonnie Jenne, Candace Cryderman, Greg Moore and Debbie VanHorne all got 1 win.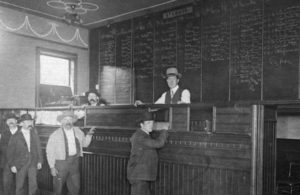 We knew there was a shot at a huge pay-off in the 50-cent Pick 5 with a $50,000+ carryover to kick start the usual generous Pick-5 pay-outs. The pot grew to more than 250k plus the carryover pushed it over the $300,000 mark and when it came down to the final race there was a chance of a carryover. There was 1 horse that would carry the whole pot over and when 45-1 Continue On Victor came flying late and blew by the entire field those who hadn't looked to see which horse was the one to carry thought the 2nd longest shot in the race might be the one, but he was not and in fact there were 8 winning tickets and each returned a season high $32,033.95. The 5 winners were:
7th Race: #4 Wild Wild Kingdom 8-1
8th Race: #7 Brahms Forest 3-1
9th Race: #3 Stay In Grace 2-1
10th Race: #2 Mirror Image 11-1
11th Race: #4 Continue On Victor 45-1
The horse that would have carried over the pot was the 1 horse, Sa Lute Mr. H with Jose Zunino aboard and went off as the 4th long shot at 43-1 and he finished 9th so it wasn't close.
The Pick 5 on Thursday also paid out handsomely with a $22,434 return for the 50-cent bet. Think about this the winning numbers and odds were 8 (5-2), 12 (3-1), 2 (3-2), 7 (6-1) and 8 (9-1). Not one in double digit odds and 3 of the winners 3-1 or less. This also led to the high Pick 4 Pay of the week. With 11 races each day there were 4 pick 4's each day for a total of 8.
The average pay-out on 50-cents was $900. The high pay-out was $2,315 on Thursday in the final 4 races that were part of the above mentioned 22k Pick 5. There were also pay-outs of $1,860 and $1,785 and only one under $100 at $94. By the way the $94 was paid out in the first Pick 4 on Thursday that saw a 5-2, 2-5, 5-1 and 3-2 shot win with field sizes of 6, 5, 5 and 7. 
Some other final numbers include 22 races, 171 horses for an average of 7.8 horses per race. The handle was 2.16-million on Wednesday and 2.1-million on Thursday for a total of 4.26 million for the week. 
Off until next Wednesday and Thursday and two more Stakes races next week with Mt Rainier Stakes for 3-year-olds and up and the Boeing for fillies and mares 3 and up. Both races worth 40k each and will be run at 6 and a half furlongs. 
www.elisportsnetwork.com