8/28/2020
(Auburn, WA) We rolled into week 10 of this strange season 25 of the Emerald Downs season and 2 more Stakes races were on tap and again the 2-year-olds were in the spotlight with the boys competing in the Lads and the fillies threw down in the Barbara Shinpoch. In both cases one would elevate their game to impressive levels.
We will get to each of those in a moment but first we wanted to pass on some great news for Emerald fans as the administration announced a 4-day extension to the season. The season will continue to run a Wednesday at 2:15 1st race post and Thursday with a 5p post until fans are allowed back at the facility. Since there is no timetable on that happening the 4 day extension include October 21, 22, 28 and 29.
The Lads Stakes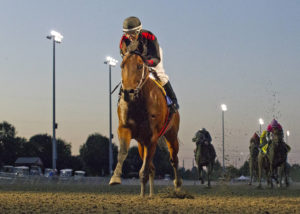 It appeared to be a wide open field with all showing ability in their limited chances in a race except for one, Dutton who was making his career debut. That wasn't the plan with Dutton trainer Howard Belvoir said he had wanted to give him a start earlier but as Dutton approached the gate he got a little riled up and the Stewards scratched him.
The unknown Dutton wouldn't take long to make his mark as jockey Jennifer Whitaker broke from the 3 gate and quickly bolted out to a 2 and 1/2 length lead. Whitaker kept the pressure on race time favorite John's On Point with Eddie Martinez in the saddle. At the half mile of the 6 and half furlong race Dutton stretched the lead to 3 and as they rounded the turn the favorite John's On Point called it a day while Dutton was just getting started with a 4 length lead. Whitaker let him out a notch and Dutton romped to a 9-length win.
Seattlesbestsecret with Alex Cruz broke 3rd and finished willingly to be a distant 2nd while 89-1 outsider Naval Escort got up for 3rd edging out Top Executive. The connections of Dutton, the Rising Star Stable, Belvoir and Whitaker have done this before and so it should be no surprise at the early success of Dutton.
Dutton stopped the clock in a geared down 1:16.25 and collected $19,800 for his win. Dutton is a Washington bred by Noosito and out of Ms Moscow and bred by Ron and Nina Hagen and Larry and Miriam Bonwell.
Dutton went off as the 7-1 5th choice and returned $17.80 on the $2 win and despite Dutton at 7-1, 2nd place Seattlesbestsecret at 5-2 and 4th place finisher Top Executive at 4-1 the huge 89-1 3rd place finisher Naval Escort blew up the 50-cent Tri with a $400 return and the 10-cent Superfecta good for $352.
Emerald's and ESN's Joe Withee caught up with trainer Howard Belvoir for his thoughts after Dutton's sparkling debut
[embedyt] https://www.youtube.com/watch?v=0u_9l42rrd4[/embedyt]
The Barbara Shinpoch Stakes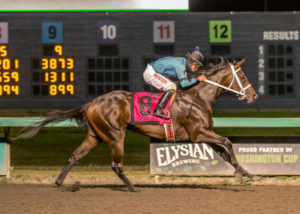 There was no surprise one filly reigned supreme and Time For Gold showed her big win in the Angie C was no fluke. Time For Gold's huge win in that race did not scare others away as a field of 9 contested the 6 and half furlong Stakes for 2-year-old colts and geldings with $40,000 in purse money on the line. Gold is trained by leading trainer Frank Lucarelli who also sent Patricia L and Managingbriana to the post in this one. Gold was the overwhelming 4-5 favorite with Patricia L the 2nd choice at 7-2 and Bri at 9-1.
Time For Gold's jockey Javier Matias looks like he simply needs to hold but when you watch the journeyman work you can see him getting Gold to relax and not try to "quarterhorse" an entire race. Matias broke on top with Gold but led by just a 1/2 length at the first call over 8-1 shot Sacagewea with Eddie Martinez up. Meantime, long shot Bethel Ridge was 3rd and stablemate Patricia L with Alex Cruz up sat 4th.
As they raced up the back stretch Gold started easing into a larger lead and covered the 1/2 mile in 45.04 up by 2 lengths. Halfway around the turn Matias let her out a notch and she was cruising brilliantly with a 6 length advantage into the stretch and even though Matias let up inside the 16th pole she extended that lead to win by 11 and stopped the clock in a very nice 1:15.68. It was a bit of a merry-go-round race with Sacagewea holding 2nd all the way around and Patricia L passed 1 horse to finish 3rd.
One note that may have been overlooked by many was the run of first time starter Easy Silence from the Mike Puhich barn. Silence broke dead last in her first ever run and jockey Gary Wales allowed her to settle and she made a nice run late and just missed 3rd place by a neck and was about 2 lengths behind for 2nd. She was not going to challenge Gold but it looked to be an encouraging 1st run especially in a Stakes race, a horse to keep an eye on in the future.
Time For Gold is owned by Chad and Josh and trained by Lucarelli. She is a Washington bred by Harbor the Gold and out of Back in Time and was bred by Bar C Racing Stables. Time For Gold picked up $21,000 to push her career earnings to more than $43,000 in 3 lifetime starts. She finished 3rd in a 25k maiden claiming in her debut and now has put together back-to-back stakes wins by a total of 20 length. Time For Gold returned $3.60 on the $2 win.
Joe Withee sat down with Frank Lucarelli after Time For Gold destroyed the field in the Shinpoch
[embedyt] https://www.youtube.com/watch?v=hSsjtA5SlA8[/embedyt]
Update on Barkley
Fan favorite Barkley who was recently retired after continual tendon issues is re-cooperating well in the Howard Belvoir barn. We talked with Belvoir who says he is on schedule and getting some much deserved rest and relaxation. He will stay in the Belvoir barn for the rest of the current meet where his groom and Belvoir can make sure he gets the hands on care he needs right now and is close to services if they are needed. Belvoir doesn't think there will be any issues with the "white blazed wonder" as he prepares for his next career as a stud.
Barkley had 10 wins from 20 career starts including the 2018 Longacres Mile. He raced for the Rising Star Stables and had a huge following of fans. You can read more about Barkley in our story here, "Barkley, Heart of a Champion."
www.elisportsnetwork.com