10/13/2020
"The Betting Parlor"
Keep Track of your Bets!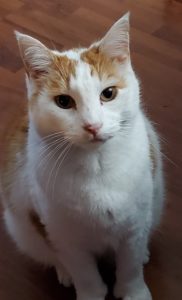 (Katlama, WA) Hey gang, well I have to tell you all I couldn't have imagined this crazy season going as well as it has. Of course I am disappointed that we can not be at the track watching and experiencing the sports of Kings live but the silver lining is it appears we had a lot of new fans discover our little gem tucked up here in the far left corner. The combination of limited days, fewer races, increased number of starters per race and more money have led to some great betting opportunities to actually make a big hit.
In this column, the Betting Parlor,  which I hope to do on a regular basis I want to touch on different aspects of betting on horses. Different philosophies and strategies and I hope to bring in some experts and some other regular Joe's who like to bet the ponies and have their own systems.
I am going to start with something so basic that gives us a sick feeling in our stomach the thought we may have mistakenly thrown away a good ticket or in other words…money! This idea came to me this past Thursday and in the late Pick 4 at Emerald. It was races 7-10 and the ticket I had bet earlier in the day was the 7th race I selected 1-2-3-4-6, 8th race 4-5-7 in the 9th 2-4 and in the 10th 2-3-4.
Going into the 10th race I had 3 winners and looking to hit a big one as the 2 horse was 20-1 and paying $999, the other two were lower priced and paying about $250 and $325. The ticket cost me $45 to bet and I wanted to make sure I cashed so I bet all the other horses in the race with at least a $5 Win. There only 7 horses and I had 3 covered so I bet a total of $30 in cover bets and worst case scenario I would break about even no matter who won.
I couldn't believe when Leslie Mawing took my 20-1 shot and came up the rail to win going away on Peppered Appeal. I scored a big $999 hit! I went back to gloat at such an outstanding bet when my heart sunk after looking closely to my bet. In the 7th race I had 1-2-3-4-6 but it was 8-5 shot Baby Rocks who won…the NUMBER 7!!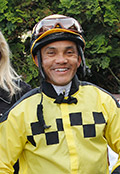 I was stunned I didn't have it and worse yet I had Peppered Appeal picked in my top 3 and I didn't bet even a $2 win ticket that paid $42. My other 2 horses finished 3rd and 4th and if I am playing the exotics I certainly may have found the 1 at 6-1 who finished 2nd completing a $121 $1 exacta, $225 50-cent Tri and a $90 10-cent Super. I had nothing because I didn't pay attention close enough as to who I had bet.
The official sign went up and I am looking at my $24 left in my account and wondering how I could have picked a 20-1 shot but couldn't figure out an 8-5 shot to start my pick 4. So frustrating but then my account jumped to $1,023. I thought how could that be?? I looked again and no I did not have the 7 selected in the 7th race, I missed it! Then I realized the 1 had been scratched. That means I automatically get the post time betting favorite which thankfully for me was #7. So the 7 was automatically substituted for me for the 1 horse I had selected.
All is well right? Well yes and no. The title of this column is keep track of your bets and we are fortunate that it happens automatically for us betting on-line. However, I stopped and thought what would I have done with a paper ticket had I been at the track? Would I have noticed it at all? I didn't when it was right in front of my face on my computer so would I have really thrown away $1,000? I hate to admit it but yes I think there is a good chance I toss the ticket and don't think twice and would have never known I had a winning ticket.
Keep track of your bets is really important with paper issued tickets especially those people betting multiple tracks at one time. How many other pick 3, 4, 5 ,6 7 have been thrown out because of a scratch or maybe in an odd Pick 5 where 3 winners got a piece or a consolation Daily Double where they have the winner in the first half of the double but their horse in the second half is scratched and they get a small return on the consolation pay.
There are multiple ways to toss away money at the track by not checking all your tickets and I am guessing the most likely ticket worth some money are tickets with multiple exacta, trifecta and superfecta bets and there is a scratch of a horse. Those combinations that could be very complex with box, key and wheel bets refund your bet with all of them involving the scratched horse. For example you box the 1-2-3 in a $1 exacta box and the 3 scratches and the 1 and 2 don't come in 1st and 2nd your ticket still owes you money in fact it returns 67% of your $6 bet or $4.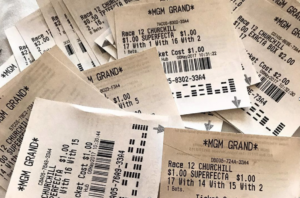 You say oh I'd catch that and not throw it away. Well what if you are with a group of friends talking, having drinks and some food the race runs and you didn't hear that one of your horses was scratched. Or maybe you are playing Emerald Downs, Golden Gate and Del Mar all at the same time and races run over the top of each other and there was a scratch you didn't see because the race you bet at Golden Gate was running. Heck maybe the ticket seller misheard you and punched the wrong number or you entered the wrong number if you used the SAM machines.
There is an easy way to protect yourself when we can get back to the track and put those betting tickets in our pocket and that is to save all your tickets, especially those with multiple wagers and more complicated wagers and at the end of the day go up to a self automated machine (SAM) and run all your tickets through the machine. If there are any good tickets or refunds they will pay you. On your way to double check your own tickets if you see a stack of tickets sitting on an abandoned table run those through too you might just pick up an extra couple of bucks off of someone else's inattention or in my case someone could have scored a hefty $999 pay-off.  
We can't wait to get back to the track, now just remember to stay on top of your bets not only check your tickets, even ones you punch out yourself but keep track of what happens in each race. I have to be believe every year there is likely hundreds of thousands in unclaimed tickets across the country at tracks and satellite betting sites whether they are winning tickets or simply refunds. 
On a side note the track is responsible for any and all winning tickets or refunds and in fact the books remain open on that money going back to June 20, 1996. If you found a bunch of tickets Grandpa may have hoarded from the 1996 season for example and you can show that any of them are valid tickets Emerald Downs will pay you. The track holds on to a portion of that revenue to pay good tickets after the season is over and eventually puts that money in their general funds but they are responsible for paying out any winning ticket at any time.
This game is the best game in town and forces you to use a combination of analyzing data, weather, track conditions, animal factors, human factors and that gut instinct and sometimes just plain luck. It's a hard game which makes it so satisfying when you beat it so don't make it harder on yourself by giving away free money. This really is a something so basic we all learned it in 3rd grade Math…Check Your Work!! I hope I can now advance to the 4th grade after finally learning the lesson I should have learned by the time I was 9. Mrs Hulbert is not happy! (my 3rd grade teacher)
www.elisportsnetwork.com