6/21/17
(Auburn, WA) The Eli Sports Network is excited about our expanded coverage of Washington State Horse Racing at Emerald Downs this season. This will be the first of many spotlight profiles of not only trainers but owners, jockeys and other folks linked to the horse racing industry and not just the high-profile positions. So let's kick this one off with a Washington State Hall of Fame trainer with 2 Longacres Mile Championships under his belt, Howard Belvoir.
The Early Years
Howard Belvoir was born in Kansas in 1944 but early his family moved to Payette, Idaho a small town in Southern Idaho near Boise. This would turn out to be the 1st domino of a series that would fall that led Belvoir into a lifetime of horse racing. His father would get it started and purchased a thoroughbred from Roy and Troy Taylor.
Belvoir then found himself picking up a summer job after school was out. Belvoir said his Dad did something he probably get in trouble for in this day and age and that was when he turned 13 packed him a bag, gave him a few dollars and put Howard on a bus and sent him to Portland to work for the Taylor's at Portland Meadows. Belvoir would do this for the summer over the next several years until he graduated from High School in 1962. He began Community College but quickly knew what his future was and took out his 1st trainer's license at Exhibition Park (now Hastings) in Vancouver BC in 1963.
His own Boss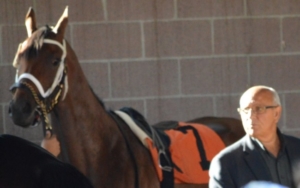 Belvoir was calling his own shots now but even so you need some help and his came from a few early owners but credited Fred Foy for really launching his career not by filling his barn with a ton of horses but by introducing Belvoir to Harley Hoppe, who did fill Belvoir's barn with horses for more than 40 years. Hoppe gained fame statewide when won election as the King County Assessor and a run at the Governor's office that fell short.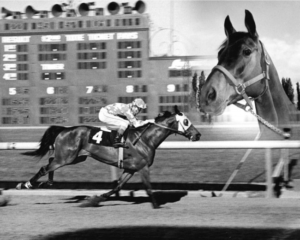 Although Hoppe ran literally hundreds of horses with Belvoir it was Hoppe's wife Teresa and her friend and wife of her husband's business partner Patty True that really gave Belvoir credibility as a trainer who can bring a horse to the highest level in NW Racing when they entrusted him with a horse named Red Eye Express.
Belvoir can be described as someone who is somewhat stoic and laid back rarely over-praising any of his horses while also never overly critical. It's a defense mechanism of not letting yourself get too high or low in the game that can change in a blink of an eye. But when we began to talk about "Red" you could see his posture change literally and a gleam in his eye and you could immediately feel how much "Red" meant to him.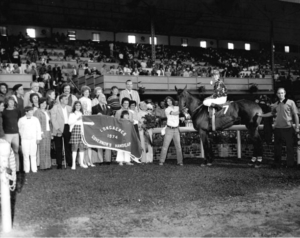 Belvoir was at the Longacres sale and of course he went to all the sales looking for good deals for himself and for clients. It was this sale that Teresa Hoppe and Patty True had told Belvoir to find them a horse. That's when he spotted a horse named Army Stamp. He was by Philately which is of course in reference to stamp collecting. Belvoir knew right away this was the one and he bid and got the horse for $1,800.
Hoppe and True were not fans of the name Army Stamp and for a fee of about $30 changed the name of the light brown gelding to Red Eye Express. Names in horse racing are important especially when it comes to fan favorites. There's just something in a name that catches people's attention especially when coupled with talent. Red Eye Express was one of those special combinations of talent and the right name, there is no proof but hard to think a horse named Army Stamp would have been as popular as Red Eye Express was with the fans.
Red Eye Express would start 68 times and win 22 (32%), 14 2nds and 6 thirds for a 62% career in the money placing. Red Eye Express was a sprinter and found most of his success around 1 turn and won 8 sprint Stakes races. He did run in the Longacres Mile twice finishing off the board in his first attempt in 1973 won by Silver Mallet but then nearly gave Belvoir his 1st Mile win just missing and finishing 2nd to Times Rush in 1974. Gary Baze was his regular rider and he and Red could not hold off the fast closing Times Rush who got up in time to win it.
Red Eye Express would earn more than $160,000 in his career highlighted with a win in the Governors Handicap and 2 wins in each the Speed and Space Needle Handicaps. The Oregon bred also won the Paso Robles and Renton Stakes along with that 2nd place finish in the Mile and runner up finishes in the Tanforan, Speed and Renton Handicaps. For Belvoir, Red Eye Express put him on the map as a serious trainer which would lead him to more and more clients establishing himself as one of the premier trainers in Washington State history.
As his client base grew he picked up horses for owners like Al Benton, Michael Alhadeff,  Lou Tice and now the Rising Star Stable which is led by his long time significant other Vicki Potter. Belvoir had many other Stakes winners throughout the years winning for these owners, others and himself.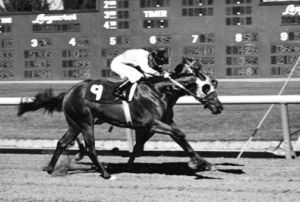 Belvoir would get to the Winners Circle in the top 2 races in the Northwest the Longacres Mile and the Derby. He won the Derby with Harley Hoppe when Mulcahy won it in 2007. He also got Hoppe a Stakes win with Immigration, Celtic Crown and Seattles Best Joe. He got Benton a Stakes win with Tusko T while appearing in pictures with the Once Stables (Michael Alhadeff) Table 15, Spite and Malice and Sundance Circle. Champagneandcaviar, Fooled Again, Courting Seattle, Crystals Double and He's not Bluffin are other Stakes winners on Belvoir's impressive resume. Battery Limits also won for Belvoir early on in his career at Longacres cementing him as a Stakes level conditioner when he won the then named Washington Championship which has been re-named the Muckleshoot Tribal Classic.
The one race that all NW trainers want in their win column is the prestigious Longacres Mile. Belvoir thought maybe his best chance to win the big race was back in 1974 with Red Eye Express. Then came Wasserman.
Wasserman, Assessment and Barkley
Belvoir would reach the pinnacle when he home bred a big strapping colt named Wasserman. Wasserman was named by Potter who picked the name to honor the physician who treated her for breast cancer which she remains cancer free. Wasserman was a big gangly horse that just got better with age and became a fan favorite much like Red Eye Express from early in Belvoir's career. At 5-years-old he ran in the 2007 Mile and finished a respectable 3rd to "The Great Face" over a sloppy track.
Belvoir who bred, owned and trained Wasserman again aimed his big horse at the 2008 Mile as the local rooting interest. Wasserman's running style was to take back and come running at the end. Most of his wins were not big drawn off wins but usually getting his big nose down just at the right time. In 2008 Wasserman remained a fan favorite but was not the betting favorite going off at a healthy 10-1. Regular Jockey Jennifer Whitaker was again aboard and trying to become the first woman jockey to ever win the Mile.
6-5 favorite Tropic Storm took the lead at the top of the stretch with 2nd favorite True Metropolitan closing fast while the big gangly Wasserman was just getting going and circled to the outside. Whitaker let him go and he came rolling up to the outside of True Metropolitan as both passed Tropic Storm and Wasserman got home first with stablemate Assessment running on late for 4th place.
Link to watch the 2008 Longacres Mile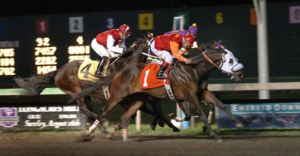 The following year in 2008 Belvoir again would send out both Wasserman and Assessment in the Mile. This time Assessment would be the one flying on the outside to upset the favorites at 7-1 giving Belvoir his 2nd Mile win and 2nd in a row. Awesome Gem and Tiege would get the place and show money while defending Champ Wasserman would close from way outside to finish 4th as the 2 Belvoir entries flipped places from the previous year. Assessment was owned by Lou Tice. Emerald Downs' all-time leading jockey Gallyn Mitchell rode Assessment to the upset victory.
Link to watch the 2009 Longacres Mile
Belvoir's success has certainly not cooled off with Barkley bursting onto the scene owned by the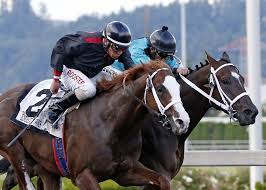 Rising Star Stable and it's 20 shareholders. Barkley reeled off 6 straight wins including victories in the Auburn, Coca-Cola and Seattle Slew Handicaps before suffering his 1st career loss in the Emerald Derby by a head to Opportunistic. Barkley is off to a slower start this year with a 2nd place finish in an allowance race, winning the Governor's Stakes and then finishing 4th this past Sunday in the Budweiser but ran well despite an extremely troubled trip.
Last year Belvoir led all trainers in Stakes wins with 7, 3 from Barkley and 3 from So Lucky while The Press also won one. So Lucky was very impressive as a 2-year-old but fell short in the season ending Gottstein Futurity, a race that has eluded Belvoir. So Lucky , owned by the Rising Star Stable and the Pegasus Too Stable, was 5-1 last season and was geared up for an exciting 3-year-old season but suffered some minor bumps and bruises so Belvoir has decided to turn So Lucky out and give him plenty of time to get back to being 100%.
The Future
Howard Belvoir has had a horse in the Winners Circle 2,071 times, has earned nearly 20-million dollars in purse winnings, is a member of the Washington Horse Racing Hall of Fame, has been awarded the Martin Durkin Award, was named small State Breeder and many other accolades. He has strong family support with 3 boys with his 1st wife Mary Taylor, Heath is a chart caller for Equibase, Vann was a successful jockey including Emerald downs' first Jockey Champion and is now a trainer and Clay decided against making a living in the family biz and works for Boeing but remains firmly in the game as an owner.
The one thing that Belvoir would have truly liked to have won was a leading trainer title. It is difficult to believe Belvoir has not captured a Training Championship but this shows how extremely difficult it is to accomplish. He isn't sure he has one in him at this point in his career now in his 54th year at the track. Belvoir just turned 73 and is starting to ease back on the sheer number of horses he's had in the past. He's not thinking of retirement he says racing is a lifestyle and although he may cut back he'll never step away to sit around the house.
You won't have to worry about not seeing Belvoir's famous Black and Red silks with a Pirate on the back anytime soon. Belvoir designed his silks after his High School mascot the Payette Pirates. Besides he won't have time to sit around if he keeps picking out horses like Red Eye Express, Barkley and So Lucky or breeds another Wasserman. The only question for Belvoir is which of his future horses will be the next fan favorite? He seems to have a knack for picking horses that fans can also relate too outside a betting voucher and that is a pretty special talent.
Photo Gallery