9/4/2020
(Auburn, WA) The table was set for the favorites to sweep the Muckleshoot Derby and the Washington Oaks on Thursday night but as the old saying goes…"that's racing!" It was a perfect night for racing, an early September evening with comfortable temperatures and a perfect track that had seen front speed, middle closers and ones from far back all win on the 11-race card.
The Muckleshoot Derby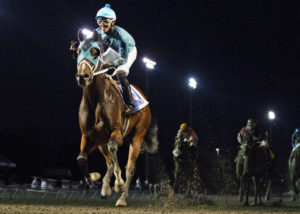 The field of 9 was led by Unmachable who was coming off an impressive victory in the Seattle Slew closing with a rush past Gold Crusher for the 1/2 length win. The betting public was pretty sure of a repeat and bet Unmachable down to 6-5.
Gold Crusher who ran brilliantly and just failed to last was dismissed at 6-1 likely because it was his first time going further than 6 and 1/2 furlongs stretching out to the Derby tradition mile and 16th distance. Jockey Eddie Martinez was aboard for the 2nd time and learned from his first trip to give Gold Crusher an uncontested lead and then get him to relax.
Martinez did just that as he rushed Crusher to the lead and worked it to a length to a length and a half into the first turn and by the tie they headed up the backstretch he had a 2 length lead over longshots Tig and Harbors Rule.
Meantime, Javier Matias on Unmachable took him to the back of the pack as usual saving ground around turn 1 and up the backstretch. Martinez was clearly able to get Gold Crusher to relax and cruised into the far turn with a 2 length lead and then began to open up about half way around putting away those who tried to stay close and expanded to a 4 length advantage over Muncey and Vinny From Dixie who were not closing in on G-C and an 8 length lead over the favorite.
Turning for home Martinez shook loose and put the race away leading the favorite Unmachable by about 7 and extended. The final winning margin of 4 and 3/4's would have been a lot more but Martinez literally began gearing down at the 16th pole and was standing up with about 50 yards to go cruising to the easy win.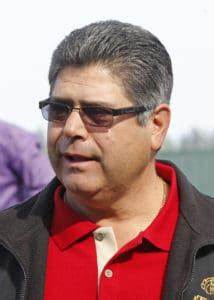 Unmachable made a solid run to capture 2nd but with no real pressure on Crusher who was allowed to call all the shots had no chance of running the winner down in the final 100 yards. Muncey the 8-1 4th favorite ran a respectable 3rd while second favorite Fantastic Day took 4th.
Gold Crusher stopped the clock in 1:42.64 and is owned by Chad and Josh and trained  by the leading conditioner Frank Lucarelli. He is a Washington bred by Harbor the Gold and out of Brookie Girl and was bred by the Bar C Racing Stables.
It was Lucarelli's 5th Stakes win of the year tops for trainers and Matinez's 4th leading the jockeys. Gold Crusher is now 3-1-0 from 7 starts and earned $22,000 pushing his career bank roll to 52k. Gold Crusher rewarded his backers with a $14.40 for the $2 win and a $1 Superfecta of the top 4 favorites was good for a decent $243.
The 2020 Muckelshoot Derby
[embedyt] https://www.youtube.com/watch?v=1vZnM-5FSHg[/embedyt]
The Washington Oaks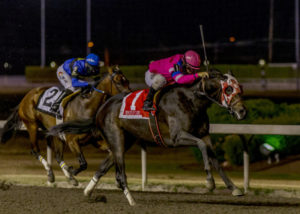 All eyes were on Daffodil Sweet the brilliant 3-year-old filly who has dazzled in her first runs of her career.  Jockey Juan Gutierrez probably knew he was sitting on a special one in her career debut on July 2nd when at 17-1 she blew open a MSW race with a nearly 9 length win. She no longer fooled the betting public as she coasted to nearly an 8 length win in an allowance and then won her first Stakes the Coca Cola by 6. 
Coming into Thursday night's Oaks with a 3-0-0 record with the total winning margin of all three races of nearly 23 lengths it wasn't a matter if Daffodil Sweet would be the favorite but how big of a favorite. She went from 17-1 to 3-5 and was 2-5 in the Coca Cola and dropped down to the bottom last night at 1-5.
The 8 horse field was reduced to 6 well prior to the race when 2 of the outsiders dropped out leaving 5 contenders set to go 1/16th. 3 of them had already been beaten by D-S with For You Only finishing 2nd in the last two races, She Owns the Paynt 2nd in her first run and Windy Point who finished 3rd in the Coca Cola. The public was not concerned with any of those 3 turning the tables on Sweet as they went off at 24-1, 22-1 and 12-1. 
It was an invader from Hastings Park in Vancouver who most had their eye on. Princess of Cairo would go off as the second choice at 9-2 and the field was rounded out by lightly run Autumn Arrives at 15-1 coming off a MSW win about a month ago.
In all three of Daffoldi Sweet's races she went right to the lead but this would be here first shot at 2 turns and if there was any question it was could she make the mile and 16th distance. When starter Mark Gibson sprung the gates D-S went to the lead as usual and as in her previous 3 races maintained about a length to 2 length lead early on and up the backstretch. The other 5, except for For You Only were within striking distance around the first turn and never lost touch up the backstretch.
Daffodil Sweet would then turn it on about halfway around the far turn in her previous 3 and cleared the field each time by 4 or 5 lengths and she once again did it this time except for Princess of Cairo who never got behind more than 2-3 lengths. Turning for home in stead of a 6+ length cozy lead Daffodil Sweet couldn't shake the Northern invader. As we watched to see if Sweet had yet another gear as she held her lead until just outside the 16th pole when Princess's rider Gary Wales eased her off the rail and took aim. Princess of Cairo roared to engage Daffodil Sweet and swept past the big favorite to pull away for an impressive 2 and half length Oaks victory. Sweet Daffodil settled for second while Autumn Arrives closed well for 3rd and Windy Point finished 4th. 
Princess of Cairo races for Mark DeDomenico and North American Thoroughbred Horse Company and trained by Glen Todd. She covered the mile and 16th in a time of 1:41.12 and earned $22,000 for her victory more than doubles her lifetime earnings to now more than $32,000. Jockey Gary Wales got his first Stakes win of the year.
Princess of Cairo paid $11.40 on the $2 win and coupled with the 1-5 Daffodil Sweet paid a generous 9-1 on the $1 exacta. The 50-cent trifecta also returned well of $26 or 51-1 with a 6 horse field the 2nd favorite winning over a 1-5 shot. 
The 2020 Washington Oaks
[embedyt] https://www.youtube.com/watch?v=JhaNtLNcPJg[/embedyt]
Larry's Round-Up of News and Notes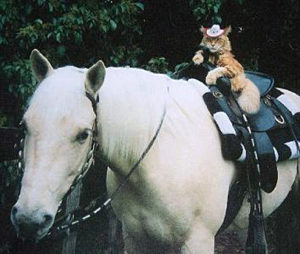 11 is the new 6
Ageless wonder Dr Bruce S. continues to amaze at the grand old age of 11. The Gray flash recorded his 11th career win from 69 starts but more incredibly his 3rd win of 2020, his best year ever as far as wins. He began 2020 with a 3rd place finish then won. In his 3rd start he was 4th and then answered with a win, the first time leading rider Alex Cruz rode him. Then he finished 6th and Cruz got back on for his 6th start and held the pattern with his 3rd win. 
Dr Bruce S has only had one trainer, Jose Navarro and all 69 races have been right here at Emerald Downs. Dr Bruce S.'s career record is now 69 starts and an 11-17-12 record with a 16% win clip and 58% in the money.  He inches closer to 100k in career earnings and sits at $95,731. He is a Washington bred by Packy and out of Laurel L and was bred by West Ridge Ranch.
Handle
The betting handle remains strong for Emerald Downs with 1.8 million on Wednesday with 10 races and averaged 180k per race. On Thursday 2.45 million was wagered over 11 races averaging 220k per race and combined for the 2 days 4.25 million and 202k per race.
Jockey's
Coming into week 11 Alex Cruz led Juan Gutierrez by 2 and extended that lead with 4 wins, 2 each day and Gutierrez was shut out. Defending Champion Gary Wales moved into 2nd past Gutierrez with 4 wins of his own with 1 on Wednesday and 3 on Thursday including his first Stakes win in the Oaks. Eddie Martinez had 3 wins including his 4th Stakes win in the Derby to lead all riders in the big purse races and Alex Anaya recorded a triple on Wednesday. Javir Matias and Jennifer Whitaker each had 2 wins this week and for Whitaker she also won her 500th race at Emerald Downs.
The standings now look like this:
1. Alex Cruz 35
2. Gary Wales 30
3. Juan Gutierrez 29
4. Heriberto Eddie Martinez 25
5. Cerapio Figueroa 24
6. Javier Matias 21
7. Jake Samuels 16
8. Alex Anaya 15
9. Jennifer Whitaker 10
10. Jose Zunino 9 
Trainers
Frank Lucarelli added to his lead with 3 more wins including his 5th Stakes in the Derby with Gold Crusher leading all trainers. Lucarelli now has 28 wins well in front of 2nd place Jorge Rosales who remained stuck on 18 coming up with an oh-fer in week 11. 6 other trainers had 2 wins each including Howard Belvoir, Joe Toye, Rigoberto Velasquez, Kay Penney Cooper and Vince Gibson. 
The top 10:
1. Frank Lucarelli 28
2. Jorge Rosales 18
3. Blaine Wright 16
4. Howard Belvoir 12
4. Joe Toye 12
6. Kay Penney Cooper 9
6. Rigoberto Velasquez 9
8. Vince Gibson 8
8. Candice Cryderman 8
10. Chris Stenslie 7 
www.elisportsnetwork.com
www.elisportsnetwork.com