6/29/17
(Auburn, WA) Rocco Bowen was born and raised in the Caribbean nation of Barbados. Life in the sun and surf on the 21 mile long and 14 mile wide tropical paradise treated Bowen well, his Dad Roscoe had a good job working for Towing Company, his Mom Nancy, works in the Nation's Prime Minister office with his Aunt while other relatives own and operate businesses. As a boy and only child there was a lot of focus on young Rocco and going through school he had many choices his life's direction could have taken but it was signed, sealed and delivered when his Dad purchased part of a race horse.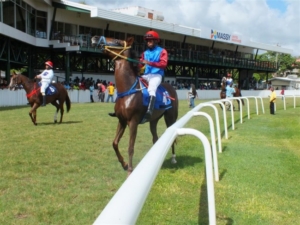 Rocco began to spend a lot of time with the horse hot walking, mucking stalls at the Barbados Turf Club, the only race track on the Island nation cemented his future and knew from the start he wanted to be a jockey. It also helped that Rocco grew up in a house not far from the Track in Bridgetown.
Bridgetown is the Capital of Barbados and in a side historical note is the only foreign city the United States' 1st President George Washington ever visited and stayed. He did so in 1751 at the age of 19 with his ailing half brother. They spent 2 months on the island. The George Washington house remains a historical landmark and tourist attraction and is right next to the race track in what's called the Garrison Historical District.
His Dad was extremely supportive and paid for Rocco to attend jockey school. The commitment also included time and forced his Dad to take off work. This was not an on-going option for the elder Bowen's boss who told Roscoe his son didn't have a chance at being a jockey and he needed to be at work. Roscoe was forced to choose between his job and jockey school for Rocco. He chose his son's future and Bowen has never forgotten what his father sacrificed for him. Roscoe is now a Tour Truck driver but always keeps tabs on Rocco.
Rocco told us when we talked with him prior to the race card on Irish Day that it took time to convince the extended family of his decision to become a jockey. But when his Mom, Grandmother and Auntie accepted the decision they were all in and supported him 100%.
Bowen started exercising horses at the age of 12 while attending jockey school. Once he completed school and got his jockey license he road his first horse in Barbados at the age of 15. He would get his first win on a horse named Foxy Lady. Although Bowen cut his teeth at the Barbados Turf Club he knew this was not where he would stay. Racing in Barbados is year round but is more of an event with limited horse population and they race 2-3 times a month or every other Saturday.
In 2 years Bowen had found the Winners Circle 18 times at the Barbados Turf Club and felt it was time to make a move so at the age of 17 packed his tack and headed 4,300 miles northwest to Vancouver BC and Hastings Park. Bowen spent a year and a half in BC and then moved on to Winnipeg where he rode for another 2 and half years at Assiniboia Downs. His first big win came at Assiniboia in the Winnipeg Sun Stakes on Anna Bella.
There's not a lot of winter racing in Canada so Bowen was returning to Barbados in the off season when finally his Mom said he needed to ride year round and he decided to travel south and began riding at Portland Meadows in 2011. Bowen got off to a fast start but had his career put on hold when a horse he was on went down and he broke his leg in 3 places in early 2012. He was expected to be out anywhere from 9-12 months but surprised his doctor when he took his first mounts at Emerald Downs in the Spring of 2012.
Bowen says he was apprehensive thinking about getting back on a horse in a race but once he got on board it was like riding a bike and he was comfortable. His first Emerald Downs win was on Cool Comet. Bowen didn't ease back into riding either as he took 8 mounts on his first day back.
Bowen would finish 2012 at Emerald Downs with 50 wins tied for 5th in the final standings. It was a good first year for Bowen but more importantly he got connected with trainer Tom Wenzel. Wenzel was looking for a rider to get on his 3-year-old Makors Finale for the 2012 Emerald Derby. Bowen says he got the call that Wenzel wanted to give him a shot and he did not disappoint winning the Derby at 5-1. He and Makors then hooked up again in the Washington Cup winning as the odds on choice. That established a strong relationship between Bowen and Wenzel that remains today.
Bowen would become the first call for Wenzel and led to his teaming with the most important horse in Bowen's career Stopshoppingdebbie. 'Deb broke her maiden in her only start in 2012 with Juan Gutierrez aboard. It was after Deb won that the Bowen/Wenzel team formed and even though Gutierrez rode Deb perfectly he lost the ride to Rocco in 2013. Bowen and Stopshoppingdebbie then reeled off 8 straight Stakes wins over the 2013 and 2014 seasons. They won the Seattle, the Irish Day, Kent and Washington Oaks in 2013 and then took the Hastings, Wa State Legislators, Boeing and Distaff in 2014. She had a career mark of 9-0 all at Emerald Downs and had earned more than 247k. Bowen rode her in her final race a Stake at Santa Anita where she went off as the 2-1 favorite, stumbled at the start and finished 5th in her only non-win of her 10 start career.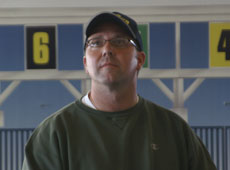 Bowen says Wenzel not only gave him credibility as a Stakes winning rider, now with 22 career EmD Stakes wins but open the doors to more connections. In 2013 he would finish with 51 wins and again a 5th place finish. Bowen and his agent David Singer really got things going in 2014 winning 70 times but a distant 2nd to Leslie Mawing. 2015 saw him step back a bit with 59 wins in 4th place behind Julien Couton, Gutierrez and Mawing.
Then Bowen and Singer put it all together in 2016 winning a eye popping 110 races and the riding Championship. This on the heels of winning the Portland Meadows riding title over the winter. Bowen says the last time a rider won both the Portland and either Emerald or Longacres riding title was Gary Stevens back in the early 80's.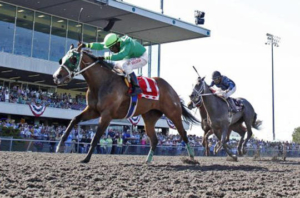 Bowen is off to a great start in 2017 at Emerald hitting at a huge 26% win percent and 1 Stakes win on Risque's Legacy. He now has 401 career victories and is number 12 on the all-time Emerald wins list just surpassing Pedro Alvarado and now has his sights set on Nathan Chaves, Debbie Hoonan and Javiar Matias. Matias is the only active rider out of those three.  Bowen says there are 2 races he'd really like to win and to no one's surprise they are the Longacres Mile and Gottstein Futurity.
Bowen's family life is busy with a wife Jaylyne and kids Rylan, Caden and Shayden. His Mom and Aunt were able to travel and come watch him ride last year over the final weekend in which he won 10 races. He says that was a highlight of his career being able to perform in front of his Mom. We asked him what has been the key to his success and he said simply homework, good people around you and a little luck.
Bowen studies the horses and races like a college final and puts in the extra work morning, noon and night. He says without help from his family he would have never gotten to this point and without people in his life like his agent David Singer he wouldn't be what he is today. And whether it was luck or professional destiny having a trainer the likes of Tom Wenzel to watch and study you and then give you a huge opportunity is something that is unexpected but also counters by saying I needed to be ready for the unexpected so when I was given the chance to prove myself I was ready to do it.
It has been quite a journey for the 28-year-old Barbadan from the crystal blue water of the Caribbean to the dark, chilly waters of Puget Sound wherever Rocco Bowen saddles up you better be ready to compete because he is going to give each and every ride 110%.
Photo Gallery