10/15/2020
(Auburn, WA) To be the all-time winningest anything is an achievement that few can ever accomplish but in horse racing it's even more difficult. The nomad nature of the game makes it difficult for a jockey or trainer to be at one track long enough to make a run at those types of records. Jockeys roam the country and sometimes the world to find their best chance to get on as many horses as possible and it may be here one year but after a season at another track maybe they get connected with another trainer who is running more at another track so there are many reasons why jockey's don't have a "home team" for the most part. They are free agents all the time and get to pick and choose where they go.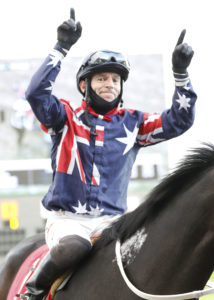 But there are many who have specific tracks they want to race at on a regular basis and have created there own circuit. Even then to stay at one track long enough to make a run at most wins ever is a rare accomplishment but Juan Gutierrez did just that on Wednesday afternoon.
Gutierrez had early in the year won his 2000th career win when he came up the rail on Semi-Sweet in July which left him 32 short of the Emerald record. Gutierrez would tie the record and get Emerald win #1,419 in yesterday's 2nd race aboard Mike Operator with an easy 4 length win. Gutierrez told us that he felt getting the tying win was a great relief and felt a little relief knowing number 1,420 would be a matter of time.
It didn't take too long he had to wait until the 8th race, the featured race of the day and he would be on the odds-on choice by the betting public at 3-5, Stay in Grace. When the gates flung open to the 6-furlong sprint Juan G broke well and got the first call but was quickly joined by Abraa Jabraa a 10-1 outsider. The two would remain heads apart into the far turn when Grace would get some separation. 
Turning for home a new contender would come up the rail and then shift to the outside but Suddenly Awesome did not have enough of a kick to overcome Gutierrez and "Grace". Gutierrez had taken a look back and had the race measured from about the 1/8th pole for the length and quarter win. Gutierrez as usual in his humble nature gave all the credit to Stay in Grace calling her a great horse and appreciated trainer Rigoberto Velazquez for letting him ride "Grace" and the owners Gerald Carmody and John Sneesby. Here is win #1,420:
Juan Gutierrez' 1,420th win on Stay in Grace
[embedyt] https://www.youtube.com/watch?v=3rz895aV_g4[/embedyt]
Gutierrez gave credit to the man he surpassed Gallyn Mitchell. Gutirrez says he and Gallyn saw a lot of faces come and go since Gutierrez arrived in 2000. the 51-year-old Gutierrez says to set records like this you have to be lucky enough to have a solid book of business year in and year out and be lucky enough to avoid serious injuries. Gutierrez says he Mitchell were not friends but competitors. He says he has a ton of respect for Gallyn, he was a grinder and a fierce competitor and to break his record is one of his most treasured achievements.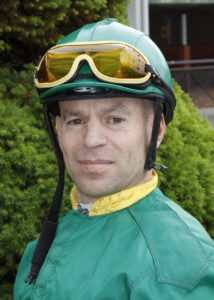 Gutierrez' consistency is what he says has been the difference. Trainers can trust him on their $2,500 claimer all the way to a Longacres Mile Champion. In the 19+ seasons he won the Jockey's title in 2012 and had a streak of 15 consecutive years finishing in the top 5. He is currently sitting in 2nd place but with the season winding down and Alex Cruz maintaining a cushion it will be difficult to overcome him. 
His biggest accomplishments were the 3 Longacres Mile win beginning with his first and most memorable ride on 60-1 No Giveaway. The Herman Sarkowsky and Grant Forster trained longshot came from 20-lengths behind with a brilliant move right up the rail and when a slight opening occurred an eye catching move to win it by about a half length. Gutierrez would win it again 2 years later on Ron Crockett's The Great Face trained by Tom Wenzel. It was also the largest purse in Mile history of nearly $400,000. His 3rd win was just a little more than a month ago taking it aboard Anothertwistafate owned by Peter Redekop. Trainer Blaine Wright also happened to be the assistant trainer for Forster and No Giveaway back in 2005. Here's a look at Gutierrez' historic ride on No Giveaway. 
Juan Gutierrez wins his 1st of 3 Longacres Mile's on 60-1 No Giveaway in 2005
[embedyt] https://www.youtube.com/watch?v=hZpGm6eNuS0[/embedyt]
Emerald Downs officials with family and fellow jockeys celebrated his achievement on Thursday prior to racing. Here is the Winner's Circle ceremony led by our own Joe Withee.
[embedyt] https://www.youtube.com/watch?v=2S79WiNJucs[/embedyt]
Gutierrez began riding in Mexico and then in California after coming to this country. In 2000 he made his way up to Emerald Downs and he says it felt like home to him and he hasn't left. Gutierrez will be honored prior to the Thursday night race card.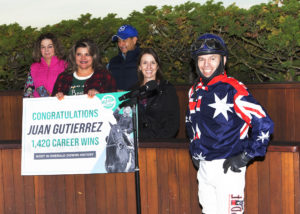 www.elisportsnetwork.com