7/23/20
(Auburn, WA)
#2000!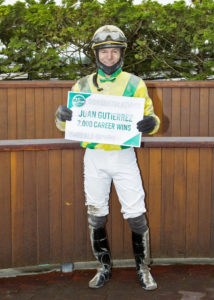 Jockey Juan Gutierrez recorded his 2,000th career win on Thursday evening at Emerald Downs when he guided Semi Sweet to victory with a nice move from off the pace up the rail. Gutierrez was relieved to get it done early as he had 10 rides on Wednesday but couldn't find the winner's circle and remained stuck at 1,999. (See his 2,000th win at the bottom of this story)
Gutierrez not only got win 2,000 but in less than a half hour won his 2,001st aboard Mr Takahashi by a neck and then win 2,002 running off another impressive win for 3-year-old filly Daffodil Sweet at odds-on sweeping the first two Daily Doubles and the first Pick 3.
Gutierrez talked with ESN and said he knew he had the win just before the quarter pole with Semi Sweet. Gutierrez had taken Semi Sweet to the back of the 6 horse field and saw there was a brisk pace on the front and thought he would have a shot if he was patient. Turning for home the front runners drifted wide and he shot through on the rail to pull away and win easily by more than 3 lengths. Gutierrez said the win took the pressure off and he relaxed and winning the next 2 races was a lot easier with #2,000 already in the books.
Gutierrez is currently 2nd all-time in wins at Emerald Downs. Gallyn Mitchell is on top with 1,419 and after his 3 wins on Thursday Gutierrez is just 31 behind with 1,388.
ESN talks with Juan Gutierrez about his 2,000th win
[embedyt] https://www.youtube.com/watch?v=a1Qy4VQdNJU[/embedyt]
Updated Schedule
With no chance of fans being allowed into the track through August Emerald Downs will not be changing their race day schedule. When the new calendar was released the hope was fans could attend by the beginning of August and so they were going to shift back to the traditional schedule of Friday, Saturday and Sundays.
Governor Jay Inslee then announced rolling counties in phase 3 back from allowing groups up to 50 to groups no larger than 10. So the roll back made it clear that any chance of fans attending was wiped away. The track will maintain their Wednesday at 2:15pm and Thursday at 5pm post times.
The Stakes schedule has also been shuffled.  The Angie C and King County Express were moved to Thursday, July 30. The big race, the Longacres Mile is still scheduled for Sunday, September 13th but also remains open to be moved. Here is a link to the new Stakes Schedule.
Kay Cooper
Veteran Trainer Kay Cooper missed the races this week as she underwent surgery to relieve pain in her back. Husband Bryson Cooper reported she was in great spirits and has immediately felt relief from the procedure and was due back home on Thursday. Bryson told us he hoped she would be able to come home on Thursday because on Friday he had a load of hay being delivered to their farm….that he needed her to unload. If you know Bryson, you know his humor. If you don't know Bryson….now you know what Kay has put up with all these years. Our best to Kay for a speedy recovery and thanks to Bryson for giving us the updates.
1st DQ
The Stewards DQ'd their first 1st place horse of the season in the 11th race on Day 10 which then led to record setting pay-offs for the current season on several bets. The Stewards ruled that a bump caused by #8 Cooler Than You with Javier Matias aboard with the 4th place finisher Strategic Hour with Connie Doll was enough to warrant the change.
At the top of the stretch Cooler Than You had built up a lot of momentum and Matias was flying and came up behind the fading speed of #3 Plan the Makin. Strategic Hour was to his outside but there was a hole to go around the fading front runner but it closed quickly with Strategic Hour coming in slightly and it was too late for Matias but forced his way through creating the contact.
Many felt the take down was not right although agreeing there was contact but Cooler Than You easily pulled away to win by 2+ lengths and was 6 lengths in front of Strategic Hour. The contact did not appear to cost Strategic Hour a placing as he finished 4th more than 3 lengths behind the 3rd place finisher so it appears Strategic Hour finished where he would have had there not been any contact. As of 7/24 the Stewards had not posted their report on the Emerald Downs web site.
The new order of finish pushed 34-1 Pegasus Champ to 1st place, 3-1 Mensch 2nd, 43-1 Strategic Hour 3rd and 7-2 Cooler Than You 4th. This combination triggered record pay-outs for the $2 win, 10-cent Superfecta, 50-cent Pick 3 and 50-cent Pick 4. You can see all those numbers below in our 10-day numbers re-cap.
5 Weeks and 10 Day Numbers Re-Cap
We are 5 weeks in and 10 racing days so here are some facts and figures with almost 25% of the 44 day schedule completed.
Jockeys: Alex Cruz and Gary Wales each have 16 wins, Juan Gutierrez is 3rd with 15, Cerapio Figueroa 13 and Eddie Martinez with 10 to round out the top 5. Juan Gutierrez leads in money won with almost 170k.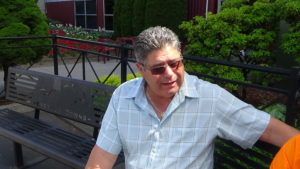 Trainers: Frank Lucarelli is off to a fast start and has the barn to back it up sending out 61 starters (averaging 6.1 horses per day) has 10 wins and nearly double the purse money of anyone else with almost 120k. He is hitting 16% for wins and 52% in the money. Jorge Rosales is next with 7 wins, Blaine Wright has 6 but Blaine is 2nd in purse money with 64k. Joe Toye has 5 wins and then a 3-way tie with 4 include Kay Cooper, Chris Stenslie and Vince Gibson. For those with 10 or more starters Rosales has the highest win percent at 25%.
Horses: Omache Kid leads the way a perfect 3 for 3. Daffodil Sweet, Papa's Golden Boy and Missed the Boat all have 2 wins. Daffodil Sweet leads in earning with 20k. 
Owners: Chad and Josh lead the way with 5 wins from 22 starts or 23%. They have also racked up just shy of 50k in purse money. John Parker, Chuck and Greg Conley with Terra Farms and Carol Dronen all have 3 wins.
Number of Race Days: 10 
Number of Races: 101; Average Number of Races per day: 10.1
Number of Horses: 782; Average Number of Horses per Day: 78.2; Average number of Horses per Race: 7.7
Dead Heats: 2
Total 10 Day Handle: 19.3m; Average Daily Handle: 1.93m; Average Handle per Race: 191k
Pay-outs:
Average $2 Win: $14.51; Average Odds: 6-1; High single day Average: $23.84 Day 2 June 25; High single Pay: $70 Day 10 July 23 Pegasus Champ (Alex Anaya)
Average $2 Place: $6.43; Average Odds: 2-1: High single day Average: $9.41 Day 2 June 25; High single day Pay: $28.20  Day 8 July 16 Vinny from Dixie (Alex Anaya)
Average $2 Show: $4.08; Average Odds: 1-1; High single day Average: $5.00 Day 2 June 25; High single day Pay: $15.20 Day 4 July 2 Alotmoreaction (Alex Anaya)
Average $1 Daily Double: $52.18; Average Odds: 51-1; High single day Average: $$99.66 Day 8 July 16  ; High single day Pay:$444..10 Day 8 July 16
Average $1 Exacta: $39.26; Average Odds: 38-1; High single day Average: $73.34 Day 2 June 25; High single day Pay: $230.50 Day 8, July 16
Average 50-cent Trifecta: $136.99; Average Odds: 273-1; High single day Average: $224.48 Day 4 July 2; High single day Pay: $1,557.70 Day 4 July 2
Average 50-cent Pick 3: $233.68; Average Odds: 466-1; High single day Average: $655.83 Day 10 July 23 ; High single day Pay: $4,779.75 Day 10 July 23
Average 50-cent Pick 4: $1,171.80; Average Odds: 2341-1; High single day Average: $4,194.78 Day 2 June 25; High single day Pay: $9,704.85 Day 10 July 23
Average 50-cent Pick 5: $2,859; Average Odds: 5717-1; High single day Pay: $14,431.80 Day 7 July 15
Average 20-cent Jackpot 7: $3,427.80; Average Odds: 17,139-1; High single day Pay: $29, 655.48 Day 9, July 22
Average 10-cent Superfecta: $123.95; Average Odds: 1238-1; High single day Average: $250.55 Day 10 July 23; High single day Pay: $1,925.90 Day 10 July 23 
Longshot Jock
Alex Anaya is the King of longshots or at least the king of being part of the most record high pay-outs for the season. Anaya holds or is part of 9 of the 11 high pay-outs missing out only on, believe it or not, the Pick 5 and Jackpot 7. He has the highest win, place and show payouts all on different horses. He is part of the highest exacta, trifecta and superfecta and has wins in the highest Daily Double, Pick 3 and Pick 4. Alex Cruz is 2nd best at being involved in the high pays, so look to box the Alex's when betting exotics.
Spreading the Wealth
We were surprised to see how many different days there were record pay-outs showing that it wasn't just one day of a bunch of longshots but rather there has been a chance to win big virtually every single day. Of the 10 race days there is a record pay-out on 5 of the 10 days. Days 4, 7, 8, 9 and 10. 
On the days without a record you can see still great numbers with the $2 win averaging 6-1 the trifecta's 273-1, Pick 4's 2341-1 and with the low take-out of the Superfecta the money back in the winner's pockets is making a big difference with the average 10-cent superfecta bet good for almost $124. The average odds for the superfecta's is an eye popping 1,238-1.
The 2nd quarter of racing begins next week with racing on Wednesday, July 29 and Thursday, July 30.
Juan Gutierrez 2,000th Career Win
[embedyt] https://www.youtube.com/watch?v=TyLoHW5nGao[/embedyt]
www.elisportsnetwork.com