9/7/2020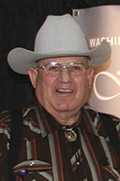 (Selah, WA) Washington State Hall of Fame Thoroughbred trainer Ben Harris passed away on September 2nd in Selah. Harris is most known for his incredible run in the waning years of Longacres when he teamed up with another Central Washington native George Layman. Layman was looking for a trainer to run his Washington horses and Harris was the guy he trusted. The duo teamed up with jockey Gary Boulanger and the trio went on a historic winning spree. 
Harris was the only trainer in Longacres history to win 4 straight training titles and he did that in the final 4 seasons at the Renton oval, 1989-1992. Layman was the leading owner for those 4 years as well and Boulanger won the jockey's title in 1989-1991. He did not return in 1992 to defend his title where he also may have ended up with his 4th title. Harris's 93 wins, Boulanger's 247 wins and Layman's 64 wins remain as the top single season achievements in state racing history.
Harris's early success at Longacres was due to his relationship with his dentist Dr John Furakawa. Furakawa was an early version of Layman and he brought Harris a slew of horses in the 70's to establish Harris as one of the top conditioners. Harris was inducted into the WTBOA Hall of Fame in 2014. 
Harris was 82 at the time of his passing and he is survived by his wife Mary Jane Harris and son Clint. Harris was the 8th of 9 children and has a large extended family plus the huge extended racing family. No services have  been announced at this time.
Ben Harris WTBOA Hall of Fame induction ceremony video
[embedyt] https://www.youtube.com/watch?v=X0Zj7rqn1FQ[/embedyt]
www.elisportsnetwork.com