10/1/2020
(Auburn, Wa) The 25th season of Emerald Downs remains in the odd schedule they began with on Wednesday's and Thursday's except the one week due to smoke. This is an odd opening sentence but the heartiness of the racing industry and folks figured it and got racing started and has been running without interruption other than shifting a few days for the smoke.
The Stakes schedule got reduced with the fewer race days and on Thursday night they culminated with the final 3. The $40,000 Muckleshoot Tribal Classic in the 4th race, the $40,000 Washington Cup was the 7th race and the 8th race the $75,000 Gottstein Futurity.
The Muckleshoot Tribal Classic $40,000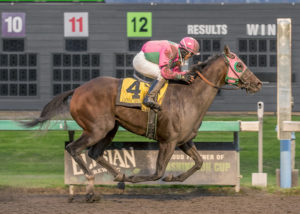 It was a well matched field of 6 with the favorite at 5-2 and the longshot at 7-1. Elliott Bay was the favorite at 5-2 and as the gates flung open for the mile and sixteenth run Bay dropped to 2nd last while as expected Papa's Gold Boy zipped right to the front.
As they headed into the clubhouse turn Papa extended his lead as expected and Gold Crusher took the 2nd position along the rail while Makah Lane was 3rd on the outside. The Press was in 4th and then Elliott Bay and Unmachable trailed.
Papa's Golden Boy continued to blaze away down the backstretch setting fractions of 23.06 for the quarter and a quickened pace of 45.28 for the half. Nothing had changed until they began to head into the far turn and Elliott Bay began to circle up outside of The Press and Unmachable began to pick it up from the back. But the question was could they catch the speed.
Papa's Golden Boy continued to lead and at the quarter pole had the lead but Elliott Bay had just rolled into 3rd place coming up on the outside of Gold Crusher. Makah Lane was rolling 5 wide while Unmachable clung to the rail and was 2nd last at the top of the stretch.
As they straightened away Papa's Golden Boy began to struggle and as the pack started close in Papa's Golden Boy veered hard to the right that began a chain reaction collision into Gold Crusher into Elliott Bay and nearly sent Juan Gutierrez to the ground as Makah Lane nearly went to his knees.
Meantime, Unmachable roared to the front with all the excitement to his outside Leslie Mawing said go and pulled away to a 3 length lead that Elliott Bay could not close after the collision at the top of the stretch. Elliott Bay with Eddie Martinez did a great job of re-gaining control for the 2nd place finish and Gutierrez miraculously recovered as well to run on for 3rd. The Press slipped through on the inside for 4th while Gold Crusher was crushed and all hope ended at the top of stretch and Papa's Golden Boy will likely look for a 6 furlong race from now on.
There was a stewards inquiry into the incident but since Papa's Golden Boy finished last there was no DQ but jockey Gary Wales on Papa's Golden Boy will likely have a meeting with the stewards to explain what he thought happened in the incident. It did not look like Wales did anything wrong and in fact appeared grab Papa's rather quickly and prevent him from veering further out.
The incident certainly was an issue for Gold Crusher, Elliott Bay and Makah Lane but would it had made a difference as Unmachable exploded through the inside to draw off and win was the the question. Very likely Elliott Bay would have been closer and had Unmachable's trainer Jack McCartney followed through with his original plan Elliott Bay may have been the winner anyway. McCartney told Emerald Downs' and ESN's Joe Withee that he had considered not running him.
McCartney said he had thought about turning him out after his last run an Allowance win but said he came back with so much energy and came out of the race perfect he decided to see if he had another big run in him. McCartney then said I am glad I "listened" to him.
This was Unmachable's 2nd Stakes win of the year after winning the Seattle Slew in early August. Leslie Mawing took the ride happily after Javier Matias who had been riding him decided to stick with Gold Crusher. Unmachable stopped the clock at 1:34.07 and returned $8.20 as the 3-1 second favorite. Unmachable is owned by Tawnja Elison and trained by Jack McCartney. Unmachable is by Macho Uno and out of Point of Reference and bred by John and Ivor Jones in Washington. Unmachable earned $22,000 and pushed his lifetime earnings to more than $100,000 at $111,000.
Full Race Replay and Winner's Circle Interview with Jack McCartney
[embedyt] https://www.youtube.com/watch?v=pfzxWM9KUqM[/embedyt]
The Washington Cup $40,000
The Washington Cup and Gottstein were back to back in the 7th and 8th races and both featured overwhelming favorites in the Washington Cup it was Alittlelesstalk that began at a morning line of 6-5. The public was sold on Alittlelesstalk and bet her down to 2-5. On paper she had beaten all her closest competitor's and then three 3-year-olds were in to challenge the older ladies it was a clear choice.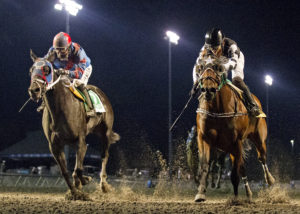 If she was going to stumble she would have to not run her best and one of the others would have to run their best. The competition included 2nd favorite Dontkissntell who had run 2nd by just a to Alittlelesstalk back in July. Fortune's Freude was another who could cause some problems having great success this year in the claiming ranks but she would need to step up big time in this spot.
As they broke from the gate in the mile and 1/16th, 50-1 shot For You Only went straight to the lead. She was one of the 3-year-olds stepping up against older company. One of the other 3-year-olds Windy Point went with her and the two stayed in that order until the beginning of the far turn. The favorite with Juan Gutierrez aboard would slip in just behind the pace setting duo in 3rd while Dontkissntell was 4th, Fortune's Freude 5th then longshots Discreet Demons and Magical Spell.
It was a basic procession all the way up the backstretch and the first move came from Windy Point to overtake a tiring For You Only who would end up last. Alittlelesstalk was on the move next from 3rd and engaged Windy Point about halfway around the turn and Windy Point would throw in the towel.
"Talk took the lead at the top of the stretch and it looked like it was Dontkissntell ready to make a race of it when Fortune's Freude with Javiar Matias came rolling up the inside and shifted to the outside of the tiring Windy Point. At the 1/8th pole Alittlelesstalk led by a length but Freude was bearing down and by the 1/16th pole it was down to a neck and looked like the 3rd choice at 6-1 Fortune's Freude was going to pull the upset but Alittlelesstalk showed how gutsy she is and refused to let Fortune's Freude get by to win by a head. Dontkissntell held 3rd and Discreet Demons ran on for 4th.
Alittlelesstalk trainer Roddina Barrett says she really showed her heart in this race and that didn't surprise her. Barrett says nothing really riles "Talk up much she is a very calm and laid back horse until it's time to race. Alittlelesstalk finished the mile and 1/16th in a time of 1:42.43. Juan Gutierrez got the win and she is owned by Barrett along with the Warlock Stables and Kelly Dougan. Alittlelesstalk is a Washington bred by Demon Warlock and out of Trainingat the Bar and bred by the Warlock Stables, Floyd, Dougan, Hudson and Horseplayers Racing Club.
Alittlelesstalk returned $2.80 on the $2 win. She earned $22,000 to boost her career earnings to nearly $157,000.
The full race replay and Winner's Circle interview with the winning Trainer Roddina Barrett
[embedyt] https://www.youtube.com/watch?v=rEltKxFdxmw[/embedyt]
The Gottstein Futurity $75,000
The last Stakes race of the season and a huge favorite in Dutton at 1-5 after two blistering wins breaking his maiden in the Lads Stakes by 9 lengths and then an Allowance race by 14. But of course the question for Dutton and regular rider Jennifer Whitaker was could they extend that speed from 6 and half furlongs to the mile and 16th in the Gottstein.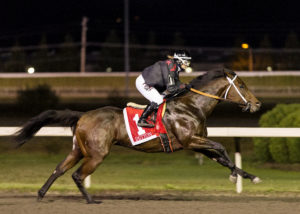 How could Dutton be stopped? Well first of all it was not planned that he run in the Lads as his career debut but in the MSW he was supposed to start his career he got wound-up in the gate when another youngster raised a ruckus and he was scratched. So the first thing for Dutton is he really needs as normal of a pre-race as possible and frankly the later he could be loaded the better. 
Who would challenge Dutton and did they really have a chance? Coastal Kid emerged as the clear 2nd choice with Alex Cruz aboard. Coastal Kid had run just once and won his career debut in a Maiden Special Weight impressively and at 18-1 odds. Cruz sat on him in his debut just off the pace and then ran by everyone in the stretch for a 3 and half length win. Cruz would no doubt try that same strategy knowing the speed of Dutton. Cruz likely thought if Dutton is a super horse and runs off he would have no chance anyway but if he can't rate and burns himself up I want first run. Coastal kid was sent off at 9-2 and rest of the 9 horse field were 11-1 up to 99-1.
Just prior to the horses loading in the gates the worst case scenario for Dutton occurred when #7 Great Gasby dumped his rider and broke free. Gasby sprinted toward the backstretch and was scratched by the Stewards. It took about 10 minutes to attend to the Great Gasby and get him back to the barn and in the meantime Dutton began to wash out. Then when it was time to load being Number 1 Dutton was put in first and then 8 other 2-year-olds had to be loaded and by the time the gates opened Dutton had worked himself up, not as bad as the time when he was scratched but when the gates opened Dutton flew out as fast as he couild and quickly opened up a 5-length lead.
99-1 shot Liberty's Finale came out 2nd while Coastal Kid and Perfect D were 3rd and 4th. 21-1 Easy Silence a filly with Gary Wales settle into 5th place as they went around the 1st turn. Heading up the backstretch Liberty's Finalke would pull within 2 and half lengths while Coastal Kid sat patiently on the rail in 3rd. As they hit the far turn that was it for the longshot Linerty's Finale as Dutton extended back to a 5 length lead.
It was at this time Coastal Kid began to move up the rail along with Easy Silence and both in positioning themselves if or when Dutton hits the wall and slows down. It was right at the quarter pole when Dutton began to slow down and Whitaker went to the stick to try and stoke another 1/4 mile out of him. Coastal Kid swung to the outside and as they reached the top of the stretch Coastal Kid had all the momentum and took the lead just before the 1/8th pole while Easy Silence was making progress along the rail. The 3 were 8 lengths in front of the rest of the field but it looked like a 3rd place finish for Dutton. 
Then as they passed the 1/8th pole Cruz gave Coastal Kid a little reminder with the left hand and Coastal Kid stunned everyone by bolting almost at a 90-degree angle to the outside fence. Cruz stayed on but lost his stirrups and somehow still managed to finish 3rd. Meantime, Easy Silence was the danger on the rail but she flattened out and Dutton dug in he did not give up and pulled out a 2 and half length win in one of the strangest stretch runs you will see.
Three impressive performances came out of that stretch run, first the hosremanship of jockey Alex Cruz to not only stay on after losing his stirrups but then finishing on for 3rd. The 2nd one was the run of the filly Easy Silence taking 2nd with a strong ride from Gary Wales. Trainer Mike Puhich and owner Dr Mark Dedomenico have to be excited for her future. The 3rd is Dutton. This was not his best performance and he has a way to go to be dominant in the 2 turn races like he was in the sprints but when Coastal Kid ran up on his outside and Easy Silence was coming on the rail 95% of the time the speed gives up and stops badly but Dutton dug in. Would he have come back on Coastal Kid if Kid didn't bolt? We don't know for sure but it seems highly unlikely which makes his effort even more impressive. A strange but really a fabulous race.
Dutton's trainer Howard Belvoir was highly complimentary of Coastal Kid and felt he would have won the race and felt bad for his connections trainer Jeff Metz andowners Steve and Letha Haar. Belvoir also was proud of how Dutton ran especially after the issues and delay behind the gate. He looks forward to seeing how he will do without all the distractions. Dutton did officially lose the lead by a head to Coastal Kid and that was the first time he has not led in a race. His career mark improves to 3-0 with a combined winning margin of nearly 26 lengths.
Dutton is owned by the Rising Star Stable VIII and earned $41,250 to boost his lifetime bankroll to more than 71k. Dutton is a Washington bred by Noosito and out of Ms Moscow Mattie. The Breeders are Ronald and Nina Hagan and Larry and Miriam Bonwell. Dutton ran the mile and 16th in a time of 1:43.15.  
Dutton returned $2.60 on the win and combined with odds on choice Alittlelesstalk in the daily double to return $1.80 on the $1 bet. One Pick 3 with both big favorites included paid $3.50 and the other $6.50. 
Complete 2020 Gottstein Futurity and Interview with winning Trainer Howard Belvoir
[embedyt] https://www.youtube.com/watch?v=e0U0mkv3wFE[/embedyt]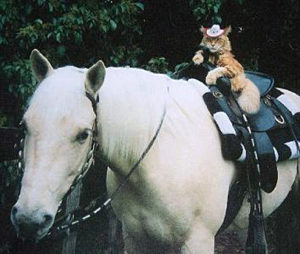 Larry the SportsCat's
News and Notes Round-up!
Congrats and Welcome to Emerald!
Congratulations to Owner/Trainer Amy Nelson who got her first win at Emerald Downs on Wednesday night in the 9th race when her horse Arugula with Cerapio Figueroa pulled away for an impressive 7 length victory and at 8-1.
The Old Guys can still run!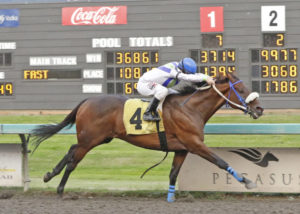 The all-time leader in wins at Emerald Downs Mike Man's Gold added #23 in the feature race on Wednesday night. Mike Man's Gold was ridden by Gary Wales and was handy at the start just laying off the front runner Iron Rob. Mike Man's Gold would where down the 5-2 2nd choice and pull away for a nearly 3 length win. It was his first win of the season and he has now won a race in 9 straight years.
On Thursday it was 9-year-old Grinder Sparksaglo's turn and he picked up his 9th career Emerald Downs win and 16th overall. Grinder is now 9-11-11 from 50 starts at Emerald Downs. Grinder Sparksaglo broke well and also took the lead but had to hold off Buckley Bay for a neck win. Jake Samuels guided the old guy to the win. Neither were favored by the public in fact both were the 4th favorite with Mike Man's Gold at 6-1 and Grinder Sparksaglo 4-1. 
Decisions, Decisions, Decisions
A couple of jockeys had to make some hard choices in the 3 Stakes races. In the Muckleshoot Tribal Classic Eddie Martinez had ridden both Gold Crusher and Elliott Bay to recent wins. Martinez stuck with Elliott Bay and finished 2nd. That created an opening on Gold Crusher out of the Frank Lucarelli barn and Javier Matias decided to jump on Crusher, getting off Unmachable. Not sure why he would get off Unmachable he had 2 wins including a Stakes, a 2nd and 3rd from 4 starts this season. Hard to believe trainer Jack McCartney wanted to change riders but Matias may have felt an obligation to ride for the Lucarelli barn as he is one of their regular riders. This did leave the door open for Leslie Mawing who is a recent arrival from Minnesota where he had been riding at Canterbury. Mawing took full advantage with an impressive Stakes win while Gold Crusher ended up 2nd last.
In the Washington Cup Gary Wales had last ridden both of the Kay Cooper entries Fortune's Freude and Magical Spell and his team chose Magical Spell which was a curious choice as it looked like he had more success with Freude. This left open a spot and Javier Matias took advantage nearly pulling the upset over the odds-on choice Alittlelesstalk losing by a head. Wales finished off the board in 5th place on Magical Spell.
The Betting Parlor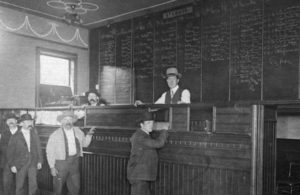 It was a great day on Wednesday if you wanted to make money and also set up a potential huge day on Thursday night. On Wednesday there were 3 Pick 4's and of course the Pick 5. The Pick 4's on Wednesday paid out $104, $3,686 and $332 but the last pick 4 paid on 3 of 4 as no one had a perfect ticket. The average pay-out was $1,374. The Pick 5 no one had all 5 on their ticket and it paid 4 of 5 $481. The combined average of the Pick 4's and Pick 5 on Wednesday was $1,150.
On Thursday and although the 2-5 shot won by a nose and the 1-5 shot won because a horse bolted they still got to the top of the tote board. The winner's bookending the two odds-on winners were 5-2 and 4-1 so it was not a big shocker. The winning odds of the Pick 5 were 2-5, 1-5, 4-1, 6-5 and 3-2. The Pick 5 pot was more than $190,000 and had nearly a 30k carry-over from Wednesday but in the end there was no big pay-off the Pick 5 returned $66.60. The pick 4's were as bad or worse with the first 4 races returning a nice $430 but the other 3 were $45, $27 and $28. This averaged a $132 pay-out and combined with the Pick 5 a pay-out of $119.
Jockeys and Trainers
On Wednesday Gary Wales won 4 of the 9 races but was shut out on Thursday but that 4 was enough for top jock of the week in number of wins. Juan Gutierrez scored the hat trick on Thursday night with his biggest win of course on Alittlelesstalk in the Washington Cup. That also gave him 4 Stakes wins for the season. Alex Cruz had 3 wins for the week as did Javier Matias. Cerapio Figueroa won 2 on Wednesday and Leslie Mawing took 2 on Thursday including the Muckleshoot Tribal Classic for his 1st Stakes this season.
Speaking of Stakes here are the final Jockey Stakes standings:
4 Juan Gutierrez
4 Eddie Martinez
4 Javier Matias (one of the wins was a Quarterhorse Stake)
2 Jennifer Whitaker
1 Gary Wales
1 Leslie Mawing
1 J Figueroa (Quarterhorse)
1 L Gonzalez (Quarterhorse)
Top 10 Jockeys
51 Alex Cruz
42 Juan Gutierrez
40 Gary Wales
33 Cerapio Figuroa
31 Eddie Martinez
28 Javier Matias
19 Jake Samuels
19 Alex Anaya
14 Jennifer Whitaker
13 Jose Zunino
For the trainers the leader Frank Lucarelli scored another 2 wins and Vince Gibson had 2, the only 2 in the top 10 with multiple wins for the week. Robbie Baze found the winner's circle twice on Thursday and the others that had one win were Jorge Rosales, Joe Toye, Howard Belvoir, Amy Nelson, Alan Bozell, Sharon Ross, Bonnie Jenne, Bob Meekings, David Martinez, Rosie Simkins, Jeff Metz, Jack McCartney, Roddina Barrett and Doris Harwood.
Final Trainer Stakes Standings
5 Frank Lucarelli
3 Nick Lowe (He trained the Winners in all 3 Quarterhorse Stakes)
2 Blaine Wright
2 Howard Belvoir
2 Roddina Barrett
2 Jack McCartney
1 Chris Stenslie
1 Glen Todd
Top 10 Trainers
35 Frank Lucarelli
24 Jorge Rosales
18 Blaine Wright
16 Joe Toye
16 Howard Belvoir
12 Rigoberto Velazquez 
11 Vince Gibson
10 Candace Cryderman
9 Kay Penney-Cooper
9 Chris Stenslie
www.elisportsnetwork.com