6/26/2020
(Renton, WA) It took awhile but racing returned to the Auburn Oval this week thanks to a massive effort by the racing community. (See our story on this remarkable effort by the Emerald Downs racing family.) It was of course different racing without fans but this has been done at virtually every track in the nation that has gotten back to racing. On-line wagering had been increasing on a regular basis but since the Covid outbreak it has surged to new heights and it continued at Emerald Downs.
The betting handle over the 2-days was close to 3.5 million. There are more mouths to feed, so to speak with the on-line wagering vendors taking their share and when only just a few tracks were open eye popping handles in the 3, 4 and 5 million per day have now been watered down a bit with more tracks running but when we re-cap the betting returns you can see a huge impact on the betting pools and money paid to those cashing tickets.
Both founder turned track consultant and former Emerald Downs President Ron Crockett and the State Racing Commission Executive Secretary Doug Moore were pleased with the amount of betting. Wednesday did 1.5 million and Thursday just short of 1.9 million. The 5pm post time and fewer tracks likely both helped the Thursday numbers Crockett said. Moore says the Emerald Administration will continue to monitor and look where the best day and time is to run. Moore says they could still change time and even day.
Racing Highlights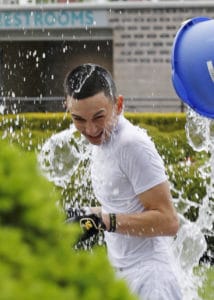 20 races in 2 days and 10 different jockeys were aboard winners. Juan Gutierrez leads with 4 winners all on opening day including 3 in a row in the 2nd, 3rd and 4th races. By the way that 50-cent "all-Guti" Pick 3 paid $82. Gary Wales, last year's leading rider had 3 wins including the 1st race on both days. Cerapio Figueroa also had 3 wins. 3 jocks had 2 wins including longtime NW fav Javier Matias, Lorenzo Lopez and Alex Cruz.
Both Lopez and Cruz overlooked by the betting public as Lopez won on a 6-1 and 23-1 entry while Cruz found the Winner's Circle with a 9-1 and 16-1 shot. Lopez's win on Constant Craving in the 3rd on Thursday which returned $49.40, was the longest shot to win during the first 2 days and it was trained by last year's Champion Frank Lucarelli.
The other riders to get a winner's check were Alex Anaya, Heribert Martinez, Jennifer Whitaker and Jose Zunino.
Meantime 17 trainers sent out winning horses led by Lucarelli with 3. Lucarelli extended his grip on the track's all-time leading trainer and only one over a thousand wins now with 1,028. The only other trainer to have more than 1 win was veteran conditioner Bonnie Jenne with 2, She won the feature on opening day with Makah Lane, it was Gutierrez's 4th win of the day. Then she won the opener on Thursday when Gary Wales piloted Full Speed Ahead to a 2 and half length win.
Notable trainers with 1 win was the 2nd all-time Emerald trainer Tim McCanna, Kay and Bryson Cooper, Vince Gibson, Tom Wenzel, Blaine Wright and Howard Belvoir. It was Belvoir's 14th straight season of having a winner on opening day and did so with his most regular rider and all-time winningest female jockey Jennifer Whitaker.
Dead-Heats
Dead-Heats (or ties) are relatively rare in racing but of course do happen. Emerald got theirs out of the way early with not one but two dead-heats in back-to-back races on Thursday. In the 7th race it was two noses on the wire for 3rd place between Class Defined and Why are you so Sweet. It was nearly a 3-way tie with Linchpins Jewel just missing. The DH created an additional show pay-off and additional trifecta and superfecta tickets.
In the 8th race, the Dead Heat was between Liberty Park and Remembertobreathe for 4th place they both just missed a 3-way DH for 3rd as #6 Hurricane Force just edged out both. There were two superfecta pay-outs as a result.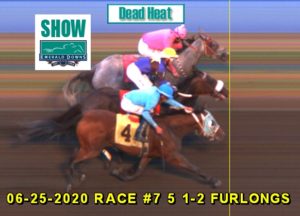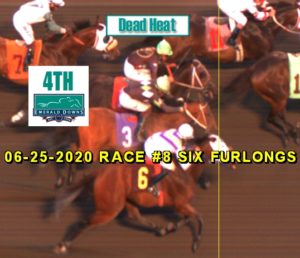 Betters Paradise!!
10 races each day and big fields, averaging more than 8 per race equaled big pay-days for those cashing tickets. Let's start with the stats and then highlight some of the great chances to cash. Over the 20 races the average $2 win pay was 7-1 or more than $16, $2 place was 5-2 nearly $7.50 and the $2 show paid 6-5 at $4.50 and that actually included 61 pay-outs with the one dead-heat.
The vertical exotic bets paid well with the $1 Exacta a little over $50 at $50.69 or 50-1, the 50-cent Trifecta's averaged $134.35 or 269-1 and the 10-cent Superfecta paid on average $158.92 this is an amazing 1,589-1 odds.
The Superfecta pay-outs are also being help by the low take-out from the track of just 15% and it showed an immediate impact. Day 1 saw a total pay-out at a 10-cent bet of $824.78 for an average pay of $82.47, this is 824-1. There were 3 pay-outs more than $100 at $102, $131 and $266.
On day 2 there were 12 pay-outs over the 10 races due to the Dead-heats for 3rd in the 7th race and for 4th in the 8th race. On day 2 the total pay-out was $2,671.67 and increase of close to $1,900 over Day 1. This pushed the average 10-cent pay-out to $222.64 or 2226-1 as the odds to the $1 pay-out. There were 6 of the 12 pay-outs more than $100 and 3 of those more than $500 with the top pay-out $635. The other pays were $112, $141, $290, $540 and $556. The top 2 pays were part of the 7th race dead-heat and in the 8th dead-heat the pays were 290 and 141 which means had they not dead-heated the pay for the 7th would have been about $1,200 for the 10-cent bet and in the 8th $430.
There were only 2 10-cent bets that paid less than $20 both on day 1 of $18.88 and the low price of the two days was $12.08. One last point we took out the 4 highest price pay-outs to see the impact but doing so the average pay-out was still a very good  $82 or 820-1.
Let's get to the horizontal pay-outs and start with the $1 Daily Double. The DD returned an average of almost $51 or 51-1 odds. The highest DD pay off was on Thursday the 6th-7th races paid $145, the only triple figure double of the two days.
The 50-cent Pick-3 paid a total of $4,632 and an average pay-out of $289.54 and 579-1. The highest Pick 3 of opening week was $1,484 (nearly 3,000-1) the 6th thru 8th races on Day 2. It was Cates Gold at 19-1 to Sophie's Dream at 6-1 and 9-1 Omache Kid finished it off.
The 50-cent Pick 4 ended up being the best chance to cash big. There were 3 Pick-4's each day. On day 1 the 1st thru 4th race bet returned $580. That was followed  by the 5th thru 8th races which paid $521 and the final 7th to the 10th was the lowest of the 6 pay-offs but was still $225.
On day 2 the pay-offs exploded with the 1st thru 4th races if you could string together the 4 winners you got back $2,414. By the way Larry the SportsCat, the ESN Handicapper, had this pick 4 cold hitting all 4 winners with his top pick and for just 50-cents could have collected nearly $2,500! But….he did not do this…sad face. It also ended up being the smallest Pick 4 pay-out of the day. The 2nd sequence 5th thru the 8th race returned $3,211! Still not the top pay-off.
The 7th-10th race Pick-4 returned a massive almost $7,000, $6,957 to be exact for your 50-cent bet making it 13,914-1! The combined day totals averaged a $2,318.65 pay for the 50-cents or the average odds of 4,637-1.
There were 2 50-cent Picks 5 chances and on opening day the pay-out was a solid $1,304 and on Day 2 with about a 50k pool no one got all 5 and the consolation pay-out was huge and paid $1,568. This leaves a $31,361 carry-over for Day 3 next Wednesday.
The Lucky Pick 7 Jackpot wasn't all that popular and paid $430 for 6 of 7 on Thursday and just $41 on Day 1. The carryover to Wednesday is just $4,227.
Racing resumes on Wednesday with first race post at 2:15 and will have 10 races and a total of 77 horses set to run. On Thursday post time is 5pm but just 9 races with a total of 65 starters. This is about 1 full starter short of the opening week and of course one less race. Horse population will be something to keep an eye on as we saw opening week bigger fields create better chances to win bigger pay-offs.
www.elisportsnetwork.com