4/13/2022
The National Thoroughbred Owners and Breeders Association's Graded Stakes committee recently decided that the Longacres Mile is not longer worthy of a graded status. This decision could not be a worse, no thought at all and makes zero sense conclusion if there ever was one and frankly shows this committee is so far out of touch with reality they should release every single member of that committee and start over. Literally, one of the stupidest moves and horse racing as a whole has plenty of stupidity in their overall management of the sport but this takes the cake.
I realize this is a strong opening statement and it was meant to be, it is not a mistake. Before I get into how stupid this decision is let's give a little history lesson on graded stakes. Grading Stakes races did not come into being until 1973 and first published in 1974.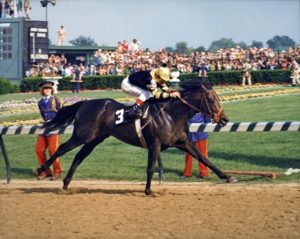 This during the Golden age of horse racing fresh off Secretariet's historic 1973 Triple Crown victory and quickly followed by big time horses such as Foolish Pleasure, Bold Forbes, Ruffian then back-to-back Triple Crown winners in Seattle Slew and the famous Affirmed-Alydar showdown had skyrocketed horse racing's popularity across the country. States with horse racing likely had multiple tracks running during the year.
In Washington State and the surrounding states had Longacres, Yakima Meadows, Playfair, Portland Meadows, Grants Pass and Les Bois Park along with many fair meets, in Washington alone there were Sun Downs, Dayton-Waitsburg, Walla Walla and Harbor Park in Elma.
Along with the explosion of popularity with some unique tax breaks being an owner of a horse was a mixture of a good investment even if your horse lost and prestige. The breeding industry was booming and the idea to further identify strong bloodlines was to begin grading or ranking the Stakes races. Only a certain number of races would receive a grade of 1 2 or 3 with 1 being the most elite.
Grade 1's include the Kentucky Derby, Preakness and Belmont. The Breeders Cup races and other big races like the Kentucky Oaks, the Santa Anita Derby and so on. Breeders could then use wins in these races as selling points, kind of a scoreboard so to speak and eventually increased the value of those studs that produced additional graded winners.
There was a need to be strict in handing out graded stakes races, it was a must to keep the exclusivity because at that time tracks were lining up to try and get one of the exclusive grades. The Longacres Mile would get one of those exclusive races for the jewel of the Northwest race the Longacres Mile. 1976 the Graded Stakes Committee gave the Mile it's Grade 3 status, a status it has held for 45 years until this year.
The committee didn't offer any explanation and in fact normally tracks are given a heads up that they are close to losing their status allowing for the track to try and address the concerns of the committee. In this case, there was no warning, no explanation for the decision or why it was even close to be being considered falling short of their criteria.
Some have argued that it was because the last 2 years the purse dropped in half from $200,000 to $100,000. The problem with that is according to the committee's own criteria that is not a consideration. The only consideration for purse in the Grade 3's is that it be a minimum of 100k, which it has been.
There were some with concerns about field size, lack of shippers or quality and whether the Mile is as popular as it once was. First of all, show me a Grade 3 anywhere that you couldn't say the same. But let's instead be fact based. We did a statistical review of the Longacres Mile over the 26 runnings at Emerald Downs and then broke out the last 5 to see what major differences there are that would justify the committee's decision that the Longacres Mile is no longer worthy of graded status.
We looked at number of starters, shippers, tracks the shippers came from, jockeys that deemed it necessary to come and ride in the race, trainers who felt the need to take on the expense to ship them and then the betting pools of win-place-show, exacta, trifecta and superfecta.
Field size: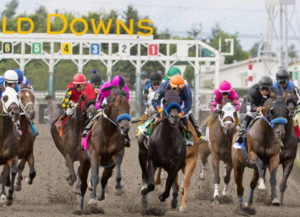 Over the 26 runnings at Emerald Downs there was a total of 312 possible starters, 12 per race. The number of actual starters was 278 or an average of 10.7 per race or an astounding 89% fill rate. Over the past 5 years including the Covid year and a year with the least number of starters in the history of the graded race with 6 after several late scratches. There was a possible 60 starters and 49 actually started or an 82% fill rate.
Shippers:
Horses coming in from other states are important to a graded stakes because it shows the race is respected and important and connections are willing to take on the expense knowing a win will greatly enhance their horse. So over 26 runnings out of the 278 starters 116 were shipped in or 42% of all starters came from another track. Over the past 5 years there were 20 shippers out of the 49 starters or 41% were from other tracks.
The next question is how did these invaders do when they did fork out the expense to send them up here to the Northwest. Out of 26 Longacres Mile Winners at Emerald Downs 13 were shippers or 50%. 28 shippers finished 2nd or 3rd or 44% in the money. Combined shippers finished 1st, 2nd or 3rd 46% of the time.
Visiting Jockeys and Trainers and Tracks they came from: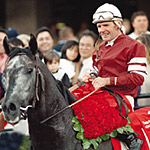 Who are some of the riders who traveled to Emerald Downs to ride in the Longacres Mile? Here is a partial list: Gary Stevens, Eddie Delahousaye, David Flores, Russell Baze, Tyler Baze, Patrick Valenzuela, Garrett Gomez, Robby Albarado, Brice Blanc, Alex Solis, Frank Alvarado, Clinton Potts, Aaron Gryder, Mario Gutierrez, Evin Roman, Juan Hernandez, Martin Pedroza and many more.
Trainers who felt the Longacres Mile was important enough to send runners to the Northwest includes names such as: Peter Miller, Craig Dollase, Bob Baffert, Ron McAnally, Ted West, Jerry Hollendorfer, Ben Cecil, Glen Todd, Michael Maker, Wesley Ward, Richard Baltas, John Sadler, Mark Glatt, Art Sherman, Jeff Mullins, Doug O'Neill and Richard Mandella. Many more including those shipping in under a local trainers care.
We mention these folks because they simply would not waste their time or money to ship in as often as they do to run in a race that doesn't have cache or doesn't help their cause. If you Wikipedia these jockey's the Longacres Mile is listed under the category of "Major" wins on their profile.
So where did these horses ship in from? Are they all from Hastings and Northern California? No, here is the list of tracks that shipped horses ran at in their race prior to the Longacres Mile:
Del Mar, Santa Anita, Hollywood Park, Los Alamitos, Belmont, Churchill Downs, Pimlico, Arlington, Canterbury, Golden Gate, Santa Rosa, Pleasanton, Sacramento, Hastings, Northlands park, Woodbine, Prairie Meadows, Indianna and Parx. Or from literally sea to shining sea.
Public Perception:
What's the best way to measure public perception of the race? How much is wagered on the race is a pretty good measuring stick. So we collected the numbers of the pools for Win-Place-Show, Exacta, Trifecta and Superfecta. We did not include any multiple race bets such as the Daily Double, Pick 3, 4 and so on.
We again measured the 26 runnings and broke out the last 5 years as well. Let's start with the 26 running totals but we should mention there was no Trifecta in 1996 and no Superfecta until 2000: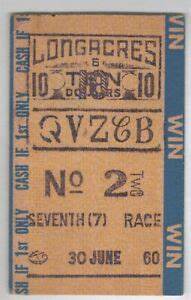 Win-Place-Show total bet: $7,071,000 for an average of $272,000 per race
Exacta total bet: $3,313,000 for an average of $127,500 per race
Trifecta total bet (25 races): $2,834,000 for an average of $113,300 per race
Superfecta total bet (22 races): $1,337,000 for an average of $60,700 per race
Total bet: $14,555,000 for an average of $573,500 per race
Last 5 Longacres Miles (including the anamoly 6 horse field and the Covid year.)
Win-Place-Show total bet: $1,416,000 for an average of $283,000 per race
Exacta total bet: $602,000 for an average of $120,400 per race
Trifecta total bet: $493,000 for an average of $98,600 per race
Superfecta total bet: $363,000 for an average of $72,400 per race
Total bet: $2,874,000 for an average of $574,800 per race
So after the past 5 years including the smallest field in Mile history since it was graded and the 2020 Covid year that took a lot to ship a horse but still ended up with 9 starters and by the way was run on a Thursday night in front of ZERO fans instead of the traditional Sunday afternoon with 10,000+ fans on hand and we still saw an increase in betting over the 26 year average.
The other issue that remains a mystery as to why now take away the graded status was in 1993-95 the meets were run in Yakima while Emerald Downs was being built after Longacres closed. The purse fell well below 100k but the committee did not take away the graded status. They allowed Emerald to be built and allowed racing to get re-established in Western Washington and to help the effort THAT committee had the foresight to help the racing and breeding industry in Washington State by keeping the Mile a Grade 3 event.
There was no guarantee, especially early in 93 that Emerald would be completed. A number of things could have come up and dumped the project or changed it drastically but the committee who then had every chance to pull the graded status did not do it. They knew for Northwest racing any help in legitimizing the product would be key to the future of racing and by keeping this one race that represents the best of the Northwest and is clearly respected around the industry with the number of top riders and trainers and the number and distances some have shipped their horses to run in the Mile is pretty clear.
So the committee has made room for accomodation in the past and it paid off. The Longacres Mile is as strong as ever and certainly stronger than many of the Grade 3's in existence. Which makes this decision the more confusing and frankly ridiculous. The committee could try to come up with an excuse or reason but there is no factual basis behind their decision.
We are now left to wonder why they would make a decision that clearly won't help the Washington and Northwest breeding industry, it can only hurt it. Maybe the committee is resigned to the fact that racing won't survive in the Northwest. Take a look around after Grants Pass announced they are closing permanently the only racing left in the Northwest is at Emerald Downs and 3 3-day Fair meets in Oregon. Maybe the committee wanted to get a jump on giving that graded race to another track they feel will be around longer. If so they should have the guts to say it and let us know they don't want us in their little group.
I will say this very loudly but not only should the Longacres Mile be given back it's graded status it should be guaranteed for as long as there is live racing and any kind of breeding industry still working. In fact there should be an automatic graded race in all parts of the country that still has live racing and any semblance of a breeding program. Giving each of those areas 1 race to hang their hat on should not even be a question.
Someone said the committee has to abide by their strict guidelines to maintain the integrity of the grading system. I simply say Bullshit. Rules change all the time in sports to fit with the current conditions. If this committee were in charge of football we'd not have the 2-point try, still have a 12-game schedule and probably no facemasks on the leather helmets. If they were in charge of basketball there would be no dunking, no 3-point line and free throws shot granny style. If they were in charge of baseball there would be….hmmm maybe they are in charge of baseball!
But back to racing, we have to change with the times and get out of the 1970's thinking. Yes, I would love to see a grand turf club with people dressed up to spend a 6 hour day at the races. I would love to see racing 5 days a week with a minimum of 10 races a day and an average field size of 8 or 9. But there is a reason there is no longer a turf club at Emerald, no one wanted it.

I hear the rumblings from the industry people about the Corgi races and Fireworks shows and other crazy promotions but it is necessary to bring in people and expose them to our sport to help it grow again. Just look at some of these tracks on TVG where there is literally no one in the stands but still Emerald brings in a decent crowd on every race day. Heck, Santa Anita has had a literal carnival in their infield for the past several weeks.
There are a lot of things going against horse racing right now but there are also some bright spots and we saw what can happen when you have the right number of races for your realistic horse population. Field sizes go up, betting increases and people get excited about racing again.
The last thing you need when you are in as challenging a situation as Emerald Downs has been in since opening day June 20, 1996 is for it's own industry to turn on you. The Graded Stakes may not impact the everyday bettor or casual fan but it is a direct slap at the hard working breeders and trainers trying to keep a struggling industry afloat.
There was great news out of the Legislature this year for racing with a Bill that passed the house 90-8. The bill would funnel half of the collected sales tax on equestrian and horse related products to the horse racing industry to raise purses significantly. The Bill did not get out of committee in the Senate but it was a great start with lots of optimism for next year. This was not unusual that the bill didn't get all the way through and with the overwhelming bi-partisian support it looks like it has a good chance next year. If we get that passed it would be a huge shot in the arm for racing in Washington State.
While work continues on that Emerald Downs has already increased the Longacres Mile purse this year from 100k to 150k and has committed to pushing it back to 200k next season. On top of that they have raised purses 20% over last year for this season. We also know Emerald Downs officials quickly contacted the committee to express their deep disappointment and we understand there is communication going on between the 2 sides.
Many may wonder or question why certain things are done the way they are and that is human nature but when you look at facts the Emerald Downs management team is working to not only "survive" but working hard to thrive. It is time to get behind each other and stand up and proactively work together to preserve and build the longest running professional sport in State history.
We better ban together folks because it doesn't look like the rest of the horse racing industry cares if we survive or not.
www.elisportsnetwork.com