7/31/20
(Auburn, WA) The first two Stakes races of the 2020 Emerald Downs season were run Thursday night and featured 2-year-olds, the fillys in the Angie C and colts and geldings in the King County Express. The big night capped week 6 that featured a 10-race card and lot's of surprises. 
The Angie C
Let's start with the Angie C that was a 5 and half furlong event with a field of 7 after Malibu Mistress was a late scratch. All eyes were on the odds-on choice Anothersunnyday shipping in from Canada and the Hastings Bullring. Anothersunnyday has not raced or officially worked out over the Auburn dirt but that did not prevent her from being the overwhelming favorite at 1-2. In the Vault was 2nd choice at 5-1, Managingbriana was 6-1, Let's Declare Peace  8-1, Time For Gold 12-1, La Panzanella 18-1 and Sweet Katie O rounded out the field at 26-1. 
So who won? Here's a hint the 10-cent Superfecta paid $177 so no not only did the 1-2 Anothersunnyday not win but ended up last after stopping badly in the stretch. Anothersunnyday was coming off an impressive 6+ length win in a 50k maiden claiming at Hastings and led every step of the way quickly gaining a 2-length lead and no one getting any closer. 
But in the Angie C Anothersunnyday never had the lead at any time and that's because Javier Matias on #1 Time For Gold probably felt like he needed to get out for any shot at winning. What it wasn't, was planned. Trainer Frank Lucarelli had Time For Gold but also had Managingbrianna and In the Vault. ESN talked with Lucarelli and we wondered if there was a strategy to make sure one of his 3 hooked the heavy favorite to make sure there was pace for the other 2 to run at.
If that was the case it would have made sense for Brianna to be on the lead as she was on the lead every step of the way in her one and only race. In the Vault and Time For Gold had 2nd and 3rd place finishes respectively in their only outs. But Lucarelli told us no, in fact the only instruction he gave all 3 jockeys, Matias, Jake Samuels on Brianna and Eddie Martinez on Vault was "this is only their second race, they still have a lot to learn so let them break, see where you are and try to get them to relax." He said the one thing he did tell his riders was, "I don't want to see a 3 way speed dual between my horses."
When the gates flung open Lucarelli wasn't surprised Gold went to the lead and said he knew she had good speed but in her debut she got caught a little flat-footed and was off a step slow but in the Angie C. She flew out of the gate and at the first call had a half length lead on Sunny. The two would go as our friend Robert Geller would have said Hammer and Tongs into the turn. Lucarelli told us he was excited about halfway around the far turn that Matias and Gold were giving the favorite all they wanted and felt at that time that it was likely Managingbrianna who was going to win but also thought In the Vault was in great position to make a run as well.
Then as they approached the quarter pole Lucarelli was feeling even more confident as Anothersunnyday began to struggle and Gold extended while Brianna was getting a dream trip on the rail and Vault was in 3rd closing on the outside. He said I really thought I was going to finish 1-2-3, the all Lucarelli trifecta. Then about the 1/8th pole it looked like Time For Gold re-broke and put distance on her stablemates. As they passed the 1/16th pole we will use another announcer phrase this time from long time So Cal race caller  Trevor Denman, "They would have to SPROUT Wings to Catch Time For Gold!" as she drew away for a 9-length victory. 
Managingbrianna had a solid run finishing 2nd 2 lengths clear of La Panzanella who closed nicely to pass In the Vault preventing the all Lucarelli Tri. Time For Gold was 5-1 morning line but overlooked and drifted up to 12-1 and returned $27.40. She covered the distance in 1:02.72 equaling the Stakes record. The all Lucrelli exacta returned $73.50, the 50-cent Tri was good for $181. 
Time For Gold is owned by Chad and Josh and is by Harbor the Gold and out of Back in Time who is by Empire Maker. The Bar C Racing Stables are the winning breeders and she is a Washington bred. Time For Gold collected $19,600 and now has 21k in career earnings over 2 races.
The King County Express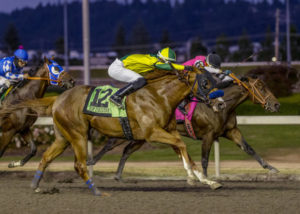 The Express featured a full field of 12 2-year-old colts and geldings up until they were being loaded into the starting gates. About halfway through the loading process #7 Luke's Place reared up and looked to have flipped or nearly flipped. The commotion also caused #1 Dutton to stir significantly in the gate. As the horses were unloaded the State Veterinarian advised the two should be scratched and the Stewards obliged leaving a field of 10. 
The two scratched horses were both around 5-1 when they were scratched so not the favorites but still were garnering their fair share of attention. Seattlesbestsecret was the 7-2 tepid morning line favorite but ended up as the overwhelming favorite at 1-1. Great Gasby was next at 4-1, Chris the Beaver 5-1, Coastal Jazz 7-1 and Ididntseethatcomin 8-1 with the rest of the field all in double digits. 
One of those outsiders was #12 Top Executive at 13-1. Top Executive had finished 4th to Seattlesbestsecret in his one and only race and ran an even 4th after breaking slow and going wide. Track Handicapper Joe Withee pointed out during the pre-race that Top Executive could be a big threat with a clean trip and Joe was right on the mark. 
It was Coastal Jazz with Javier Matias trying to sweep the Statkes races going to the lead and quickly opening up a 2 length lead. That lead wouldn't last long as Franks Fix It and U.S. Cee Gee were close with Top Executive on the outside and Seattlesbestsecret between horses. Off the turn Top Executive again drifted wide and took the lead. Jockey Eddie Martinez was trying to keep T-E headed straight while Seattlesbestsecret with Alex Cruz aboard found his stride and bore down on Top Exec. The two would go nose-to-nose to the wire and Top Executive got the perfect head bob and nose on the wire for the win.
Coastal Jazz did well to hold on to 3rd and Captain Dashi was 4th with Franks Fix It and U. S. Cee Gee 5th and 6th but 3rd thru 6th separated by a half length. The young'uns ran a bit green from the top of the stretch to the finish line and the Stewards posted the Inquiry including the top 3 finishers. After looking at the tape Top Executive was cleared right away as the contact between Seattlesbestsecret came from Coastal Jazz and since Seattlesbestsecret finished 2nd and Coastal Jazz 3rd there was no change. Coastal Jazz then had to contend with some additional contact with the runners up but in the end the Stewards let the results stand.
Top Executive earned $19,800 to push his career earnings a smidge over 21k. He ran the 5 and half in 1:03.86. Top Executive is trained by Blaine Wright, last year's top Stakes trainer. The owners are John and Janene Maryanski and the Riverbend Stable. Top Executive is by Street Boss and out of Severn Shore by Pure Prize and was bred in Kentucky by Frankfort Park Farm and Dr. R Mason.
Numbers, Numbers Numbers
Emerald Downs handled 1.975m on Thursday and 1.67m on Wednesday. There is a discussion on social media as to why Emerald Downs has chosen the 2:15 start time on Wednesday. There was a consensus on social media that a later starting time would help the Wednesday handle and even possibly shifting the Wednesday card to Friday or Saturday nights. The Emerald administration could easily do that if they chose and from our earlier interviews with Washington Horse Racing Commission Executive Secretary Doug Moore they would have the support of the WHRC. 
However, it is not that simple the Emerald Administration has worked closely with TVG making sure their races are featured on the highly popular horse racing television channel. No doubt the exposure on TVG has led to additional handle. Track officials already changed the original racing schedule from shifting to weekends in August to staying on the current Wednesday, Thursday schedule since fans are still not allowed to attend the races.
There was also talk from fans wanting or wondering if a 3rd day was possible but insiders tell ESN the horse population isn't enough to support 27-30 races a week and would hate to kill the field sizes at this point. It is hard to argue with the results so far that Emerald has seen with an average of a 6-1 win pay-out, big carry overs and exceptionally attractive races for bettors.
Season High Pays starting with the $6 Combo!
Some of the other big numbers from week 6 include a new season high $2 win pay-out when Sassy Edie won the 5th race on Thursday at nearly 38-1 to pay $77.80. Sassy also triggered season high pays for the $1 Exacta combined with 35-1 shot Cards N Coffee for a $429.10 pay nearly doubling the former high pay and the 10-cent Superfecta with the low 15% take-out results in a $2, 648.43 pay if you connected Sassy at 37-1, C N C at 35-1 then Bellamagic at 5-2 and Veraaj at 31-1 or if your favorite numbers were 9-10-8-6 or if your birthday was 9-10-86 or the only other way we could see in hitting this was to go all to all to all to all.
The other two traditional $2 bets saw season highs as well with a $40.80 place return on Sassy Edie while 2nd place Cards N Coffee was close at $37.60 but C-N-C did tab the highest show with a $17.40 pay-out. Awesome for those show parlays! There were 5 30-1 shots that placed in the money, 2 wins, 2 places and a show on Thursday night.
Hey let's play that game and see what an imaginary $2 show parlay could have paid. Hmm…1st race ok a 4-1 shot is reasonable right so you get back $2.80 so you only bet $2 in the 2nd and you choose the 7-2 shot good for $3.40 so now you have $4.20. A $4 show in the 3rd on another 7-2 is good for $3 and now you are up to $6.20. We are now board and want to take some swings at longer shots and work up to a 7-1 pick that was good for $4.80 and now the total is up to $14.60. Let's keep it going to the 5th race we select not the 37-1 shot but instead we take the 35-1 which returned $17.40 and we have that 7 times and just like that our $2 is now $122.40. Should we stop? NO!
Halfway there so in the 6th we bet all $122 to show on the big favorite and it returns a paltry $2.20 but still pushes our total to $134.60. In the Angie C we'll jump on Managingbrianna who gives us $5.40 and now our bankroll rockets to $362.40. In the 8th race we'll go with 14-1 Lansky who pays $10.20 and now our $2 bill we started with is at $1,846.60 with 2 races to go! We will settle on the favorite in the King County Express which got us a $2.80 return pushing our total $2,585!! One race to go and we LOVE National Heroine and we bet $2,585 to show on the 6 which pays $6.40 and our return on that improbable run would be $8,269.40 and your total investment is $2.
I am having fun so how about this, this is even more practical and some folks do this, how would you have done with a $2 show on all horses 20-1 or higher? 1st race -$2, 2nd race collected $6.40 so you are now plus $2.40. 3rd race 3 bets and you collect $4.80 so now you are up $1.20. 4th race there is just 1 bet and you win $9.20 so you are now up $8.40. In the 5th race there are 4 and 2 come in returning a combined $33 and now you have a $33.80 profit. 1 bet in the 6th and 7th both miss now +$29.80. In the 8th there are 2 bets and you cash for $14 and now have a profit of $41.80. There are 3 bets in the 9th and none in the 10th so you finish with a $35.80 profit just betting longshot $2 show bets. 
Pick 4 Madness!
There was yet another 30-1+ winner on Thursday, Lolo Paniolo with Matias up swamped the field late in the 8th race for the big win at 31-1. Although the $65 $2 win was not the top pay of the meet it capped off a massive Pick 4. The 9-3-1-3 50-cent ticket collected $29,571 or $20,000 more than the previous high Pick 4 pay. The winning combination was 37-1 Sassy Edie to 3-2 shot Close the Show Lo in the 6th race followed by 7th race winner Time For Gold at 12-1 and book-ended with 31-1 Lolo. This Pick-4 pay-off almost paid as much as the 20-cent Jackpot Pick 7 which was $29,655 after a 9 day carryover.
But that was not the only $20,000+ Pick 4. The final Pick 4 that began in the Angie C with Time For Gold then the 31-1 Lolo Paniolo in the 8th then in the 9th, the King County Express saw #12 Top Executive at 13-1 and finished off with 5-1 Salty Little Lass. The 1-3-12-1 50-cent combination cashed for $27,947. 
Carry-Overs
This should be no surprise that neither the Pick 5 or the Jackpot 7 were hit and 4 of 5 in the Pick 5 paid $318 and there is nearly a $55,000 carryover to next Wednesday. 4 of 7 in the 20-cent Jackpot Pick 7 was good for $201 and a little more than $4,000 will carryover to Wednesday. 
See ya next week it is going to be awesome!!
www.elisportsnetwork.com