6/20/2020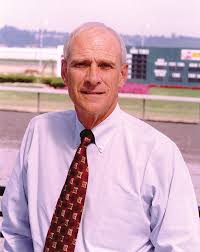 (Auburn, WA) 24 years ago Ron Crockett and his wife Wanda pulled into their parking space just outside the administrative offices of the brand new Emerald Downs Thoroughbred  Racetrack in Auburn. It marked the end of the struggle, the uneasiness, nervousness of whether or not live racing would return to the Seattle area. Emerald Downs was built after a 6 year roller-coaster ride with an entire industry strapped in with no way to get off this run-away coaster.
The horse racing industry in Washington was among the gold standards in the nation after Joe Gottstein pushed a bill through the State Legislature in 1933. Longacres was built in just 28 days in Renton off 405 next to the now standing Southcenter shopping mall. The property like all the valley at that time was farmland. There was plenty of room to accommodate the 215-acre facility.
Longacres thrived and expanded and was the only game in town for decades as far as a professional sport in Washington State. They preceded the Sonics, Seahawks, Mariners, Sounders and Storm. They were also aided as being the only legal gambling available for many years. Then little by little expanded gambling and professional sports teams came to the Pacific NW and on September 27, 1990 the founding Gottstein/Alhadeff family decided it was time to sell and announced sale of the track to the Boeing Company for their future World Headquarters.
The news stunned the racing community and even though they were granted 2 more years of racing through the summer of 1992 the scramble was on for a new track. It was unfortunate that the many of those in the racing community interested in keeping horse racing alive in Washington State were not given an opportunity to purchase the Longacres site. There could not be a lot of time spent complaining or focusing on what wasn't going to happen and that was saving Longacres. That ship had sailed so Crockett and others had to develop a strategy quick. There were competing interests but nearly 2 years to the day on September, 25, 1992 Northwest Racing Associates was formed headed by Crockett.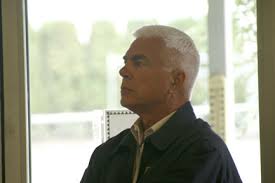 Crockett and investor Jack Hodge would become President and Vice President of Emerald Downs and led the building of the new home for thoroughbred racing in Washington State. The site was selected on 190-acres of farmland in the Auburn Valley just off highway 167. The new design would be more compact with 5 floors available to the public from outside on the rail to the 6th floor suites. Lots of indoor seating to accommodate the expanding simulcast wagering that was sweeping the industry in the mid 90's.
As ground was broken and Opening Day was announced construction of the 80+ million dollar facility went fairly smoothly but as June 20, 1996 approached it was hard to believe that the facility would be ready in time.
Crockett said the full staff hadn't moved into the facility until about a week prior to opening day from their temporary offices at an off track betting facility near Southcenter in Tukwila. On June 18th, two days before opening there were pallets stacked high with grass/turf strips that still had to be laid down in the park area. Grandstand seats were still being installed and asphalting and striping the massive parking lots was still being done.
Director of Publicity Joe Withee says the television department was even further behind trying to install and connect all the televisions throughout the massive facility along with camera's all around the track and the on-track sound system.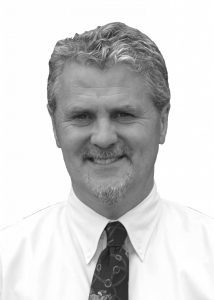 When the big day arrived there were lines down the sidewalk to get in as customer service people scrambled to take care of reservations, concession workers worked to get in a groove serving long lines of hungry fans, the valet parking crew was sprinting back and forth with a quickly filling up lot. Rock Superstar Ann Wilson of Heart was on hand to sing the National Anthem and Robert Geller debuted as the first Emerald Downs track announcer. Geller was hand picked by Crockett when he heard the Australian native call races at Sha Tin racetrack in Hong Kong.  All in all and despite the expected delays and mishaps of a large opening day crowd at a brand new facility there was nothing but more than 18,000 smiles when the starting gates flew open for the first time in more than 4 years in Western Washington.
There was an 11 race card on opening day with 2 Stakes races including the US Bank Stakes that was race #1 and in the 10th race the Auburn Handicap. The US Bank Stakes featured a field of 7 with Canadian invader Strawberry Morn going off as the even money favorite. Jockey David Wilson went right to the front and led every step of the way in the mile race.
Ironically, most of the days video recordings went missing leaving only a low level and sun soaked washed out picture of the stretch run as the only known recordings. However, just prior to the 20th anniversary celebration current Emerald TV crew member Cy Labar found the 1st race labeled incorrectly and so the full length recording of the first ever race, the US Bank Stakes was re-claimed and you can watch it here…
Strawberry Morn rolls to win in the history of Emerald Downs on June 20, 1996
[embedyt] https://www.youtube.com/watch?v=W1vhNZGw5Dk[/embedyt]
The technology department continued to struggle throughout the day and when the racing was finished Withee says they went to record the replay show that would air on then Prime Sports Northwest (now Root Sports) there was no audio recording of Track Announcer Robert Geller's voice. Withee recalls they had time and Robert came down to the studio and re-recorded each call for all 11 races  but when they finished once again the audio was missing.
Withee says in fact the call of the above race that was found all these years later Geller, who left Emerald Downs in 2014 had returned for the 20th anniversary celebration and re-dubbed the race in 2016 so it could be shown as part of the days activities.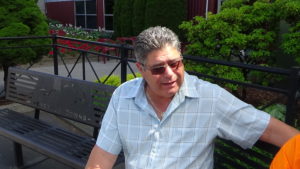 We also talked with the track's all-time leading Trainer Frank Lucarelli who set a record for a single season win total of 81 last year as he ran away with the top trainer title. He has visited the Winner's Circle 1,025 times in his 24 seasons at Emerald Downs. We asked him his thoughts and what he was feeling as June 20th approached back in 1996? Lucarelli said, "the anticipation was so thick and I and we and everyone I knew was so excited mixed in with relief, believe it or not, it was just a day we had all hoped would come and then we knew racing would be saved in Washington."
Lucarelli would not even have a horse to saddle on opening day but said he was overcome with the excitement and overwhelmed knowing he would be able to continue his career of choice, a thoroughbred trainer.
Lucarelli was busy on day 2 claiming a horse in the 2nd race and then his first start on the new track came in the 5th race or the 16th race in the history of Emerald and his 7-2 shot Granger Gal would run a disappointing even 6th place. He had a longshot runner in the finale on day 2 but finished in 5th place. Lucarelli would struggle early and it wouldn't be until July 25th until he got his first win. His first winner was odds-on favorite Mia Rolls picking up a maiden $12,500 win in the 2nd race. This was his 17th start on the 25th day of racing and the 248th race of the season.
The second Stakes race of the Day was the Auburn Handicap and went off as the 10th race of the day. Lykatill Hill was the overwhelming favorite but it would be a Pacific Northwest All-Star team who would stun the home town crowd with a desperate finish going to Sneakin Jake at 17-1. Vann Belvoir, son of long time Champion Trainer Howard Belvoir and part of the extended Taylor racing family came back to finish his career where he started in Washington State was aboard Sneakin Jake.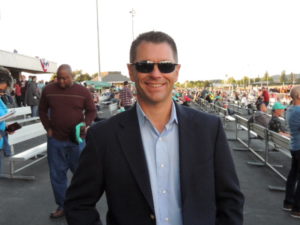 We talked with Belvoir and despite being 25 years ago he seemingly remembers every step of that 1 mile and 16th race. Belvoir says he had ridden Jake in the past and he had a habit of getting off to a good start but then would take up and drop to the back of the pack. He always would try hard and make a run but Belvoir felt the old 9-year-old had fallen into a routine. He asked trainer Larry Pierce if he could ride him a little bit different this time. Pierce told him you have ridden him before do what you have to do to give him the best chance at winning.
Belvoir said, "he thought it was important to change the scenery for Jake so to speak and keep him interested." Belvoir said he also needed to get decent position for the run into the first turn coming out of the 3 hole. Belvoir said Jake broke well as usual but as they approached the 1st turn he could feel Jake start to drop back and it was at that time he gave him a couple of whacks on the shoulder telling the old pro we're doing it different this time.
Jake sat just off the pace in 4th early and remained on the rail. Down the backstretch Belvoir kept him close just a half length back behind Final Act who had taken the lead out of the gate. As they turned for home the duo had shaken the other early speed, Flying Huey and the rail opened up for Sneakin Jake and Belvoir launched him and nailed Final Act on the wire for the upset win and Belvoir's first win at Emerald.
Here is the final quarter mile of the race this is the washed out low angle replay which is the only known video of the race.
[embedyt] https://www.youtube.com/watch?v=wnFDdB1Y7ec[/embedyt]
Sneakin Jake's team incuded Belvoir and Pierce. Pierce a longtime jockey and trainer who at one time set a North American record while riding at Longacres winning on 7 of 8 mounts in a single day. The owner was Murdock MacPherson and his wife Mary Ellen. The MacPherson's were also investors and part of Northwest Racing Associates. MacPherson, Pierce and Belvoir…you don't get any more Washington State than that and they took home the big prize of nearly $37,000 of purse money.
Belvoir would finish his career with the jockey's Championship and 148 wins. Belvoir would retire and immediately begin a training career. Belvoir pulled off as far as we know the only time in history a jockey coming off a riding title would win a training title back-to-back. In 1996 Yakima Meadows, who had traditionally run a winter meet pulled the plug and so the winter race meet began in late November after Emerald's 1st season. Belvoir literally jumped out of the saddle and began training the next week and won the only Emerald Downs winter meet training title.
Emerald Downs ran into some tough years with small fields and fewer races but Crockett and company never gave up and took several years of losses to keep the industry alive. Eventually Northwest Racing Associates sold the track to the Muckleshoot Tribe in 2014. Crockett said it was time to let someone else take the reins and is confident the Tribe is the best chance to keep the industry alive in Washington State. He had high praise for the Tribal Council but most of all Track President Phil Ziegler. Crockett remains on as a consultant and Jack Hodge also stayed in his position as Vice President.
We finished the interview with Crockett with this question, after years and decades of being an extremely successful businessman why did he stick this out with the racing industry? A strict business decision says not to keep putting money into this project that you won't get back. Crockett hesitated and said that is the difference, this isn't a business to me it is a way of life. He said he certainly could have afforded to fly to any track in the United States whenever he wanted or simply bet from his home but that's not why horse racing is so important to him.
He said, "I was very fortunate early in my business career and built quite a business that I was able to sell and make a good profit that set me up for life. I then continued to make sound investments and Wanda and I then got into the philanthropy business. We have created hundreds of scholarships at the U-W and we invested a lot into education because we could and we felt an obligation." "But racing….racing has been in my blood for most of my life and there is just something to racing folks."
Crockett says the family like atmosphere is like no other in business or sports. There is a little city on the backside and all those people know is racing. I felt I could keep it going, I may not have made decisions that everybody liked and likely some wrong decisions but we have made it to season 25. It's all about passion and love for the sport, the industry but most of all the people and horses. "That's why I did it."
www.elisportsnetwork.com