Northwest Horse Racing Legend Richard Wright Passes Away
By Gary Dougherty
11/28/2020
A Northwest horseman since the mid-1960s, Richard Wright passed away November 9, 2020 at the age of 81 in his Renton, WA home. He was born November 27, 1938, in Afton, WY and was drafted into the United States Army in 1962. Prior to joining the Army, Wright who grew up on a farm with six siblings started to ride Thoroughbreds as an apprentice jockey. Richard was awarded decorations as a sharpshooter and selected for a special assignment in Germany as a private driver to United States officers upon his honorable discharge in 1964.
He began riding horses again at Playfair in Spokane, WA in the spring of 1966 and his talents helped him capture seven riding titles from 1966 to 1972. Four riding titles at Portland Meadows, two at Playfair and one at Yakima Meadows. He married Susan, the daughter of Dale Knight, a trainer who he rode for in Utah and they settled down near Longacres to raise their children Cherie, Judy and Blaine as Richard retired in 1974 from the saddle and transitioned to becoming a trainer the following year.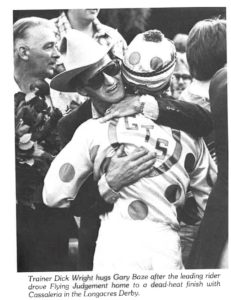 Richard won almost 1,000 races as a trainer and conditioned two Washington champion colts: Flying Judgement (1981) and Tough to Crack (1976). In 1982, Flying Judgement dead-heated with the Ron McAnally trained Cassaleria to win the Longacres Derby. On September 21, 1992, Richard had the distinction of saddling the final winner in Longacres history, Native Rustler with National Racing Hall of Famer Gary Stevens riding. Richard was the only jockey-trainer to compile double-digit stakes victories as both a jockey and trainer at Longacres.
His Emerald Downs win total was 176 with the last victory happening on Sept. 30, 2007 with the very popular Skyrider. His son Blaine would take over his barn the following year. "Richard was a great guy, a super trainer, and he was so proud of Blaine," said Joe Withee, Director of Publicity at Emerald Downs. "He was stoic, and he would say something with a straight face that would get everyone laughing in the winner's circle in the post-race interviews, mostly after Blaine won a stakes race.
"He was a standup guy," said friend and leading trainer Frank Lucarelli. "I could tell you lots of funny stories about us joking around and razzing each other, which we did all the time, but what I will remember most about him is his integrity. He always stood up for the industry and was great for racing in Washington."
Richard is survived by Susan; daughters, Cherie and Judy; and sons, Ken (Lynda) and Blaine (fiancée Risa); three grandchildren; three great-grandchildren; four siblings; and close friends who he considered family. He was laid to rest on November 17, 2020, with his red and white diamond DW jockey silks and riding gear to honor his life as a horseman and with military honors for veterans at the Tahoma National Cemetery to honor his service to our country.
Information provided by Gary Dougherty and the WTBOA.
Photo Gallery
ww.eilsportsnetwork.com