11/4/2020
(Auburn, WA) The post season awards have been announced for the 25th Emerald Downs season. We will go through each one and category and we start with the Jockeys.
Jockey's
Champion Jockey: Alex Cruz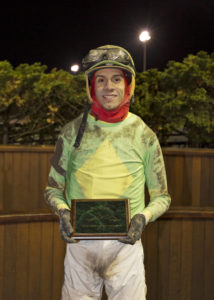 Alex Cruz made his first year at Emerald Downs a memorable one "Cruzing" to the Jockey Championship  by 20 wins over Juan Gutierrez. Cruz won his first race on day 1 in the 7th race aboard Abraa Jabraa, a horse he also won with on closing day. Cruz finished the year winning a race on 25 consecutive days. His final record was 72-73-52 from 356 mounts a 20% win rate and 55% in the money.
The one disappointment would be getting shut out in the Stakes races although it looked like he was on his way to a big win in the Gottstein on Coastal Kid over previously undefeated Dutton when just past the 1/8th pole Coastal Kid bolted and handed the win over to Dutton who remained unbeaten.
We talked with Cruz after the final race on closing day about the Gottstein and we should note Cruz lost his stirrups but stayed on and somehow still finished 3rd.
[embedyt] https://www.youtube.com/watch?v=Yj6y2wfnTwQ[/embedyt]
Cruz just missed a Stakes win in the 2nd of the season on July 30 when Seattlesbestsecret lost by a nose to Top Executive in the King County Express. Cruz says Seattlesbestsecret probably was the best horse he got to ride this year at Emerald Downs.
[embedyt] https://www.youtube.com/watch?v=xSsn6XMdJxY[/embedyt]
Stakes Champion(s): Juan Gutierrez, Heriberto Martinez and Javier Matias (4 each)
Juan Gutierrez (Top Riding Achievement)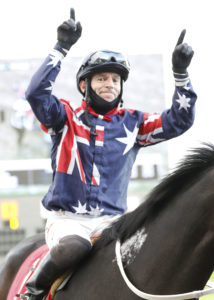 Alex Cruz may have been the Champion Jockey but if there were a jockey of the year award that very will would have gone to Juan Gutierrez but he did take the Top Riding Achievement award for becoming the tracks all-time leading rider. Juan finished 2nd in the final standings tied for most Stakes wins including the Longacres Mile and won his 2,000 career win and became the winningest jockey in Emerald Downs' 25 season history.
Gutierrez finished with a 52-55-43 from 294 rides record. His 4 Stakes races included the Coca Cola Stakes aboard Daffodil Sweet then a double winner on September 10 taking the Emerald Distaff on Alittlelesstalk and then winning the Longacres Mile on Anothertwistafate. Gutierrez would get his 4th Stakes on Alittlelesstalk for her 2nd Stakes win in the Washington Cup.
Gutierrez also picked up his 2,000th career win on July 23rd aboard Semi-Sweet. He would win 3 races on that day to easily secure the milestone. Gutierrez would then surpass Gallyn Mitchell as the all-time winningest rider in Emerald Downs history on October 14th. He had tied Mitchell earlier in the night on Mike Operator for win #1,419 and win #1,420 came a few races later aboard Stay in Grace
Emerald Downs celebrated Gutierrez's achievement the next night prior to racing:
[embedyt] https://www.youtube.com/watch?v=2S79WiNJucs[/embedyt]
Heriberto Martinez "Steady Eddie and a little Showboat"
Heriberto (Eddie) Martinez also had 4 Stakes wins this season winning by just a nose on Top Executive over Seattlesbestsecret in the King County Express. Martinez the  swept the 2 Stakes on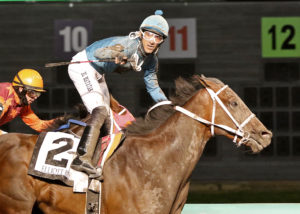 August 13th with Killarney Lass in the Boeing Stakes and Elliott Bay in the Mt Rainier Stakes. Martinez would cap his Stakes run on Gold Crusher in the Muckleshoot Derby.
Martinez's run in the Mt Rainier had many believing that was the race of the year when he took Elliott Bay from last to first running down the speedy Papa's Golden Boy in the final strides of the 6 and half furlong race. This was also the return of fan favorite Barkley who had been Elliott Bay's stablemate prior to Bay being claimed for $50,000 by owners Chad and Josh the year before. Martinez sat on Bay until the turn and at the top of the stretch eased out and gobbled up ground. When Martinez and Bay got to the front at the finish line Martinez made sure the picture would be memorable. Martinez says that was the most thrilling ride of the season.

We talked with Martinez on closing day and he talked with us about his fantastic win on Elliott Bay.
[embedyt] https://www.youtube.com/watch?v=6ANkpV0EMYE[/embedyt]
Martinez felt that Gold Crusher was the best horse he rode this year…
[embedyt] https://www.youtube.com/watch?v=r0W-pNWVzrc[/embedyt]
Martinez was impressed with how strong the jockey colony was and appreciated the professionalism and competition from his fellow riders
[embedyt] https://www.youtube.com/watch?v=X1uO2Oy_4Ak[/embedyt]
Martinez finished 5th in the standings with 227 starts and a 37-35-30 record.
Javier Matias "Stakes Beast"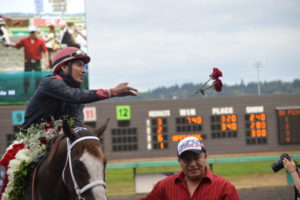 Journeyman Javier Matias finished 6th in the final standings but was a beast when it came running for the money. He raced in 12 of the 15 Stakes races and won 3 and got his 4th Stakes win in the John Deere Juvenile Classic a quarterhorse Stake aboard Louisiana Bunny in a 350 yard sprint. 
Matias got things started in the first Stakes race of the season the Angie C when he brought home Time For Gold at 12-1. He then won the Seattle Slew Stakes on Unmachable on August 6 and then took his 3rd thoroughbred Stakes on his 2nd win with Time For Gold in the Barbara Shinpoch. He rode in a total of 13 Stakes out of the 18 offered and finished with a 4-2-1 record. His 2nd place finishes were on Unmachable in the Muckleshoot Derby and Fortune's Freude in the Washington Cup for fillies and mares. The 3rd place finish was Coastal Jazz in the King County Express. 
Matias finished 4th in 2 other Stakes, 2 5th's a 6th and a 7th. He did not get to ride the Longacres Mile or Gottstein Futurity. With all of his success Matias had this season in the money races he may be best known for his 7th place finish oddly enough. He had been the only rider Barkley had ever known. Barkley a fan favorite and Longacres Mile Champion had run once this season and finished 2nd but was focused on getting back to the Longacres Mile and the Mty Rainier was the one and only prep Stake this year. 
Barkley had sat off the pace just in front of Elliott Bay and on the turn looked like the two closers were moving together when at the quarter pole you could see Matias start to ease up on Barkley. Matias knew Barkley so well he knew something wasn't right and immediately protected him from hurting himself. The white blazed wonder was having his career come to an end and matias wrapped up on him and got him home safely.
Trainer Howard Belvoir announced shortly afterward that Barkley would be retired. Barkley finished his career 10-5-1 from 20 starts and earned nearly $370,000 and now is off to the breeding barn. We talked with Javier the day after Barkley retired about what Barkley meant to him:
[embedyt] https://www.youtube.com/watch?v=GqTxko-Z-Gw[/embedyt]
Jennifer Whitaker hits 500 wins
The became the first female jockey to win 500 races at Emerald Downs this season and added 2 more Stakes wins to her total of the top female Stakes rider in Washington State History. As usual Whitaker rode nearly exclusively for trainer Howard Belvoir and guided the Horse of the Meeting Dutton to 2 Stakes victories.
Whitaker and Dutton broke his maiden in his career debut with an eye-catching 9-length win over Seattlebestsecret in the Lads Stakes covering the 6 and a half furlongs in 1:16.25. Dutton then blistered an Allowance field by 14 lengths getting ready for the Gottstein. Dutton and Whitaker then looked like they were on their way to a loss in the Gottstein but as Coastal Kid was passing Dutton in mid-stretch he bolted and Whitaker and Dutton stayed to task to win it and finish 3-0 on the season.
Whitaker would tally her 500th career Emerald Downs win on Mr Bingley in the 7th race on September 7th. She had Mr Bingley close in that race and found a hole along the rail to pull away for a length win. We talked with Jennifer Whitaker the following day about getting num ber 500:
[embedyt] https://www.youtube.com/watch?v=VRDLijUhzVo[/embedyt]
Whitaker finished 10th in the final jockey standings with a final record of 112 rides 16-18-21 and a 14% win rate.
Cerapio Figueroa Top Newcomer?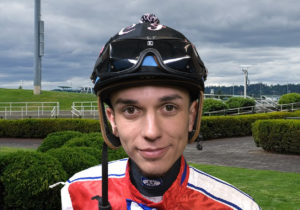 Cerapio Figueroa would be the top newcomer at a lot of tracks with his performance at Emerald Downs. C-Fig as we called him was 39-28-28 from 263 starts and a 15% win percent and in the money 36% of the time. But also new to Emerald Downs this year was Alex Cruz who ended up the Champion so Cruz is the top newcomer but C-Fig had a tremendous 1st year at the Auburn oval.
C-Fig was the regular rider for Jorge Rosales who had a great season finishing 2nd in the trainer standings. We got to talk with Cerapio prior to the races on closing day and he says his relationship with Rosales goes back a long way:
[embedyt] https://www.youtube.com/watch?v=JmL7HBQxfTo[/embedyt]
 We also asked him which horse was the best he got to ride this year and he said hands down Take Charge Deputy who finished 3rd in the Mt Rainier Stakes just a 1/2 length from winning it but had won an Allowance race prior at 24-1 over fan favorite Barkley who was making his comeback. Figuroa says T-C-D ran well in both of those races but then trailed off a bit and it was time to give him a break.
[embedyt] https://www.youtube.com/watch?v=wIt3tYbDfDQ[/embedyt]
C-Fig says he hopes to be back here next year and make a run for top jockey.
Gary Wales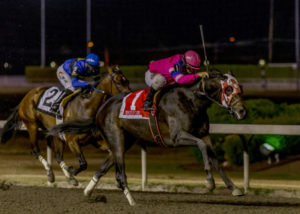 Gary Wales was the defending jockey Champion but settled for 3rd this season but made a strong run at Gutierrez for 2nd in the final few days. We did not get a chance to talk with Wales this season but he finished the year with 1 stakes win aboard Princess of Cairo in the Washington Oaks on September 3rd. Wales beat heavy favorite Daffodil Sweet with a just off the pace win in the Oaks.
Wales was more known for piloting fan favorite Papa's Golden Boy from the Vince Gibson barn. Papa was clearly the fastest horse on the grounds but it was the stamina that was the question. Papa burst on the scene on day 2 with a maiden claiming race pulling out to a 5 length lead and held on for a length win at 5 and half furlongs. He came right back in an Allowance and blasted the field by 8 lengths after leading by 12 at the halfway mark of the 6-furlong dash. 
Papa then tried the Mt Rainier Stakes at 6 and half furlongs and just failed to last after building a 6 length lead but Elliott Bay got him by a neck in the end. Papa then gave the Longacres Mile a shot and finished 5th after leading early and ended up with another Allowance win before ending his 2020 run with an off the board finish in the 1st race on closing day.
 Leslie Mawing late shipper
Leslie Mawing is no stranger to Emerald Downs but was a late arrival in 2020 after a solid season at Canterbury in Minnesota. Mawing wasted little time in making an impact and finished by winning 20% of his rides and hitting the board 50% of the time. He rode 86 races and finished with a 17-11-15 record.
The highlight for Mawing was a Stakes win on Unmachable in the Muckleshoot Tribal Classic after Javier Matias chose to stick with Gold Crusher. Mawing sat behind the hot pace set by Papa's Golden Boy with Gold Crusher near the lead. Mawing clung to the rail and by the top of the stretch had run past the two front runners and pulled away for a 3 and a half length win. 
Final Standings
Jockey                  Starts   1st   2nd   3rd   Win %   Top 3 %
1 Alex Cruz            356      72    73     52    20%      55%
2 Juan Gutierrez    294      52    55     43    18%      51%
3 Gary Wales         345      50    43     55    14%      43%
4 Cerapio Figueroa 263    39    28     28    15%       36%
5 Heribert Martinez 227   37    35     30    16%       45%
6 Javier Matias       219     35    43     28    16%       48%
7 Alex Anaya          227     21    24     26     9%        31%
8 Jake Samuels       170    19    23     22     11%      38%
9 Leslie Mawing       86     17   11      15     20%      50%
10 Jennifer Whitaker 112  16   18      21     14%      49%
11 Jose Zunino         194   14   10      29      7%       31%
12 Lorenzo Lopez      76     7     2       8       9%        22%
13 James Wooten      74     4     7       10     5%        28%
13 Joree Scriver         59     4     6        10    7%        34%
15 Patrick Henry        72      1     4       10     1%       21%
15 Francisco Diaz-Lopez 51  1   1         2      2%       8%
16 Connie Doll           36      0    2         1      0          8%
16 Jan Baez                  6       0    0         0     0          0
16 Jayden Christopherson 5 0    1         0     0          20%      
www.elisportsnetwork.com